One of my favorite ways to celebrate Earth Day is to be reminded of the awesomeness of our planet.  The power that can be found in a sand storm across the African desert.  The playfulness of a mother polar bear as she emerges from her den at the onset of Spring. The sense of community as thousands of caribou migrate together.
It's no secret, I love animals.  I love watching nature shows as they follow these amazing animals through their battles with the elements, seasons, and predators.  How male penguins huddle together to keep their eggs, and each other, warm and protected from the fierce arctic wind.  Or how the monkeys tiptoe through the spring rivers with a complete look of disgust on their face (reminds me of my kids).
The nature videos that I'm talking about specifically is the BBC Earth series Planet Earth.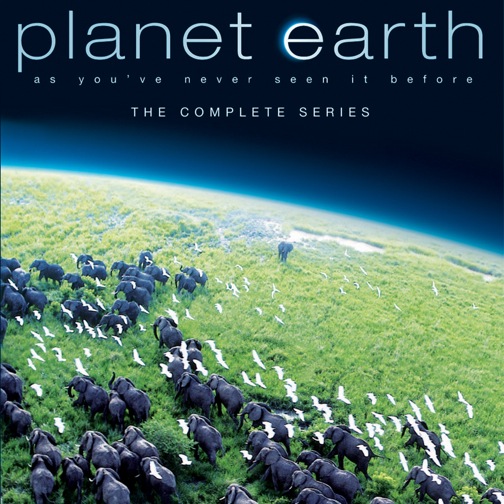 Planet Earth an the 11-part video series that presents an amazing story of life on Earth.  The videos take you on a journey to 204 locations in 62 different countries as you explore and follow the lives of the creatures that live there.  Experience everything from the Cave of Swallows in Mexico to the icy worlds of the Arctic and the Antarctic.
This video series, originally airing on the Discovery Channel in 2007, is the precursor to Life, the BBC nature series currently airing on the Discovery Channel.  Planet Earth is currently available to download through the iTunes Store with episodes priced at $1.99 SD/$2.99 HD or purchase the series for $20.99 SD/$31.99 HD.  This is a great video series to enjoy with the family and I must say that the HD video is amazing!
As a special Earth Day treat, from now until April 26, 2010, you can download and enjoy a FREE episode of Planet Earth!  Simply visit the iTunes Store and begin downloading your free full-length episode of "Pole to Pole".  Remember, this offer is only good until April 26, 2010, so don't wait!
Watching amazing nature videos like Planet Earth and Life are great ways to celebrate Earth Day and remind yourself (and your family) of the true awesomeness that exists on our planet and the importance of protecting it!