I am hanging my head in shame over here as I tell you that I am, indeed, one of the five people who did not see AVATAR in the theater.  This was a film that both my husband and I really wanted to see in the theater but things just didn't work out for that to happen.  So, imagine my excitement (and my husband's extra magnified excitement) when AVATAR was released to DVD yesterday (4/22/10)!
I'm sure you've all heard about AVATAR — the film premise, breaking the record as the highest grossing film of all time, and it's wins at the Oscars® and the Golden Globes®.  The interesting thing is that I actually didn't know very much about the AVATAR storyline.  At least I realized that I didn't know very much about it, or that I had the wrong idea of what it was about, when I finally did watch it last night!
Warning:  If you are one of the other five who have not yet seen AVATAR you might want to come back and read this post later.  I'm sure I will be giving away a few spoilers!
It's the classic Romeo/Juliet story — boy from one world meets girl from another world.  They fall in love.  Their worlds collide and choices have to be made. The difference between this film and other Romeo/Juliet type stories are the themes of loyalty, showing and truly respecting the world around us, and the connections throughout nature, both living and not.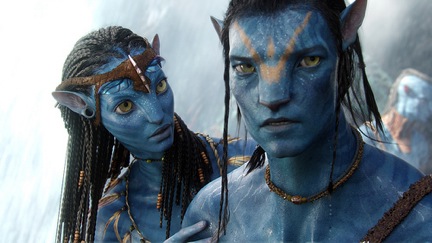 The film itself has incredible cinematography and some amazing action.  The acting, of course, is great (I feel as though every character was casted perfectly) and the storyline draws you in from beginning to end (which is very helpful since the film is over 2.5 hours long).  I know the themes running throughout the film (military vs. "tree-huggers", preservation of nature vs. industry, to name a few) have resulted in quite a few heated debates, but, at the very least, they provoke conversations and really make you take a look at things going on in our world.  At least they did for me.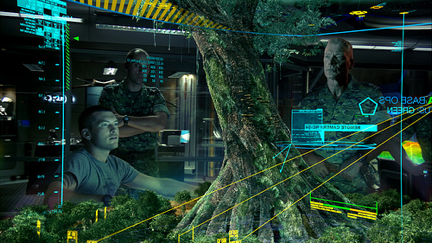 Regardless of how you feel about the themes or messages being taken from the film, AVATAR is an extraordinary all-encompassing experience and I would highly recommend watching it!
The release of AVATAR (rated PG-13) to Blu-ray and DVD seems a little early, by film standards, but was timely with the celebration of the 40th Anniversary of Earth Day.  This seemingly early release is a very basic Blu-ray/DVD, featuring only the film and no special bonus features (a more extensive dvd is to be released this November).  This may disappoint some fans but the dvd does come with a  special that you can enter online at www.avatarmovie.com/register and gain access to exclusive first looks and sneak peeks, content and updates, and money saving offers.  Also, as a part of the AVATAR Program, fans can be a part of the worldwide effort to plant one million trees!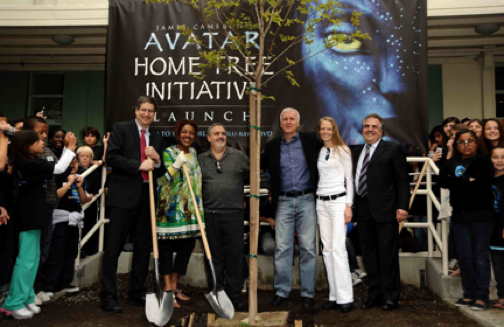 Chairman & CEO Fox Film Entertainment Tom Rothman, actress CCH Pounder, Producer Jon Landau, director James Cameron, wife Suzy Amis and Chairman & CEO Fox Film Entertainment Jim Gianopulos plant first tree in North America symbolizing the one million tree initiative on behalf of the "Avatar" Blu-ray disc and DVD release on Earth Day held at Twentieth Century Fox Studio Lot on April 22, 2010 in Los Angeles, California.
The extra features that you have access to as an AVATAR dvd owner are actually downloaded to your computer.  While glancing through the extras was pretty neat, I don't see myself accessing that program again on my computer.  Sadly I could not get the "Become an AVATAR" feature to work for me.  I do see these being something a real AVATAR fan will enjoy much more!
With all that said, I would definitely give the film itself two very big thumbs up and the bonus materials just one thumb up.  I am definitely looking forward to the November release of the more extensive dvd, which will hopefully include more "behind the scenes" and "the making of" documentaries!
AVATAR is currently available on Two-Disc Blu-ray/DVD Combo and Standard DVD, is rated PG-13, and has a runtime of 162 minutes.
*Disclaimer: I did receive a complimentary copy of AVATAR on dvd from Twentieth Century Fox Home Entertainment so that I could bring you a personal and accurate review.  Receiving complimentary product in no way influences my opinions stated here.