A few months ago my sister asked me why my husband was always telling people where he was. Isn't he worried about people stalking him? She was talking about his status updates on his Facebook account that were coming his Twitter account that were coming from his FourSquare account.  Did you follow that?
First off, no, he's not worried about stalkers.  But we'll discuss that topic in another post.  Right now I want to introduce you to these new Location-Based Social Media apps and talk about why they are becoming so popular.
Location-Based Social Media is simply another way for people to connect with others.  The difference is that, instead of just telling people what it is that you are doing, you are telling people where you are doing it. The simplest breakdown is that you go to a place (restaurant, store, park, etc.), open the app (via your mobile phone or computer), and check-in (tell people you are there).  The two most popular of these Location-Based Social Media apps are FourSquare and Gowalla.
FourSquare is the pioneer of sorts of Location-Based Social Media.  At least it's the one that I first heard about and tried.  FourSquare has a pretty simple and classic user interface, which I really like.  You can add places if no one has been there, see if anyone has made a suggestion for the place you are at (or you can make a suggestion), and see where your friends have recently been.  You earn points for your different check-ins that you can then compare where you rank with your friends and earn "badges".  And you can even become Mayor of these different locations!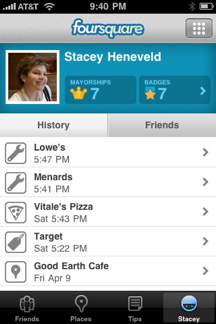 Gowalla has a user interface that is a little more jazzed up.  The premise is basically the same — go somewhere, check in, add it if it's not in the data base — but the images and icons are a little more fun.  Instead of earning points for your check-ins, on Gowalla you earn "stamps", "pins", and "items".  You can also create and participate in "trips" which are basically a set of check-ins that you group together and share with your friends.  And, by checking in on Gowalla, you can see who else has checked-in at that location.
Both apps allow you to share your locations and check-ins with your friends either through the push notifications  by that app or through Twitter.
So, why use Location-Based Social Media?  Well, a few reasons…
You're connecting with others. Isn't that why we are using social media to begin with?  FourSquare and Gowalla just take your social media experience another step further.
You're competitive. Not so much with Gowalla (I still haven't figured out the purpose of the "stamps", "pins", and "items you're carrying"), but the point system on FourSquare creates a little bit of competition between you and your friends.  I love pointing out to my husband when I'm ahead of him on the Leaderboard and get a little excited when I see "Congratulations, You've become the Mayor of…" come up on my phone!  (And I get pretty irritated when someone takes that mayorship away from me. Yes, you can lose your mayorship just as easily as you can get it!)  I believe it is this competitive feeling that keeps me checking-in at each place I go to during the day.
It's your own personal travel guide! If reasons 1 & 2 don't really jive with you, then maybe this one might.  While you may not use FourSquare or Gowalla on a daily basis, these are great tools to use when in a new city.  Just by opening the app you can see the different stores, restaurants, coffee shops, museums around you and even get suggestions as to what you might enjoy eating, drinking, or doing in that area.
I've been using both FourSquare and Gowalla for about a month (actually, I've been using FourSquare longer than that) and I personally like FourSquare better.  Call it egotistical or chalk it up to my competitive nature, but I like being the Mayor of IHOP and Jet's Pizza and it bothers me that I was ousted as the Mayor of Meijer!  I guess you could say that FourSquare and Gowalla are a little like the Farmville of Facebook.  You start out just checking it out and then you get sucked in!
If you want to know more about FourSquare and Gowalla you can check them both out online.  But the best way to really experience them is to download them and try them out!  Both apps work with iPhone, BlackBerry, Android, and Palm software.  I'd love to hear your thoughts!
In the mean time, in the upcoming weeks, I'm going to be doing posts about the relevance of Location-Based Social Media for businesses and the safety of putting your personal information out into the internet with apps like FourSquare, Gowalla, and Twitter.