This morning I was up and showering before the rest of the family made their way out of bed. I had my sneakers on and was leaving the house before breakfast hit the table. An hour later I was freezing as my thin fleece pullover was no match for the wind whipping across the lake, but I was happy. I was with friends. And I was walking for Olin!
This morning was the March of Dimes March for Babies in Holland.  I was walking in honor of Olin, the son of Christine and Brad (friends from college), who was born 14 weeks early.  Weighing just 1 lb 9 oz., Olin spent the first 115 days of his life in the hospital.  Now he is home and on his way to being a healthy and happy little boy.
Olin and his parents are my personal connection to the March of Dimes.  They are what sparked my interest in walking this year and it is because of them that I will walk next year and the year after that, in hopes of raising more money to help March of Dimes in their efforts to fight infant mortality and premature births.
So, I did mention that it was pretty cold this morning, right?  As in 40 degrees.  And windy.  Oh the wind!  But it didn't stop hundreds of people from coming to walk, including Lisa and Jenny (also college and sorority friends) and even a few current active members from our sorority: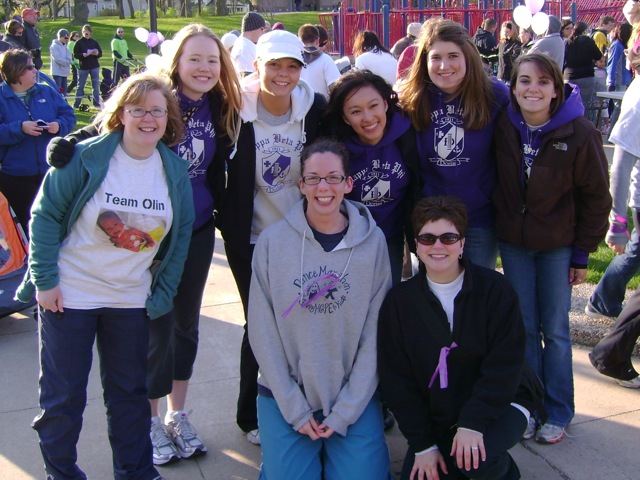 Then there is Jodi.  Jodi has no actual personal connection to Olin or his parents.  Other than the fact that she has a huge heart!  When I said that I would be walking at the March of Dimes March for Babies and asked if anyone would join me, Jodi was the first to say Hell YES! Or maybe it was Count Me In.  One of those.  Anyhow, this is just another reason why I love being around Jodi!  We spent the entire 5 miles chatting, running into people she knew, and freezing.  Together.  I could not have asked for a better walking partner!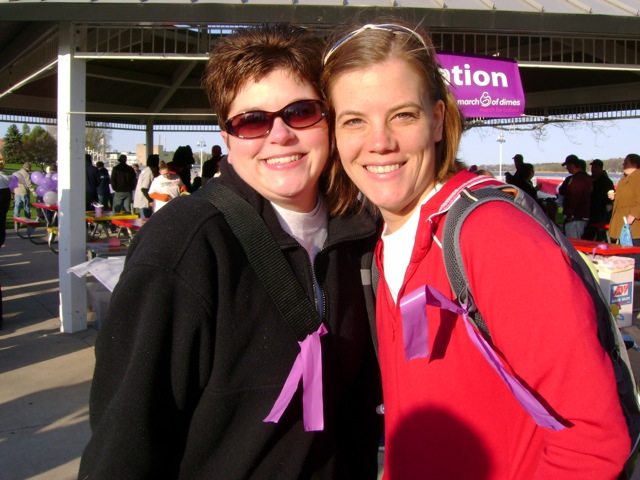 The biggest Rock Stars of this whole event were the amazing people who sponsored me for this walk!  Not only did I meet my goal of $250, but, because of their amazing generosity, my sponsors helped me raise $300!  Seriously?  You guys are awesome.  So thank you, thank you, THANK YOU to:  Bernie & Paula, Ben & Laura, my parents, my in-laws, Rachel & Brandon, Marc & Laura, Aunt Karen, Aunt Deb, Carmen, and Tara & Scott! You guys have humbled me with your generosity!
Despite the fact that my legs hurt and I still feel like I'm unthawing (yes, I'm a wimp), walking this morning for such an amazing cause made every little bit worth it and I'm looking forward to doing it again next year!  Oh, and I'm rooting for Brad, Christine, and Olin and their team who will be walking in Chicago next weekend…Keeping my fingers crossed for warm and wind-free weather for you!