It's Earth Week!  Ok, I know that technically it's just supposed to be Earth Day (April 22) but, I figure if I can declare the week of my birthday my Birthday Week, so can the Earth!  So we're going to celebrate Earth Week here at Stacey Says with some fun posts!
I'm going to go out on a limb (no Earth Day pun intended) and say that it is no coincidence that the blockbuster hit, AVATAR, is being released to dvd and Blu-ray on April 22, Earth Day! One of the major themes in this Oscar® and Golden Globe® winning epic is the importance of preserving the natural world around us.  That is why, with the dvd and Blu-ray release of AVATAR, Twentieth Century Fox Home Entertainment is teaming up with Earth Day Network to bring you "The Avatar Program".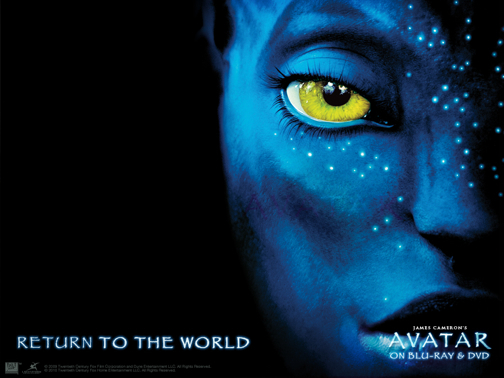 The AVATAR Program
Between the April dvd release of AVATAR and November, when an ultimate edition of AVATAR will be released on dvd with immersive bonus materials, fans will find a unique code inside the AVATAR Blu-ray/DVD.  That code allows them to register at www.AvatarMovie.com and gives them exclusive access to first-look bonus materials, special content, money saving offers, and more!  The best part though…that code allows you to be able to adopt one of the 1 Million trees being planted on behalf of Earth Day!
"I am pleased to have the opportunity to share the environmental messages from AVATAR through the efforts during the 40th Anniversary of Earth Day and with Earth Day Network," said James Cameron. "Earth Day Network's commitment and actions to promote a healthy, sustainable planet go hand-in-hand with the themes of AVATAR."
This initiative to plant 1 Million trees is being spearheaded by Earth Day Network, an international non-profit organization that coordinates Earth Day programs annually.  The planted trees will be distributed over 15 different countries and will be indigenous to each region.  The 1 Million trees will be planted by the end of 2010 but Earth Day Network and its international partners are committed to caring for and nurturing the trees to maturity!
"AVATAR sends a universal message about the danger of exploiting our natural resources and brings to the forefront of the global consciousness the need to protect our planet and humanity," said Kathleen Rogers, President, Earth Day Network. "We hope this commitment from Twentieth Century Fox Home Entertainment to plant one million trees, will inspire others to stand up against climate change for Earth Day."
If you are thinking of picking up the AVATAR Blu-ray/DVD this week (or any time), I hope you'll consider taking a few minutes to register with the "The AVATAR Program" online and help plant a tree!  As a participant in "The AVATAR Program" you will receive a virtual hometree that you can locate on a map and actually see where it is being planted!
This is a great and simple way to get your whole family involved in Earth Day!  Your kids will have fun seeing where their tree has been planted and will learn that Earth Day is a global initiative.  I would even challenge you to plant a tree in your own backyard or check to see if organizations in your area are joining together on an Earth Day project.  The Earth Day Network has some local events listed right on their website!
Also, check back later this week for my review of the AVATAR dvd, where I will be talking more about some of the special features from the dvd!