I'm so excited to share with you these two great films!  Both feature amazing women, both the characters and the actresses portraying them!
Amelia
I always knew the story of Amelia Earhart, well at least the gist of it. But I really never new the story behind the woman, behind the pilot, behind the history-maker.  The film, Amelia, is an amazing account of not only Earhart's determined journey to fly solo across the Atlantic but as she paved the way for women in aviation.
What I really enjoyed about Amelia was the human side the director portrayed of Earhart.  Yes, she was a determined pilot, but she was also a woman.  She was a woman with baggage from her past. A woman who wasn't sure what she wanted more — love or flying.  A woman who was tempted.  A woman who made mistakes.  She was human.  As fearless as she was, she was human.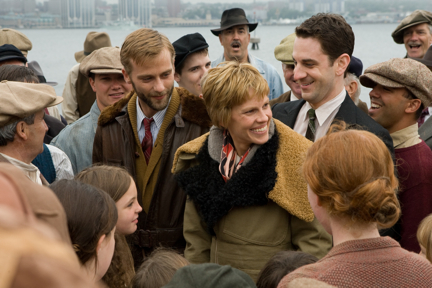 And the casting was perfect!  I could not have imagined a better actor to play Amelia Earhart than Hillary Swank!  The costuming, the makeup, her facial expressions…I could not believe how much Swank looked like her!  When compared to the actual photos of Earhart, Hillary Swank had an uncanny resemblance to her! And Richard Gere and Ewan McGregor aren't bad either!
Amelia is rated PG and is currently available on Blu-ray
and DVD
from Twentieth Century Fox Home Entertainment.  I would definitely recommend Amelia if you are looking for a great love story, an adventure, or an amazing look into the life of an American icon!
Flicka 2
I have been waiting for three months to not only see this film but to tell you about it!  When I was at the Mom 2.0 Summit this past February in Houston we had the privilege of seeing a sneak peak with some extended scenes of Flicka 2 and a fun Q & A with Director Michael Damian and Executive Producer Janeen Damian.  I also had the opportunity to sit down and chat with Michael and Janeen while at the conference (more on that later).
Flicka 2, contrary to what the film title might imply, is not exactly a sequel to Flicka.  If you have seen Flicka then you will appreciate the thread that runs through them both.  However, if you have not seen the first film (like me), you will still love this film.  It is definitely a story line that can stand on it's own!
The film follows Carrie, a teenage girl who, after her city life has been turned upside down, finds herself living in the plains of Wyoming with a father she barely knows.  Amidst the lack of internet, "fresh" aromas, gassy basset hound, and horse poop, Carrie finds herself letting down the fences she had spent years building around her heart, all thanks to a horse named Flicka.  The characters will have you crying, laughing (thanks in part to Clint Black), and rooting for Carrie and Flicka!
When I sat down with Michael and Janeen Damien in February, one of the questions I asked them was, "how does Flicka 2 differ from the first film?"  The powerhouse duo told me that, while this film too had a strong theme of family, it would also feature more action (complete with horse stampedes), a romance, and some great comedy!  Patrick Warburton (as Hank) and Tammin Sursok (as Carrie) embody that awkward father/teenage daughter relationship, while Reilly Dolman will melt your heart!  And Clint Black?  So cute.  And so funny!
To celebrate the DVD release of  Flicka 2 exclusively at Walmart and Sam's Club, and the donation of over $512 million from the Walmart Foundation to The Children's Miracle Network and the Monroe Carell Jr. Children's Hospital at Vanderbilt, country star and actor Clint Black joined Flicka, director Michael Damian (second from right), and actors Emily Tennant (far left) and Reilly Dolman (far right) at the red carpet premiere celebration at the Belcourt Theatre in Nashville, Tenn., on Tuesday April 27, 2010. (image courtesy of Twentieth Century Fox)
Flicka 2 is a great family film!  It will appeal to teens and preteens, parents, animal lovers, guys, girls…everyone! Flicka 2 is rated PG and is available on DVD
from Twentieth Century Fox Home Entertainment.  And this is definitely a film you will want to rent or own for family movie night!
The GIVEAWAY
I have 2 dvds of each film — 2 Amelia dvds and 2 Flicka 2 dvds — to giveaway!  That means four winners!
To Enter:
Simply leave me a comment below telling which film you'd like to win!
Extra Entries:
1 entry – Subscribe to Stacey Says… via RSS.
1 entry – Subscribe to the Stacey Says… email newsletter (sign up on the sidebar)
(make sure you confirm your subscription by clicking on the link sent to you in your email)
1 entry – Follow me (@Stacey_Says) on Twitter and tweet about this contest (you can do this every day and receive one entry each day!).
5 entries – Blog about this contest and leave me a link to your post.
5 entries – Not a blogger? Send an email to 5 of your friends with a link to this contest. Make sure you CC me (staceysays -at- me.com) on that email and then leave a comment here saying that you did so.
The Details:
The FOUR (4) winners will be randomly selected from the comments posted by Friday, May 28. It is not guaranteed which dvd you will receive if you win. All entries will be verified and must include an email address where I can contact you if you should win.  This giveaway is open to US residents only. You can read more about Giveaway Policies here.
*Disclaimer: I did receive screener dvds of these films so I could accurately review the cards.  However, receiving the dvds in no way affects my opinions stated here.