Yesterday we celebrated the Unofficial Start to Summer (aka. Memorial Day) and the weather around here has definitely made it feel like summer, with temps well into the high 80s.  Time to start planning out the summer!
My oldest has actually been out of school since the second week of May so we have already been dealing with the "What are we going to do today, mom?"…."I'm bored!"….."Can we please do something fun?" While I don't want to be "doing" and "going" every day of the summer, I do want to find something fun or special that we can do each week.  That is why I came up with the 14 Weeks of Summer.
There are 14 weeks between Memorial Day (the unofficial start of Summer) and Labor Day (the unofficial end of Summer).  Each week I am going to share with you something fun that we are doing.  The goal is to find fun things right in our area that we can do, that are good for kids of various ages, and that are free or really cheap.  While I'll be sharing things specific in our area, the thought is that it will help you brainstorm or search out similar events or opportunities in your area.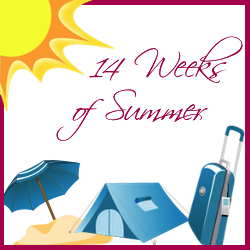 I'd love to hear about what you're doing to keep your kids from getting bored this summer. And I would really love it if you'd join me in the 14 Weeks of Summer adventure! Just write your own post each week sharing what you're doing special that week.  Then come back to StaceySays.com on Thursday and leave me a comment on my 14 Weeks of Summer post telling me what you did or leave me a link to your post. I'm hoping to do a fun giveaway with everyone who takes part in the 14 Weeks of Summer (more to come on that later).