We have been pretty fortunate in the fact that my girls actually like drinking water.  They don't drink milk all that often, have an occasional juice box, and have never had soda.  Juice boxes are probably our biggest nemesses.  They would drink juice boxes all day long if I'd let them.  So, to fight back, I try to keep the sippy cups and water bottles around our house fun and exciting.  It's my feeble attempt.
Then along came WAT-AAH!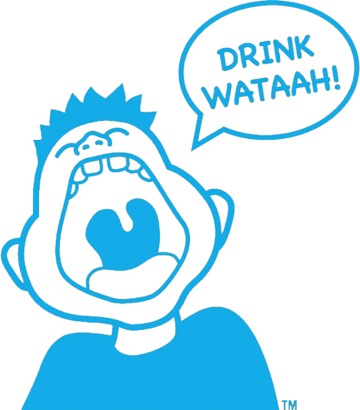 WAT-AAH! is a bottled water designed with kids in mind. Besides the fun name (go ahead, say it, WAT-AAH!) the labels are bright colors and feature a wide-mouthed kid yelling "Drink WAT-AAH!" You would think that this wouldn't even compete with all of the brightly colored juice boxes out there, but my 4 year old was begging for the "pink water" over the juice box sitting right next to it in the fridge.
The best part is that WAT-AAH! is just that, water.  No added sugar or calories. No artificial flavoring or colors. There are four different bottles of WAT-AAH! —
Body (pink) – pure spring water
Brain (blue) – ultra pure water + "kid friendly" electrolytes
Power (orange) – ultra pure water + magnesium
Energy (green) – ultra pure water + oxygen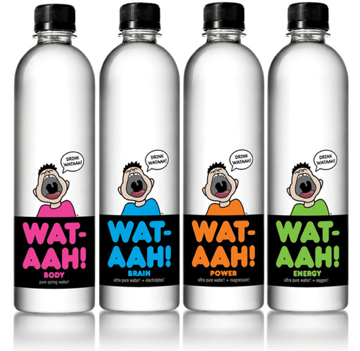 Do those extra little boosts of electrolytes, magnesium, or oxygen really do anything? I have no idea. My daughter tried each type of WAT-AAH! and I didn't notice much of a difference.  She still had a boundless amount of energy and was asking a bazillion questions.
Sadly WAT-AAH! isn't quite in every area right now.  They are hoping to have nationwide distribution this fall.  However, if you have a WholeFoods Market near you, check there!  All else fails, if you can't wait to get your hands on some WAT-AAH!, you can always buy a case or 6 on Amazon. I'm very excited to see they are also trying to get WAT-AAH! right into the hands of kids by being available at after school activities and in-school vending machines.  WAT-AAH! is committed to helping combat childhood obesity by reversing children's dependency on sodas and other sugary drinks!
I'm hoping to stock up on some "pink" WAT-AAH! this Summer for some of our long car rides, picnics, and trips!  Oh, and I should mention that my husband was just as excited about the "fun new (WAT-AAH!) bottles" as the kids were!  Looks like I'll be doubling that stock!!!
If you are looking for more WAT-AAH! fun, check out their Facebook page and the Wat-You-Got! Challenge.  If you're in the New York City area, then you definitely need to check out the "Don't Drink _____, Drink WAT-AAH!" Campaign! And their website itself is pretty freaking sweet, too!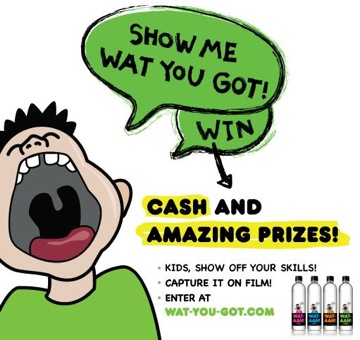 * Thanks to the great people at WAT-AAH!, my family and I had the opportunity to try out WAT-AAH! for ourselves.