Last weekend, when we were over visiting my family for my cousin's graduation party, my parents ended up buying my girls a swing set.  It's something we had been looking at for a while and, well, grammy and papa decided to spoil two little girls!
The instructions, or at least the signs at the store, said it should take 2-4 people 4-6 hours to assemble.  Apparently they mean 2-4 people who knew what they were doing and who didn't have kids to take care of.  Not a husband who knew what he was doing and a wife who was acting merely as an assistant, handing him boards and screws.  Oh, and did I mention that we had two children who wanted to "help", too?  It ended up taking us 2 people (plus 2 half size "helpers) working a total of 14 hours.  Yes, 14 hours!
But every one of those 14 hours was worth it.  Well, maybe not the last 45 minutes where we were literally getting eaten alive by mosquitos.  They were absolutely vicious! There were times that Tim had six mosquitos all biting in one area! And the poor dog ended up with a ton of big bumps all over his body from where the mosquitos were eating him, too!  So, 13 hours and 15 minutes were worth it!
This morning Abbi came running into our bedroom asking if she could PLEASE go play on her new swing set.  She had been waiting so patiently for us to finish it.  When I looked up from my oh-so-comfy pillow, there stood this super excited four year old, already dressed, just waiting for me to say "yes".  And off she went! With little sister soon to follow.

I have a feeling that we will be spending countless hours on this thing! The girls absolutely love it!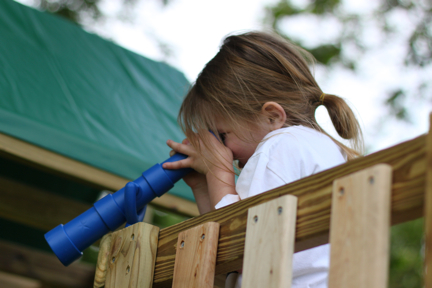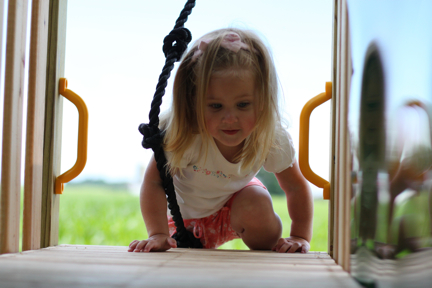 And don't worry, mom, the sand box you built for the girls last summer is still in full use!