This is Miss Angela. Everyone say "hi"!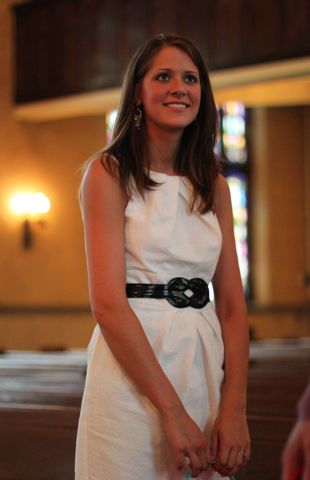 I met Angela four and a half years ago when she was a freshmen in college and I was a new mom.  I was looking for someone to watch Abbi, then 9 months old, for a few hours each week while I ran errands or went to appointments or just drank a quiet cup of coffee.  It was a big of a leap for me since Abbi's interaction with babysitters was pretty limited and had been completely limited to family.  But I took the leap. I had a good feeling about this one.
Four and a half years later, Angela has become like family.  My girls love her. She has been there for so many milestones in their lives — when Abbi started walking, welcoming home Zoe, Zoe crawling and walking, Abbi starting school, Jasper.  They don't remember a part of their lives that Angela was not a part of.
I remember thinking once, Wow! I'm leaving my toddler and newborn with this twenty year old girl and I feel totally fine about it! That's how it always was.  Angela was just a natural with my girls.  She had fun with them, brought art projects to do with Abbi, and disciplined them when needed.  I never once heard "Oh mom, do we have to have Angela babysit us?" If anything I was being begged to let Angela come babysit.  Angela has spent more time with our girls than any other person, outside of Tim and myself, ever.  She is family.
Of course all good things eventually come to an end, right?  Sadly, our time with Miss Angela has come to an end.  She graduated a semester early (smarty pants!) and (thankfully) found a nursing job a few hours away.  Happy for her.  Sad for us.  Really, we are super happy for her.  And, being the amazing person that she is, Angela asked her best friend and roommate, Camille, if she could take over babysitting until Camille graduated in the Spring (our girls love Camille, too!).
This weekend we were honored to share in a milestone in Angela's life this time — her wedding!  During her time at college, Angela met a wonderful guy, Jay.  I think he loves my girls almost as much as Angela does! Shortly after her engagement, Angela asked if the girls would like to be in her wedding. Abbi as the flower girl and Zoe as the miniature bride.  Oh dear! Are you sure? I mean…Zoe will only be 2 years old.  Are you sure? She was, so I told her we would make it work!
The day finally arrived and the girls were super excited.  Well, Abbi was.  Zoe just kind of went with the flow.  Abbi was excited about "rehearsaling" and "marrying".  They got their hair done and their special party dresses on.  And, despite being hot and tired, Abbi not wanting to wear her shoes, and Zoe not wanting to ride in the wagon down the aisle, everything went pretty well with the girls. They looked cute, they posed in pictures, and made it through the day/evening with very little whining or crying.
Here a few snapshots from our very special day with Miss Angela: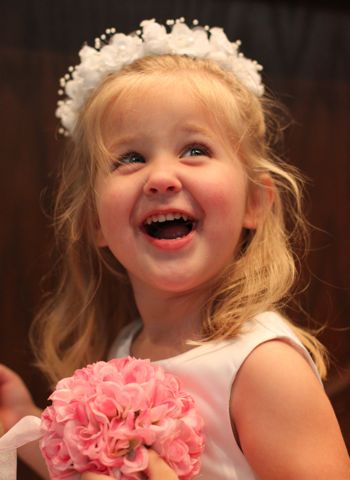 Zoe before having to go in the wagon! Did I mention that she totally bailed out of the wagon half way down the aisle? Umm, yeah.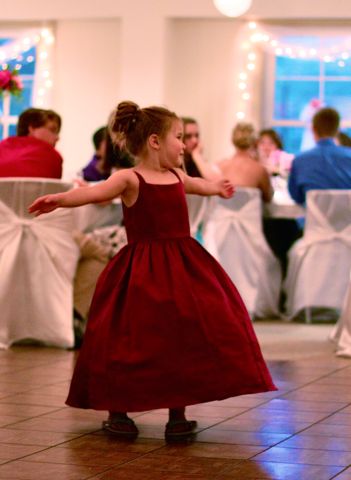 Abbi's only request was to dance at the reception.  And she did. All by herself.  To her own music. She couldn't let such a fabulous 'spinning' dress go to waste!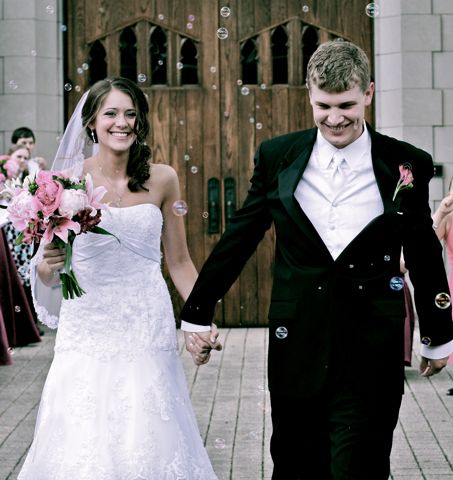 The happy couple.
That is Miss Angela.  She is a beautiful and wonderful person.  She is going to be an amazing mom some day.  We are happy that if we had to give her away to anyone, that we got to give her away to Jay!  But she will always hold a special place in our lives and the hearts of Abbi and Zoe.