With pre-orders for the new iPhone 4 happening tomorrow, this post almost seems all for naught.  But this is something I wanted to tell you about for quite some time and I just couldn't not share it with you.  Plus, I've seen rumors that this company is creating a similar accessory for the iPhone 4!
Case-Mate
I actually spent a few weeks (a year or so ago) looking around for a good case for my iPhone 3G.  I wanted something fun and something that didn't seem flimsy or would fall apart a month later.  Finally I found Case-Mate!
Case-Mate offers a variety of cases for smart phones, iPods, laptops, readers, and even the iPad. The case that I specifically fell in love with is the iPhone 3G/3GS Credit Card Case! A spin off from their award winning Barely There case, this case simply clicks on to your iPhone and provides a space, on the back of the phone, where you can store two credit-card sized cards!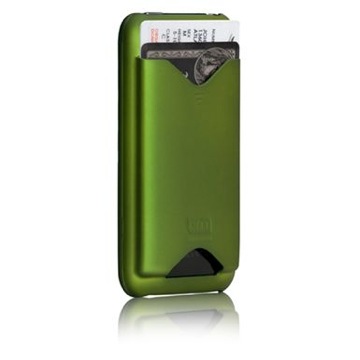 Why do I love this case so much? Well, I store my license and debit card on mine and hardly ever have to take my purse in with me anywhere!  Which is super hand when you're carrying one kid and trying to hold the hand of another through a busy parking lot.  It's also handy when you have to take a diaper bag with you most places.  I simply throw my iPhone (with license and credit card) into my pocket or diaper bag and can leave the rest of my purse behind!  I LOVE IT!!!
I have the green matte finish and it's beautiful.  My husband has the Barely There case and I actually don't find my case to be cumbersome compared to his.  I actually like having a little more phone to hold on to!  The case itself is a great quality and doesn't feel flimsy or cheap in the least bit.
To answer the questions balancing on the tip of your tongue right now…Yes, the case stays firmly on the phone but can still be easily pulled off if you want to switch cases.  And, No, I'm not afraid that my cards will fall out!  The cards are snuggly in there.  I've never had to worry about them falling out.
The funny thing about this case is the attention it draws!  The reason I went with this case was because it looked like it would be a good quality case, I liked the green color, and it could eliminate the need for me to carry my purse all the time.  Super!  And it was pretty reasonably priced ($29.99 now).  But since I've snapped this little case on my iPhone, I couldn't even begin to tell you how many times someone has asked me about my phone.  They are so curious as I slide my debit card from the back of my phone and immediately want to know where I found that case!  It's to the point where I think Case-Mate should be giving me some affiliate kick back

 Hi, Case-Mate!
So, there you have it.  This is my absolute favorite accessory for my iPhone.  I love it so much that I was actually sad when I saw that the new iPhone 4 would be thinner than the current iPhone.  What in the world would I do without my Case-Mate case? No, it wasn't going to stop me from pre-ordering my iPhone 4, but I was sad to be losing my lovely case.  Thankfully, it looks as though Case-Mate is coming to my rescue and creating a Credit Card Case for iPhone 4!  And yes, I will be ordering that as soon as it is available!
Just a note, Case-Mate has not hired me, nor have they even asked me nicely to write this post.  I'm writing it because I really do love this case.  Now, if Case-Mate wants to talk to me about future possibilities, I'm available! {just sayin}