Just when you thought it couldn't get any worse with the I'm bored's, then it starts raining.  And raining.  And raining.
My girls don't typically mind playing in the house (they have plenty of toys to keep them busy) but it becomes especially tough when they've had days of glorious outdoor play and are suddenly cooped up inside.  So, this is a great time to know what is available for indoor play centers and what special Summer activities or events they offer.
One of my girls' favorite indoor play places is DeAnna's Playhouse — an old office building/warehouse turned play area on steroids.  While my girls are happy to go there any day of the week, it was especially nice for us to go this week for my girls to run off their energy while it was raining!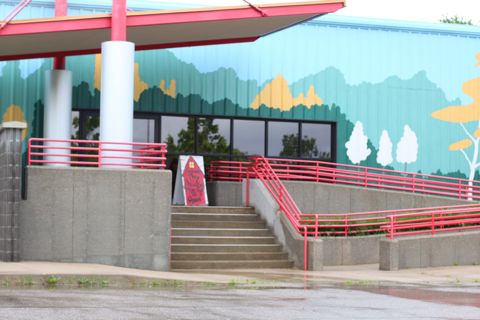 The Playhouse has everything from sit and scoot cars to building supplies to submarine type boat.  Although the inside is a large open space, they have separate "stations" set-up for different types of play.  A little grocery store, complete with the Meijer name. A bank with a drive thru window.  Playhouse with dolls.  Construction area.  Dress-up area with every costume imaginable and a stage for performing. An arts and crafts area, where they offer play-doh and seasonal art projects. And a music station.  Everything you can imagine.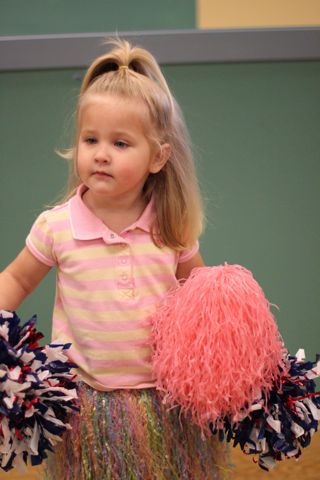 DeAnna's is great for us because it really caters to toddlers and preschoolers (pretty much from age 0-6yrs).  They do charge an admission price ($5 per person) but you can stay as long as you like!  We like to pack our lunch so we can eat right there in their kitchenette area and get even more fun for our buck!  Oh, and they provide snacks and coffee!!!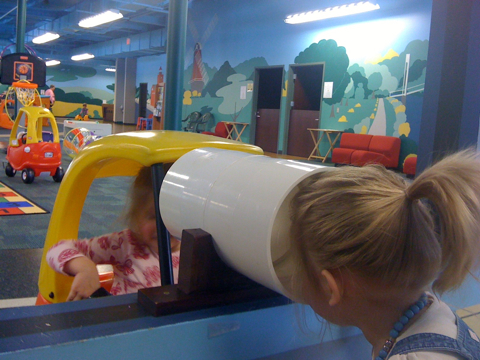 While you might not have a indoor play area like DeAnna's Playhouse in your area, there are plenty of other great places that we like to visit on our rainy Summer days (or even when it's just too hot to be outside).
Giant Inflatable Play Areas (aka Crazy Bounce or Bounce Party) — Again, these places typically charge an admission fee (generally between $5-$10 per person for an hour or two).  This might be a good idea to save as a special treat for keeping up with their chores or if they are driving you particularly crazy that day.  Our's has a special toddler hour twice a week where I can take my girls and not have to worry about them getting trampled by the older kids!
Arcades and Fun Centers — This is a fabulous option for kids who are a bit older (elementary to middle school), however they can be pricey, depending on how much you're doing and how many kids you have.  Many of these centers offer an array of activities, including indoor putt-putt golf, indoor go-karts, laser tag, climbing walls, and arcades.  Some also offer dining.  Call ahead to see if they run any specials if you buy a combo pack, come in during certain hours or days, or if they are going to offer any special events throughout the summer.  Mark it down on your calendar!  A few in our area are Craig's Cruisers and The Lost City.
Bowling, Roller Skating, and Ice Skating — If you have younger kids, head to the bowling alley.  If your kids are a little older, check out your local skating rinks.  Tip: Call ahead to make sure they aren't having league bowling or skating/hockey classes during the time you want to come.  Also, inquire about using the bumpers for your little ones at the bowling alley or skate assisting equipment for your little roller/ice skater.
Mall Play Area — We often visit the mall play areas around us even when we don't need to do any shopping.  We like to spice it up a little and check out the different malls around us, which is great if you have more than one mall within driving distance of you.  We've also found that the earlier in the day you go, the less crowded it will be!  Oh, and it's FREE!
Churches and Schools — Some local churches and schools open up their nurseries, kid areas, and gymnasiums during the summer for parents to bring their kids for some play time.  All it takes is a call to some of the churches or schools in your area to see if they offer this.  They might not but they might know of another church/school that does.  Another free option.
Yes, there is always the option of going to a Museum or Art Gallery, but I'm going to cover those in another week!
It's amazing the different options available for indoor play if you really look around.  You might have to drive out of your immediate area to get to a few but, hey, it's worth it!  I'd rather spend a half hour in the car driving somewhere where my girls can expend some energy, than sitting at home answering WHEN IS IT GOING TO STOP RAINING? for the fiftieth time!
What are some fun Indoor Play places in your area? Do your kids have a favorite?
Oh, and another great idea is to suggest to the grandparents to purchase passes or gift cards to some of your favorite indoor play places as birthday and Christmas gifts!