It's really the one of the year when it's perfectly acceptable to eat your weight in food that has been deep fried and covered in salt, powdered sugar, cinnamon, or whatever else you can get your hands on!  Ahh, good times! Good guilt-free times.  Festival time!
I love festivals. If scheduling works out, I try to make it back for my hometown's festival.  You'd be amazed at how many people travel back for my hometown's festival.  And I'm not really sure why.
The best part of festivals is that you can pretty much create a festival around whatever you like — fish, vegetables, fruit, flowers, birds, etc. While every festival seems to offer something different, there always seems to be something for every age group.  And most festivals are now taking advantage of the internet and social media by putting their schedules and brochures online (hello! thank you for joining the rest of the world).
Here is a list of some West Michigan (and a few not-so West Michigan) festivals this summer: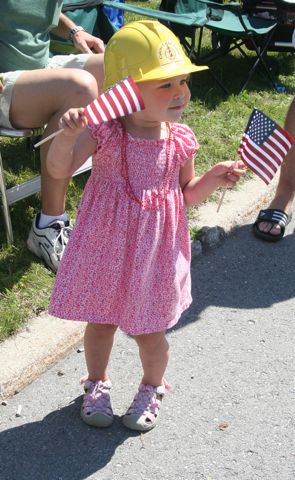 Maranda's Park Parties – I guess these are technically "festivals" but they are yearly summer events that your kids will love!  Check out their website for locations and dates.
Tulip Time – Holland (May 1 – 8)
Already passed, but put it on your list next year.
Festival of the Arts – Grand Rapids (June 4 – 6)
This one has passed as well, but add it to your list!
Lilac Festival – Mackinac Island (June 11 – 20)
I know this one is quite the drive if you're in West Michigan, but it's absolutely worth it! The Island itself is beautiful, but when you cover it in lilacs…breathtaking!
Hudsonville Art In the Park – Hudsonville
(June 12)
Feast of the Strawberry Moon – Grand Haven
(June 12 – 13)
This one looks, umm, interesting…
Spring Lake Heritage Festival – Spring Lake
(June 15 – 20)
South Haven Harborfest – South Haven (June 17 – 20)
West Michigan Chalk Art Festival – Byron Center (June 18 – 19)
City of Walker Festival – Walker (June 19)
Muskegon Summer Celebration – Muskegon (June 24 – July 4)
National Cherry Festival – Travers City (July 3 – 10)
Ok, yet again not in West Michigan necessarily, but worth the drive to go! It's one of the largest festivals in the state and has a ton of great things going on! And it's a beautiful area!
National Baby Food Festival – Fremont (July 21 – 24)
Ionia Free Fair – Ionia (July 22 – 31)
Ottawa County Fair – Holland(July 26 – 31)
Muskegon County Fair – Muskegon (July 27 – 31)
Byron Days Festival – Byron Center (July 30 – 31)
Grand Haven Coast Guard Festival – Grand Haven (July 30 – Aug 8)
If you know of a festival that I left out, please let me know so I can add it! Thanks!
Now that you've picked which festivals you're hoping to check out this summer, let's talk about some tips for surviving those festivals with kids!
Survival Tips:
Check the schedule before you embark! Time is usually of the essence when traveling with kids, so make sure you know where you're going and when things start!
Bring a stroller or wagon! Your little ones may be big enough or determined to walk but eventually they'll get tired and you'll be stuck carrying a tired five year old, a half eaten elephant ear, and a giant stuffed dog that cost you $30 to win at the ring toss as you try to find your car amongst the hundreds of others. Plus, if the kids do decide they can walk to the car, you can always use the wagon to tote the giant stuffed dog!
Anticipate weather change! If you've lived in Michigan for at least one summer, you know how quickly weather can change in a matter of a few hours.  Toss in some sweatshirts or long sleeves, an umbrella, and some sunblock in the backpack or wagon. (Yet another good reason to bring the wagon.)
Pack a snack or meal! Of course, indulge in the "culinary arts" of the festival.  Eat a corn dog, followed by a funnel cake, and top it off with ice cream.  But, if you're planning on spending the day (or night) out you will want to pack something a little more nutritious for snacking or as a meal.  Likely your kid will have a meltdown at some point, so why tempt fate a sugar induced crash or a hungry kid? Some carrot sticks, crackers, or granola can help balance out that blood sugar and curb hunger.  If you're going to be out for multiple meals, look around for a cafe where you can get sandwiches instead of opting for another corn dog.
Bring water! Inevitably you and your kids are going to get thirsty.  Avoid dehydration by packing a few water bottles with you (again, good reason to take the wagon).  Bottles of water are crazy expensive at festivals and you don't necessarily want to be sucking down soda after soda.  Maybe even pick up a few reusable water bottles that have the built in ice pack/tube to keep your water colder longer.  A thirsty

mom

kid means a cranky

mom

kid.
Scope it out first! If the festival has a carnival section, take a few minutes to walk around and check it out before you buy a roll of ride tickets.  Make sure there are rides that are age appropriate for your kids and check the height restrictions.  Also, ask the ride attendant if accompanying parents ride for free.  Now you'll have a better idea of how many ride tickets you actually need.  Most carnivals even offer a "kids day" where the prices are discounted during the day or if you purchase an "all you can ride" wrist band.  Again, make sure it makes sense for your family.  If your kids are pretty little, they might not be riding enough rides to make the wristband worth it.
Take a break! While it may make sense for you to just "make a day of it" and forego naps so you can take in all the festivities, consider breaking your day up.  If the festival is local, head home for naps and go back after naptime.  It will give everyone a much needed break.  Or, make it a two day affair and go in the morning/early afternoon one day and again in the late afternoon/evening on another day.
Are you hitting any festivals this summer (or have already hit a festival)?  I'd love to hear about it!
Also, if you want to participate in The 14 Weeks of Summer series, leave me a comment below or link up your post about what you did this week! All comments and links throughout the 14 Weeks will be entered to win a super fun grand prize at the end….