For a lot of kids, this has been the first full week of sleeping in, no teachers, and no homework!  My daughter actually finished up school over a month ago and has been asking me each week since if she gets to go back to school soon.  I know, she's kind of a freak of nature.  She's also only in preschool and hasn't quite learned the joys of tons of homework and exams!
If your child is like mine and actually wants to go to school during the summer, a great option is to check out some different summer classes and camps throughout the summer. I've convinced my daughter that she can actually still go to school during the summer but that it will be some fun and different "schools".
Summer is a great time to let your child focus on or test out different things that they might not get a chance to do during the school year.  It is also a great way to keep them active (mentally and physically) and busy during those summer days!  The really great part is that a lot of these schools or classes offer a variety of shorter, more concise, classes that allows your child to get a taste of something they might love or rule out things they just don't like without taking up their whole summer!  It also allows your kid to try out a few different things during the summer and, if your kid doesn't like it, you aren't wasting a ton of money on months of classes that your child doesn't want to go to anymore.
From sports to music to art to animals, it is so easy to find something for just about anyone and in any age group!  Here are a few different options in our area:
Animals & Nature
Zoo classes — John Ball Zoo offers different classes and opportunities where kids from 3 years to 17 years can learn about the zoo animals and how the zoo operates.  Binder Park Zoo runs a variety of day camps for kids as well.  Each camp is broken up by age group to provide age appropriate activities and each camp/week has a different theme.  Toddlers get to learn about the different textures of animals and how different animals move and talk, while preschoolers get to talk about things like animal families and dinosaurs! Camps for 5-6 year olds sound even more cool with each running for a week at a time!  Check out your local zoo for classes they might offer! If they don't offer any classes or camps, suggest that they start!
Nature Centers — For the nature lovers, Summer is a great time to get out and explore the world around them.  DeGraaf Nature Center offers Saturday family events throughout the Summer.  Times, locations, and fees change each week so you can pick out which activities might work best for your family.  DeGraaf Nature Center also offers some classes through the Holland Rec League.  One of my favorite local nature centers is the Outdoor Discovery Center!  They offer a number of different classes for kids and families throughout the summer (and all year long).  Last week we enjoyed one of their free Outdoor Adventure Days where they visit different community parks, teaching the children about the wildlife that exists at each of those parks. They also offer Nature School for 3-6 yr olds and a three day long Wildlife Discovery Camp for 6-10 yr olds.
Farms — Another great way to get your child involved with animals is to check out classes at your local farms.  Abbi, my 4 year old, will be attending the Little Farmers camp this July at the Critter Barn where she will learn hands-on about chickens, rabbits, goats, and sheep.  While this class is for 3-5 year olds, Critter Barn offers their Animal Adventures camp for ages 5-8 and Critter Camp for ages 7-16.  Each camp gets the kids working hands-on with the animals and what it means to care for these animals.  Another great option  is to contact a local farm to see if they might offer classes.  If they don't, see if they might let you bring your kids by for a little hands-on learning of their own!
Art
My girls love doing art projects but, with as many different 'types' of art out there, trying them all at home can become quite expensive.  And, let's face it, I don't see us buying a pottery wheel and kiln any time soon.  So, art classes are a great idea for the summer.  It gives your child a chance to try out a variety of different kinds of art without you having to buy a ton of supplies!
Cynthia Hagedorn of Square Peg Events offers Art Camps for Kids (Tuesday), Drop in Studio for all ages (Wednesdays), and Food and Art Tours (Thursdays).  The Holland Arts Council also offers a Summer Art Camp series that exposes kids to the art of percussion, community, and nature.  I'm really excited to head over to the Express Yourself Art Barn to get our hands a little dirty with some pottery work this summer, too!
If your child is, well, not really considered a child anymore but would rather be called a teen or young adult, then they should check out the Summer Art & Design Camps at Ambrose!  These are amazing learning opportunities focusing on drawing, graphic design, printmaking, and photography!
Music & Theater
Have a little drama queen/king or the next American Idol on your hands? Then sign them up for some music or theater classes!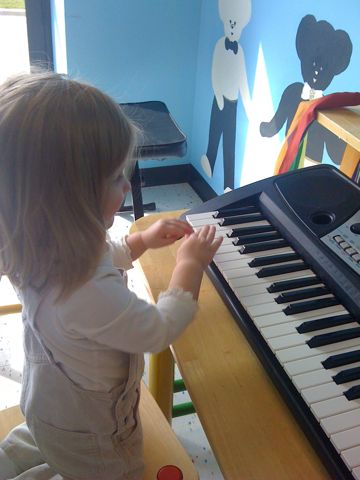 The Avalon School of Arts offers an array of Summer classes and camps, including Theater Camps, Musical Theater Camps, and Kindermusik.
Tunes 4 Tykes also offers Kindermusik classes for all ages.
Lil' Learners, with locations across West Michigan, not only offers classes and camps in music, musical instruments, and theater, but they also offer private lessons.  And they offer some dance, art, fencing, and language classes.  Oh, how I want to sign Abbi up for Irish Step dancing!
Sports, Martial Arts & Dance
Local recreation centers are a great resource for sports and dance classes and camps.  They offer season classes and tend to be cheaper than if you were to go through a private companies, especially when looking at martial arts, gymnastics, and dance classes.  Not only do they offer the traditional kids sports (swim lessons, soccer, t-ball) but the offer some not-so traditional kids sports, like golf and table tennis). Both Holland Rec and Zeeland Rec offer a good number of classes and sports for the summer!
If you're interested in checking out private companies, many of them offer summer sessions and camps and some even offer a free trial class.  Of course there are too many to list here but, remember, Google is your friend!  You can also ask around and check with your friends for recommendations on which studios to check out.  Abbi will be continuing on with Gymnastics again this summer at Flipside Gymnastics, if anyone wants to join us!
VBS
Vacation Bible School's seem to be in full swing right now but it's not too late to get your child signed up!  Don't go to a church that offers VBS this summer? No worries!  Most local churches are happy to have your child attend their VBS.  Just give the church office a call or check them out online first to view their age limits or registration details, as they might run things a little differently than other VBS programs.
That is just a sample of the different Summer Classes and Camps you can check out with your kids!  Of course these are specific to the Greater Holland area, but you can check out more camps and classes in the Great Grand Rapids area by visiting Grand Rapids Kids or Big Binder.
I hope this week's 14 Weeks of Summer gave you some ideas to check out in your area!  Be creative!  Call around. Ask around.  There is a ton of stuff out there to do with your kids, sometimes you just need to look for it!
Also, if you want to participate in the 14 Weeks of Summer series, leave me a comment below or link up your post about what you did this week! All comments and links throughout the 14 Weeks will be entered to win a super fun grand prize at the end….