Oh guys, these are some fun ones this week!!!
Date Night
Hilarious!  Absolutely Hilarious!!!  But really, did you expect anything different from Steve Carell and Tina Fey? But I think my husband was actually most excited when he found out that Mark Walhberg also had a role in Date Night.  He's kind of Tim's role model (I like to call Mark his man-crush).
Date Night is about a married couple, Phil and Claire Foster, who realize that they have settled into the hum-drum monotonous routine of their marriage and lives.  In an effort to jazz things up a little, they head into the city on their date night to one of the hottest restaurants.  When they take someone else's dinner reservation they not only get a great meal, but they also get a night they are sure to remember!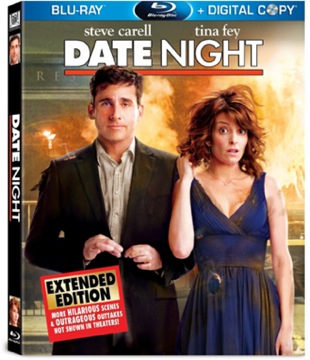 This movie is definitely a great date-night rental! Funny.  Great action.  A shirtless Mark Walhberg.  All of that was to be expected and did not disappoint.  What I wasn't expecting was how Date Night resonated with me.  With my husband.  So many times we found ourselves looking at each other and laughing because we had, at some time, said (or thought) those exact same things.  Why can't he just stop *insert annoying habit here*?  Why can't she just let me help without watching over me with a critical eye?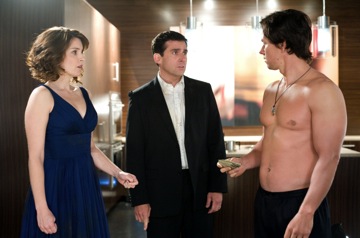 Overall, the film itself (comedy, action, and story-line) was not over the top, as it is in many comedies like this.  It was a good balance and definitely worth watching.  The bonus features are also really great.  The Gag Reel and Public Service Announcements are hilarious and we really enjoyed watching the behind the scenes featurettes on directing with Director Shawn Levy.
Date Night is rated PG-13  and is available on Blu-ray and DVD, with both theatrical and extended versions of the film.
Sorority Wars
Have I ever mentioned that I was in a sorority in college?  Yup, Kappa Beta Phi!  I have a lot of really great memories from those years but that experience has made watching any movies on Greek Life really disappointing to me.  I get really tired of how most movies portray sorority girls as complete air-heads and Greek Life as one big drunk-fest.  Ok, yes, there are some pretty ditzy sorority girls out there and yes, there is drinking going on, but that's not what it's all about.
So, I was a bit skeptical going into watching Sorority Wars.  But I was pleasantly surprised. Sorority Wars is about a girl, Katie Parker, who, as she heads off to her first year of college, has every intention of joining the sorority that her mother was once a part of.  But, when she begins to see the members of that sorority for who they really are, she decides sorority life might not be exactly what she wants.  In the process of discovering who she is Katie causes a little trouble for her would-be sorority sisters and ends up pledging to their sorority rivals.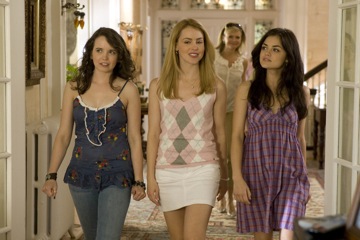 Sorority Wars is a fun movie with a great cast (Lucy Hale, Courtney Thorne-Smith, and Faith Ford).  Besides a fun story and and actors, there were also some great themes or thoughts throughout the film.  As a mom of two girls, it was interesting to see the connection between mother and daughter and how sometimes you just need to let them go and let them make their own choices, even if it's not the choice you would have made.
Sorority Wars is unrated and is available on dvd from Vivendi Entertainment.  I would definitely recommend the film and think that anyone (teens, moms, college girls), whether they were in a sorority or not, would enjoy watching it!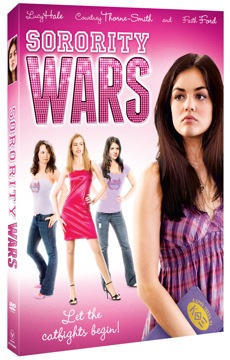 Win it!
I am giving away TWO copies of Date Night starring Steve Carrell and Tina Fey! To enter, simply leave me a comment below telling me about the worst date you ever had!
You can earn one extra entry by doing any or all of the following:
Subscribe to Stacey says…
Follow me on Twitter
Tweet about this contest and/or Post about it on Facebook (you can do this once daily, each)
"You can win one of TWO copies of "Date Night" on dvd from @Stacey_Says: http://bit.ly/DateNightdvd"
Leave me a new comment each time you do one of the "extra entries"!
Giveaway Details:
The TWO (2) winners will be randomly selected from the comments posted by Friday, September 10.  All entries will be verified and must include an email address where I can contact you if you should win.  This giveaway is open to US residents only. You can read more about Giveaway Policies here.
*Disclaimer: I did receive a complimentary copies of Date Night and Sorority Wars on dvd from Bender/Impact so I could give you an accurate and personal review.  However, receiving complimentary product in no way affects my opinions stated here.