I'm excited to jump back into my Friday Films reviews and giveaways! I have some really great films on dvd to tell you about in the coming weeks.  And this week's dvd is a great way to jump back in.  It seems like this dvd came to me in some pretty interesting timing, as I had just found out that the son of an old college friend had been diagnosed with cancer.  (You can learn more about their story at Gideon: "The Lord is with you, mighty warrior.")  Now, let me tell you about the dvd….
Letters To God
I'll warn you now, I'll probably give quite a few spoilers here so I apologize now.  However, despite how much you know about the film ahead of time, I guarantee you'll leave watching this dvd inspired, hopeful, heartbroken, and sad.  I cried, a lot, watching Letters To God but every tear was worth it.  (And I'm pregnant so I cry pretty much about everything.)
Letters to God is about an eight-year-old boy, Tyler, who has cancer and, in spite of his cancer, has an extraordinary amount of faith and courage.  Concerned about how his cancer has and will affect his friends, mom, and brother, Tyler begins sending prayers to God in the form of daily letters; letters that he actually addresses to God, stamps, and places in the mailbox for delivery.  The letters wind up in the hands of Tyler's new postman, Brady, who has a few "issues" that seem to be haunting him.  Confused at first over what to do with the letters, Brady ends up using the letters to bring together a community, heal a family, and lift himself out of the pit he had been spiraling down.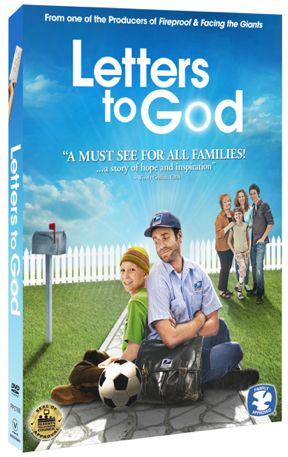 I'll be honest, I often have a hard time with faith based movies.  Not because of the overall message or because of the subject matter, but because they tend to lack in the acting and storyline department.  I often find myself bored with the actors and the storyline in these types of movies.  But I was pleasantly surprised by Letters To God.  First, it is inspired by a true story and, although some of the situations and characters were changed, I always appreciate a story about actual people.  It is also from the producers who brought us Fireproof and Facing the Giants.
Second, the acting in this film was pretty good.  The cast includes Robyn Lively ("Saving Grace," "30 Rock"), Jeffrey S.S. Johnson ("Criminal Minds," "Burn Notice"), Tanner Maguire ("Lost," "Brothers & Sisters"), and Ralph Waite ("Days of Our Lives," "CSI," and "The Waltons").
Third, the storyline kept me interested.  I truly wanted to find out how it ended.  And, as a mom, the story of a family was of interest to me.  Now, I do wish certain parts had been a little different.  There is one scene where the mom breaks down and says how sick she is of hearing the same ol' religious "make you feel better" cliches.  I wish she would have gotten a little angrier in that breakdown.  Because I would have.  I felt like she was handling it a little too well.
Overall, the film is worth seeing.  Letters To God is rated PG but I would caution you about watching it with kids.  Depending on the age of your kids, I would consider watching it first without the kids and then you can be the judge.  The reason for my caution:  the film has an obvious theme of death and loss and, although your child may have dealt with the death of a grandparent already, it seems to be a little different when the death is of a child.  That brings up a lot of different feelings, questions, and concerns in kids.  Just be ready.  Oh, and have some Kleenex handy!
Letters To God is currently available on DVD, which includes a ton of bonus features:  On-Set Devotionals, Behind the Scenes, The Music Behind the Movie, Character Stories with Cast, Short Stories, Outtakes and Bloopers, and more!
Win it!
I am giving away THREE copies of Letters To God! To enter, simply leave me a comment below. The comment can be anything, I'm easy like that today!
You can earn one extra entry by doing any or all of the following:
Subscribe to Stacey says…
Follow me on Twitter
Tweet about this contest and/or Post about it on Facebook (you can do this once daily, each)
"You can win one of three copies of Letters To God on dvd from @Stacey_Says: http://bit.ly/cQw6Gj"
"Like" Letters To God on Facebook (leave them a wall message to tell them you heard about the film here!).
Leave me a new comment each time you do one of the "extra entries"!
Giveaway Details:
The THREE (3) winners will be randomly selected from the comments posted by Friday, August 27.  All entries will be verified and must include an email address where I can contact you if you should win.  This giveaway is open to US residents only. You can read more about Giveaway Policies here.
*Disclaimer: I did receive a complimentary copy of Letters To God on dvd from Bender/Impact so I could give you an accurate and personal review.  However, receiving complimentary product in no way affects my opinions stated here.