Last week Zoe and I had the privilege of joining 7 other blogging moms and their little ones for a special event put on by Sassy Baby.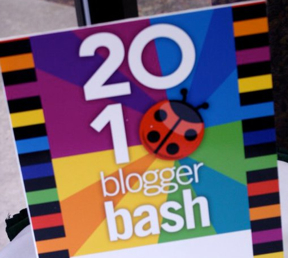 Let me first say that I was so thrilled to be invited to this event because I love that companies, especially local companies, are reaching out to the West Michigan blogging community!  We have an amazing group of bloggers here in West Michigan who not only have a great local reach but a great national reach as well.  Have no fear, there is a whole blog post coming on this topic!
Now, back to the Sassy Blogger Bash!  The sole purpose of the event was to introduce us to the latest and greatest in Sassy products!  While Zoe is getting a bit too old for many of the Sassy products (she's nearly 2.5 years old), the timing of the event was perfect as we are expecting our third baby in February and will need to pretty much replace most, if not all, of our baby gear.
Here are a few of the very fun products that Sassy has hitting store shelves that Zoe and I particularly liked:
Sassy is embracing the world of Rock-n-Roll this season and the toys couldn't be more fun!  Still maintaining the traditional Sassy look of bright colors and black and white features, some of the toys you're kiddo will be enjoying are miniature guitars, pianos, and xylophones with a variety of textures and sounds and even water-filled teethers in the shape of peace signs!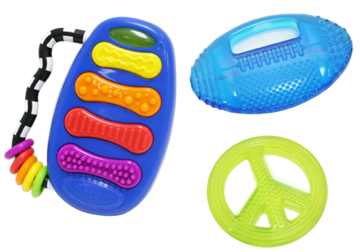 One of my must-haves is the Rock and Roll Ring Stacker.  Yes, it may look like just a regular old ring stacking toy, but here is how it's different and thus why I would recommend it:  (1) The center stick that you stack the rings on is the same diameter all the way up!  What that means is that it does not taper as it goes up so you can stack the rings in any order!  No more frustrated baby when she can't get all of the rings on because she decided to put the smaller ones on first!  (2) That top little yellow ball actually clicks on and holds all of the rings in place.  Go ahead and rejoice for a minute!!!  No more loose rings floating around in the toy box! And this also allows you to use the Rock and Roll Ring Stacker as a rolling toy by putting the blue ring on the opposite end of the green (they are the same size), helping encourage your little one to scoot and crawl!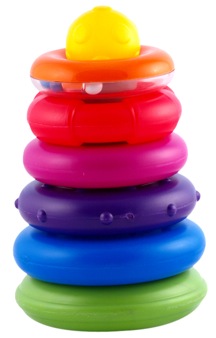 Sassy has really put a lot of thought into their line of feeding products!  Every item and every aspect of those items were created with a purpose!  From the Stack 'n Serve Bowl Set with its non-skid base and its square shape for easier scooping to the Less Mess Training Spoons with their easy grip handles and holes to keep food on the spoon longer, each of the Sassy feeding products help guide children to become self-feeders!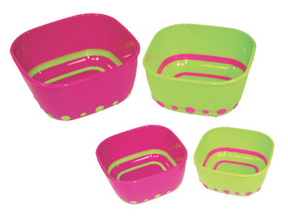 My favorite:  the No-Scratch Bottle Brush.  Honestly, I never gave much though to the bottle brushes I was using.  But then I noticed that the insides of my bottles were getting scratched.  Did you know that little micro-organisms like to find their way into those little scratches?  Gross!  The No-Scratch Bottle Brush has a completely different kind of bristle that doesn't scratch bottles (thus the name) and includes an automatic soap dispenser area and flip-out nipple brush!  Obviously Zoe thought it was the perfect brush to scrub mom!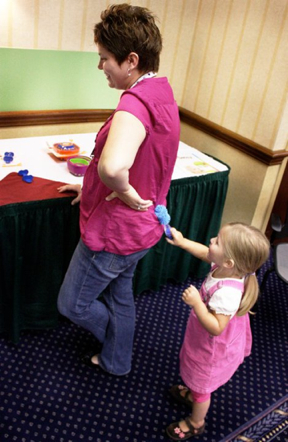 I think Zoe could have stayed and played with the bath toys the entire day!  My girls absolutely love bath time!  So I'm particularly excited about these items!
The Scrub-a-Dub Car Wash is just a fun bathtime toy that will keep your little one entertained as they shower, scrub, and dunk their little cars!  Again, Zoe thought this one was a riot!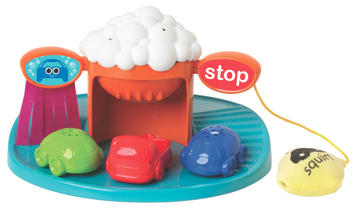 The Soft Touch Rinse Cups are more for mom!  We've always used plastic drinking cups for hair washing time and they are less than stellar.  They are often hard to hold on to when my hands are wet and full of soap and I've had to throw quite a few away because they crack when the kids play with them.  The Soft Touch Rinse Cups are made of this unique, soft material that (ah ha!) won't crack when played with and can conform to my daughter's head, keeping the water from pouring into her eyes!  And the large handle is so easy to hold on to!  AND….dishwasher safe!!!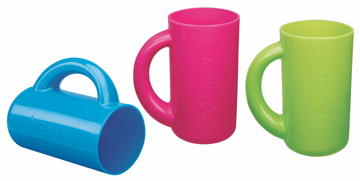 Now, I've saved the best for last!  My absolute most-favorite item of the event were the Stay-Clean™ Silly Squirters™!!! I honestly don't know why these were not created before because I am stocking up on them like crazy!  My girls' favorite thing to play with in the tub are toys that they can use to squirt each other with.  The problem?  Have you ever cracked open one of those squirty toys after a few weeks of bath tub time?  Disgusting!  They are near impossible or completely impossible to clean, leaving you to toss them out and buy more (very ingenious).  With the Stay-Clean™ Silly Squirters™ you no longer have to worry about throwing away your money as you throw away those toys.  The Stay-Clean™ Silly Squirters™ pull apart into two easy pieces allowing you to easily clean them (dishwasher safe!) and allowing your kids to mix and match the tops and bottoms, creating fun new characters!
This is what they look like: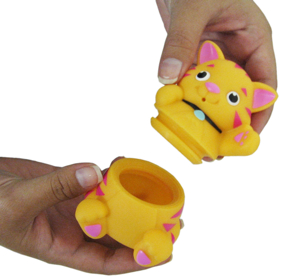 And this is what bath time fun looks like with them: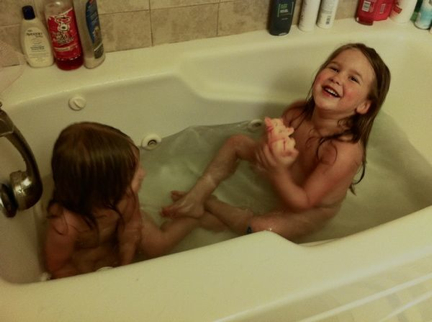 I actually have more to share with you about some of the stuff I learned at the Sassy Blogger Bash but will save that for an upcoming post! I know, you can hardly wait!!!  In the mean time, you can check out all of the Sassy Baby products at SassyBaby.com, check them out on Facebook, or chat with them on Twitter.
Thanks again Sassy for the fun and informative event!