I had to laugh this morning as I watched Live with Regis & Kelly because Kelly was joking with special co-host Kyle MacLachlan (Desperate Housewives) about him being a year older than Fred Flintstone (who just turned 50)! That got me thinking….holy cow! I'm a year older than Strawberry Shortcake!!!
I loved Strawberry Shortcake as a kid! I remember having this little Strawberry Shortcake bathtub toy and my grandma even made me a crocheted Strawberry Shortcake doll! Now, thirty years later, I'm able to share my love of Strawberry and friends with my daughters and, even after a few makeovers, she's still spreading her message of friendship!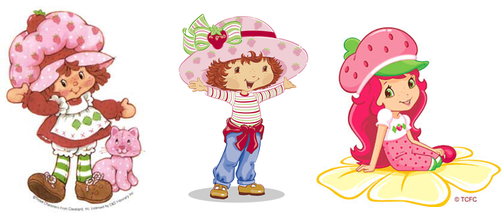 Here are two of my daughters' latest favorite Strawberry Shortcake movies:
The Glimmerberry Ball Movie – This full-length CGI feature film is a great way to prepare your little ones for the coming of winter as they watch Strawberry and friends prepare to celebrate the coming of winter with a secret gift exchange and festive winter ball! The film is packed full of mysteries, as someone destroys their ball decorations, fun and friendship!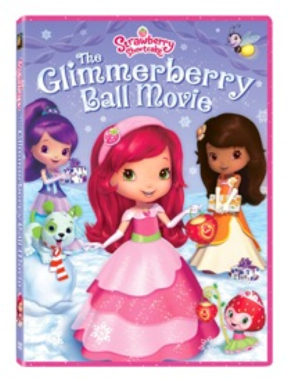 Berrywood Here We Come – A two-part dvd that centers around being the star that you are and, of course, friendship! In the first part, Strawberry and friends head off to Berrywood to visit Strawberry's movie star friend, Limelight (don't you just love their names), but, once they arrive in Berrywood, they quickly realize that not everything is glitz and glamour. It takes some creative thinking and true friendship to help Limelight realize that everyone is a star! In part two the girls bring what they learned in Berrywood home to Berry Bitty City and help re-open a local theater!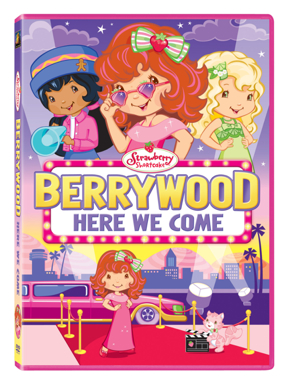 Both dvds include some fun special features and, if you visit the Strawberry Shortcake dvd website, you can get both dvds for just $14.98. My girls chose to bring the dvds with them in the car on our 6 hour drive up north over Labor Day weekend and it was fabulous! The movies kept the girls happy and quiet for a good portion of the trip, which gave mom and dad a few moments of peace! Priceless!
If you have little girls who love Strawberry Shortcake you should definitely think about picking up these dvds…they would make great stocking stuffers! Also, check out the Strawberry Shortcake website for more videos, games, activities, and birthday coloring fun!
Win It!
I am so excited to be giving away two readers their very own copies of both The Glimmerberry Ball Movie and Berrywood Here We Come!  That means that if you are one of the winners, you'll get both dvds!!! To enter, simply leave a comment telling me if you grew up loving Strawberry Shortcake or if your kids now love Strawberry Shortcake.
You can earn one extra entry by doing any or all of the following:
Subscribe to Stacey says…
Follow me on Twitter
Tweet about this contest and/or Post about it on Facebook (you can do this once daily, each)
"Strawberry Shortcake turns 30! Celebrate by winning some Strawberry Shortcake dvds from @StaceySays: http://bit.ly/SShortcake"
Leave me a new comment each time you do one of the "extra entries"!
Giveaway Details:
The two winners will be randomly selected from the comments posted by Friday, October 8.  All entries will be verified and must include an email address where I can contact you if you should win.  This giveaway is open to US residents only. You can read more about Giveaway Policies here.
*Disclaimer: I did receive a complimentary copy of both dvds listed above from Bender/Impact so I could give you an accurate and personal review.  However, receiving complimentary product in no way affects my opinions stated here.