Congratulations Laura! You are the winner of the iTunes Gift Card! You will be receiving an email from me shortly about claiming your prize.
It's like crack for babies and toddlers! Crack that envelopes all of their attention with it's music and puppets and little toys dancing across the screen! It's a beautiful, wonderful thing. It's often a mom's best friend when all you want to do is grab a quick shower or nap or make a phone call. It's Baby Einstein!!!
Now, like most tv shows and videos for kids, Baby Einstein has gone mobile!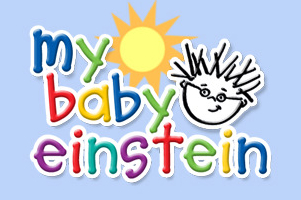 My Baby Einstein takes everything you and your baby love about Baby Einstein and squeezes it into your iPhone, iPod Touch, or iPad.  Here are some of the things the app has to offer:
Discovery Cards — These are like little interactive flash cards for your child.  The Color Cards, which comes default with the app, says the color, shows the color in the form of word and a color slide, and then shows a variety of real world pictures depicting that color (i.e. blue jeans and blueberries for Blue).  You can purchase add-on Discovery Cards that include Animals, Nature, and Season.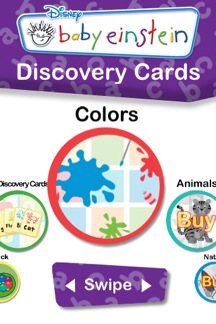 My favorite part about the Discovery Cards is that you can create your own!  The app includes the ability to take pictures with your iPhone or iPad, name the card, record yourself saying the word for that card, and choose different colored backgrounds.  This is a great option for taking pictures of loved ones or things around your baby, giving them a mobile picture book!
Memory Book — This part of the app allows you or your child to create a fun little picture book of their favorite memories or events.  Again, you get to select backgrounds and name each picture.  This is more fun for your older toddlers and preschoolers.
Music — The purchased app comes with a preview of some kids' favorite songs.  You can also purchase more songs from the Definitive 100 Baby Einstein album.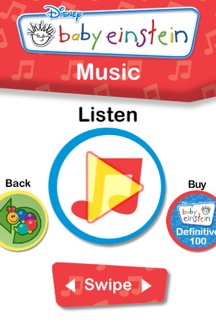 Video — Of course the app just wouldn't be complete without the Baby Einstein videos (aka. crack).  The app includes clips from both Baby Neptune and Baby Beethoven.  Additional videos can be purchased.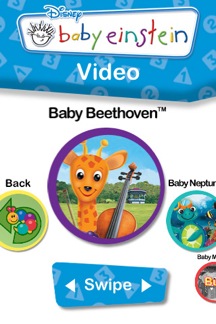 What I liked about the My Baby Einstein app…my kids love it!  It really is a great way to take those Baby Einstein videos on the go with us.  And, the music on the app (whether in the Videos or on the Discovery Cards) does not drive me crazy!  I feel like so many of the kids' apps out there include music loops that just drives me crazy!  Also, we really love the Discovery Cards that you can create yourself.  My kids think it's a blast to take pictures of the things around them and the Discovery Cards are a great way to do that!
What I didn't like about the My Baby Einstein app…well, there are two things.  First, it took my two and a half year old a little while to master the swiping to select something different.  She didn't quite understand that she couldn't click on a different option even though she could see it on the screen. You have to swipe the screen to get that option right in the middle before selecting it.
The other thing is the upgrades.  Yes, the app comes with quite a few options (although for $3.99 I would expect a few more) and it is nice that you can purchase add-on options for the app (more Discovery Cards, Music, and Videos), but my kids were really disappointed when they saw the other options right there in the app but couldn't access them because we had to pay for them.  Now, the price for these upgrades isn't horrible (3 additional video clips for 99¢ and 29 additional Discover Cards for $1.99).  I just wish those upgrades were something available through the App Store vs. in the app itself.  It just seems like a tease to my kids because they see the additional cards and videos there in front of them but mom won't let them just buy them all.
All-in-all, this is a fun app for kids, especially if they already like the Baby Einstein videos or books.  It's a great addition to my kid apps arsenal and I've already reaped it's benefits as my kids sit in the waiting room with me waiting for one of my many OB appointments!
Interested in checking out My Baby Einstein? You can purchase the app for $3.99 through the iTunes App Store and you can enter to win a $5 iTunes gift card right here so you can purchase the app and even one of the add-ons!
Win it…
I'm giving away one $5 iTunes gift card!
Enter…
To enter, simply leave me a comment on this post telling me if your kids are already Baby Einstein fans.
You can earn one extra entry by doing any or all of the following:
Subscribe to Stacey says…
Follow me on Twitter
Tweet about this contest and/or Post about it on Facebook (you can do this once daily, each)
"Check out the My Baby Einstein app & enter to win a $5 iTunes gift card with @Stacey_Says: http://bit.ly/MyBabyEinstein"
Leave me a new comment each time you do one of the "extra entries"!
Giveaway Details…
The winner will be randomly selected from the comments posted by Friday, November 5.  All entries will be verified and must include an email address where I can contact you if you should win.  This giveaway is open to US residents only. You can read more about Giveaway Policies here.
*Disclaimer: I did receive a complimentary copy of this app, thanks to MomSelect, so I could give you an accurate and personal review.  However, receiving complimentary product in no way affects my opinions stated here.