Breast cancer is not something that has really affected my life.  Sure, I know know of a woman who battled Breast Cancer (and won), but it hasn't affected me directly.  I've never lost a loved one or received the news of a friend's diagnosis.  But that doesn't mean that I don't think about it!
I think about it.  It's hard not to, especially in October when the world around me is immersed in pink.  I think about it.
No one, as far as I know, in my family has been checked for breast cancer (I'm talking mammograms).  I have no idea of breast cancer runs in my family; if I'm predisposed to it; if it's something I need to be especially concerned about.  I have no idea.  
So, as a woman in her early thirties, I take the precautions I think I should be taking.  My OB/GYN does a breast exam at my yearly visits and I do self-exams (although not as often as I probably should).  And, when age appropriate, I will go for a mammogram.  Do I necessarily want to go for a mammogram?  Heck no!  But I also want my daughters to see that mommy is doing all I can to be healthy and stick around as long as possible.  That's why I'm also trying to stay active with exercise, watching my diet, steering clear of extra chemicals and hormones.
I'm also doing my best to support Breast Cancer research!  Hopefully breast cancer will be something that my girls never have to worry about.  Hopefully there will be a cure or definitive prevention method in the near future.  This month you really couldn't go anywhere or even turn on the tv without being faced with ways you can help in the fight against breast cancer!  The best part about all these efforts is that there is going to be a way that anybody and everybody can get involved!  From yogurt to pizza to jewelry to the NFL — pink is everywhere!
So, here are my two challenges for you:
If you are a woman, get checked!  Do your self exams, have an OB/GYN give you an exam, or schedule your mammogram!  And ask your friends, mom, grandma, aunt, sister if they've been checked.  Yes, it maybe awkward at first but wouldn't you rather have that awkward 2 minute conversation than regret not having the conversation a year from now?  They are just boobs!  Let's talk about boobs!
Buy pink!  There are so many opportunities to buy your favorite products and still help support breast cancer research.  If you absolutely can't find an opportunity to buy pink and support breast cancer research, then jump online and donate directly to the Susan G. Komen foundation.
Hanes® is one of those amazing companies who has covered themselves in pink to help fight breast cancer.  And who doesn't love a fun t-shirt or some cute new underwear?  Right now you can visit Hanes Design and Buy program where you can your own t-shirt with a message of hope, love, and support!  You can be as creative as you want!  And Hanes will donate 10% of the proceeds from those custom t-shirts to Komen for the Cure.  Not in the mood for a t-shirt?  Then check out the Hanes "Pink Collection" of panties, bras, socks, and pre-designed tees!  Just another amazing way to show your support and help aid the fight against breast cancer!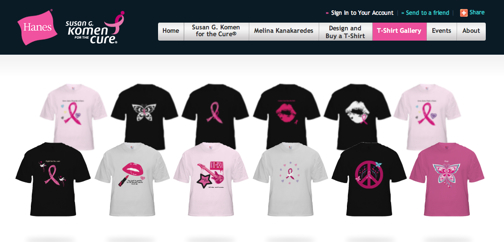 * I did receive a complimentary t-shirt from Hanes "Pink Collection"  as a part of this post.  However, that in no way affects my opinions or views stated here!  Get your boobs checked and support Breast Cancer research!