Last week I shared with you a fun and easy Pumpkin and Ghost craft that I did with my daughters. This Frankenstein craft is just another variation of that craft!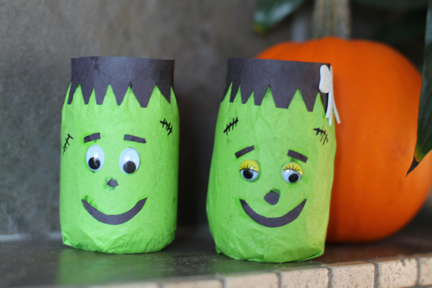 Again, this is a super easy and relatively quick craft!  Here is what you'll need and how we did it:
Supplies:
Jars — we used babyfood jars but you could use pints, quarts, jelly jars, whatever you have available!
Elmer's Glue
Sponge brush (or use a paint brush or cut up sponge)
Green tissue paper
Black construction paper
Googly Eyes
Black Sharpie marker
candles or LED lights
How we did it:
Cut strips of tissue paper large enough to cover the jar you are using.  I left our strips long so I could wrap the jar a few times.
Use the sponge brush to coat the jar in Elmer's glue and then immediately cover the jar with tissue paper.  You can dab some glue on the bottom of the jar if you have excess paper to tuck under and you can tuck some of the excess in on the top as well, depending on your candle or LED options.
While the glue and tissue paper dry, cut out the pieces for the hair and face.  The hair is just a strip of black construction paper that I cut some zig zags in.  The mouth, nose, and eye brows are also black construction paper, but you can be as creative as you want with that.  The eyes are little googly eyes.  After your tissue paper is dry enough, dab a little glue at the top of the jar and wrap the hair around the top.  Dab a little glue on for the eyes, eyebrows, nose, and mouth and place those.
Use a black Sharpie marker to lightly draw on some little scars to complete your Frankenstein.
My daughter wanted to make her's a girl so she used little googly eyes that had eyelashes on them and put a sparkly sticker bow in the hair.  Again, it's all about imagination I guess!
We'll be using the same LED lights that we used in the Pumpkins and Ghosts from the dollar store to prevent the jars from overheating or catching on fire.
And there you have it!  More Halloween characters to add to your decor!  Thanks Connie for the great idea to try the Frankensteins!