Attention parents of potential bloggers:
Check out this great contest at HarrietTheSpyMovie.com! If your child is interested in blogging they could possibly win a trip for four to LA to meet Jennifer Stone (aka. Harriet The Spy)! Visit the movie website for complete details. Contest ends November 5.
We tend to gravitate toward movies around subject matter that interests us — our hobbies, our work, our passions.  Football fans, whether they liked the films or not, watched Varsity Blues, The Replacements, and Jerry Maguire.  I'm a blogger, I like movies that incorporate blogging…although those movies are very rare.  I know, blogging isn't as exciting as an intercepted pass run down the field 90 yards for a touchdown, but to each their own.
I remember reading Harriet The Spy, by Louise Fitzhugh, when I was in grade school and now, 20+ years later, that same spunky character has made it back to the big screen (Harriet the Spy first hit theaters in 1996 starring Michelle Trachtenberg)!  This time though they are also incorporating one of my favorite past times — blogging!
Harriet the Spy: Blog Wars
Harriet Welsch (Jennifer Stone, Wizards of Waverly Place), a quarky teenage girl, spends her days observing and journaling about the "interesting" people around her.  But, when the coveted title of class blogger is up for grabs, Harriet realizes she needs to find something more interesting to write about if she is ever to beet her nemesis, Marion Hawthorne.  When Harriet's movie producer dad begins working on the sequel to the teen hit Spy Teen, Harriet decides that movie star and teen heartthrob Skander Hill is a perfect subject for her blog.
The movie unfolds with Harriet getting into all sorts of trouble as she looks for her next big blog post about Skander but, eventually, Harriet learns that even bloggers have the responsibility of telling the truth!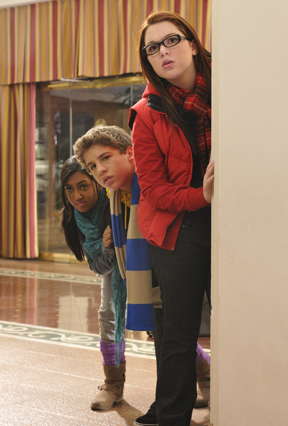 That's what I really enjoyed about this movie — the lesson that bloggers have responsibilities as writers and journalists!  Yes, the movie itself is fun with the trouble that Harriet causes and I do like the themes of family and friendship that also run throughout the film, but, with more and more people (especially teens) turning to blogging, it is important to know that we have to be responsible with the content we put out there.  I can't stress enough how important this is, especially with teens and the increasing problem with cyber bullying!
If you have a teen I would definitely recommend picking up this dvd!  Even if your child is not a blogger, this film presents a great opportunity to talk to your kids about our responsibilities as we put information about ourselves or others online.  Once it's online, it's there forever!
Harriet the Spy: Blog Wars is currently available on dvd and is not rated.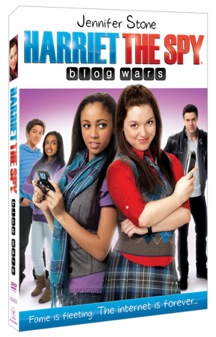 * Thanks to Vivendi Home Entertainment for providing me with a copy of this dvd for review purposes.