It's Fall. The sun is shining. My yard is speckled with red and yellow leaves.
Zoe ate all of her breakfast without me having to yell at her even once.
Preschool drop off happened with zero crying or whining or problems.
Got most of my errands done this morning with only one kid in tow.  Zoe even got her new big-girl blanket.  Disney princesses, of course.
Received an amazing email today about a contest I entered last week.  Holding breath.  Fingers crossed.
Got home from all our errand running and realized that this is how I dressed my 2 year old today (pay particular attention to her shirt):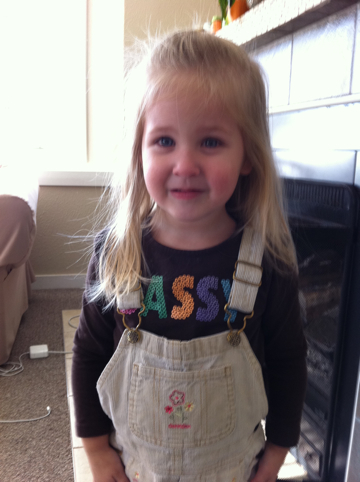 Zoe ate all of her lunch without me having to yell at her!
Both kids are pseudo-napping.
Dog has been lazily napping on the couch all day.
Husband comes home in less than 3 hours.
We have absolutely nothing scheduled for this weekend!
It's a good day!!!
Hope you all have a great weekend!