I love Halloween.  I really do.  Despite the bad wrap it often gets as a holiday about evil things and candy (especially in my area), I still love it.  I have good memories of Halloween from growing up, which, if you know my story, is a good thing.  Of course my girls love Halloween as well because there's the whole dressing-up part (these girls love costumes all year round) and the candy!  Oh, and they like the art projects and decorating pumpkins.  All in all, it's a great time at our house!
This year we opted to do the Mr. Potato Head-esque faces on the pumpkins again.  I know, total cop-out as a mom by avoiding the actually cleaning and carving of the pumpkins, but the girls love this and really have no desire to sink their little hands in pumpkin guts.  Here is how they turned out: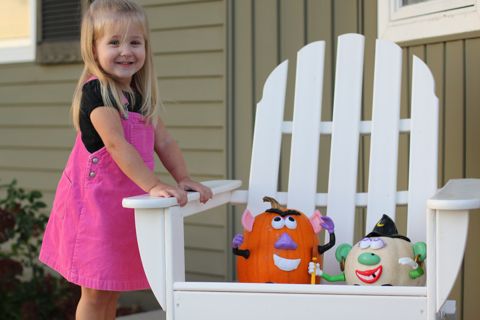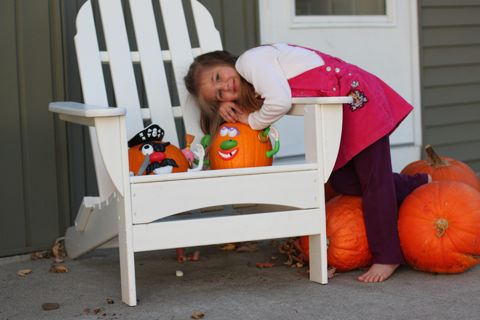 Here are our plans for Halloween this year…
Saturday night we will get the girls dressed-up in their costumes (which are yet to be determined since they don't want to be Tinker Bells anymore) and head out to some neighborhood to see how much candy we can collect.  After our buckets are full of candy we will head home and have a little camp-out in our living room (per Abbi's request) complete with a fire in the fireplace to roast marshmallows and maybe a Halloween cartoon or two — most likely Scared Shrekless (NBC at 8pm) and Monsters vs. Aliens: Mutant Pumpkins from Outer Space (NBC 8:30pm).
The new thing I'm going to try this year is getting the girls to trade in some of their Halloween candy loot for a new DVD or toy.  The thought is that they get something fun they can enjoy for a longer period of time and I get the candy out of their sight (and hopefully out of their minds and mouths).  I'm thinking of getting them Veggie Tales' SweetPea Beauty on dvd!
Now, I thought it would be fun to share with a Halloween memory or two I have from growing up…
Costumes — We always had home-made costumes.  As in, whatever we had at home was what we used to make the costume.  One year we took old bed sheets, cut holes for eyes, and used these chains off our living room lamps to make ghost costumes.  Another year we used my father's old flannel shirts, put some brown makeup on our face like dirt, and went as bums.  And then another year I dressed in my older sister's clothes, sprayed my hair with colored hair spray, and went as a rocker.  I know, creative.
Traditions —
We always carved pumpkins in our garage and sometimes even roasted the seeds!
After trick-or-treating my siblings and I would dump our loot (from our pillowcase bags) onto the living room floor and barter  with each other for the candy that each of us liked.
It always seemed that It's the Great Pumpkin, Charlie Brown was on tv on Halloween night.  This year it's playing on Thursday and Friday night (ABC at 8pm)
All in all, it looks like we'll have a pretty good Halloween this year.  The weather forecast is looking good (50s and no rain).  Now, all we need to do is figure out costumes!
What are your Halloween traditions, plans, or memories?  Do you have a best or worst costume from growing up?