Congratulations Ashely! You are the winner of the IntelliGender gift pack! You should have an email waiting from me about claiming your prize.
When you were pregnant, did you have a feeling that you just knew the sex of that little child in you? There are lots of those old-wives tales about how to predict gender — faster fetal heartbeat (140 and above) means girl; carrying low means boy; craving sweets means girl; hold a pin, needle or wedding ring attached to a thread or strand of hair over the mom's belly and if the needle/ring swings in a strong circular motion, then it's a girl. Well, I wouldn't put much stock in all of those methods or indicators because most of those would have indicated I am having a girl. Wrong.
Lots of people really believe in the mother's intuition when it comes to predicting the baby's gender. After all, moms just have a feeling about this kind of stuff! Wrong again!
But what about those at-home gender prediction kits? Most pregnant women confirm they are indeed pregnant by at-home tests and, most of the time, they are accurate. So, should we expect the same level of accuracy from at-home gender prediction kits?
Recently I had the opportunity to test out the IntelliGender baby gender prediction kit for myself, thanks to IntelliGender and MOM magazine.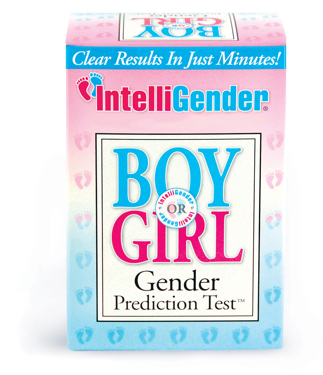 The test itself was super easy to do. Simply pee in the provided cup, transfer a certain amount of that urine (using the provided syringe) to the test cup that has these little crystal indicators in it. Let it sit for 5 minutes and compare the color.
While the IntelliGender kit does say you can test as early as 10 weeks, I chose to test at about 15 weeks. Here are what my results looked like…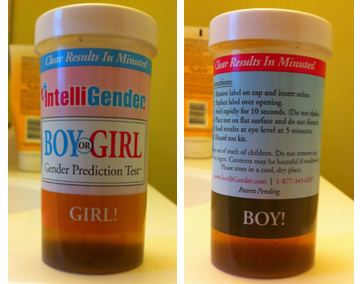 I was pretty sure that the results looked more like the "girl" color but I'm not sure if that is because they indeed read "girl" or if it's because I expected it to read "girl". Either way, our sonogram yesterday told us we are having a boy! I'd love to take the test again to see what the results would read now!
Regardless of whether the test read wrong or I read the results wrong, it was fun to try it out! And, if it's any consolation, I was pretty sure we were having a girl long before I took the IntelliGender test! So much for mother's intuition!!!
Win it…
When I told the good people at IntelliGender that I would be sharing my experience with their Baby Gender Prediction Kit here on StaceySays, they generously offered up a fun giveaway for you guys!  IntelliGender is giving one StaceySays reader a gift pack with:
1 IntelliGender Gender Prediction Test
1 IntelliCeuticals Clear Away Cradle Cream
1 IntelliCeuticals Conceive-Ease Flower Essence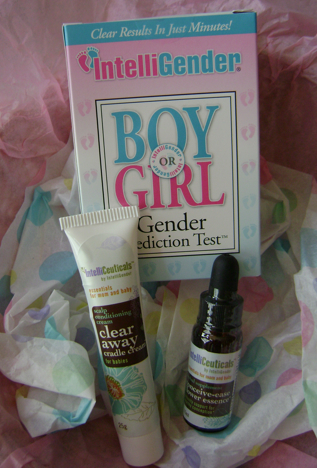 To Enter…
Simply leave me a comment below telling me if you "knew" the gender of your baby before it was confirmed by a sonogram or birth!  Or share a funny story about finding out your baby's gender!
Extra Entries:
Subscribe to Stacey says…
Follow me on Twitter
Tweet or tell your followers on Facebook about this giveaway (leave me a link to that status/update)
Subscribe to the IntelliGender Blog
Follow IntelliGender on Twitter
Leave me a new comment each time you do one of the "extra entries"!
Giveaway Details:
The winner will be randomly selected from the comments posted by Friday, October 15.  All entries will be verified and must include an email address where I can contact you if you should win.  This giveaway is open to US residents only. You can read more about Giveaway Policies here.
*Disclaimer: I did receive a complimentary IntelliGender test through MOM Magazine and was not solicited by IntelliGender to do this review.  However, receiving complimentary product in no way affects my opinions stated here.