For those of you who did not see my announcement over Twitter or Facebook, we are having a BOY! That's right, a boy. Male. Blue. The world of trucks and football. A boy!
Needless to say, it took us both by surprise! Here's a little recap of our ultrasound appointment yesterday.
I'm lying on the little table, exposed belly in the air covered in blue gel. Tim and our girls are sitting in the chairs next to me. The ultrasound-tech is busy taking some quick measurements of the baby.
Ultrasound tech: "Would you like to know the sex today?"
Tim & I, in unison: "Yes!"
The tech, who is so super nice, asks the girls what they think it will be. Abbi says girl, Zoe says boy. She moves the little sonogram wand around on my belly a little more and then hits pause on the sonogram monitor.
Ultrasound tech: "Well, right there is a leg. And there is the other leg."
Then she turns and looks at us and asks, "So, what do you think it is?", referring to the image on the screen.
Neither Tim nor I answer. We sit in silence. We both know. It is THAT obvious. But, we could be wrong. I mean, it's pretty obvious but I'm no ultrasound tech! She gives up waiting on our answer (knowing that neither of us are going to speak), turns to the screen, and points to the screen…right at the spot between the two legs she had just pointed out to us, "You're having a boy!"
Excuse me? A what? I think you meant girl. Yes, pretty sure we are having a girl. Both of us were sure we were having a girl. Really? A boy? (Slowly letting the color return to both of our faces and for both of us to stop our nervous laughter.) Ok, we're having a boy. Wow!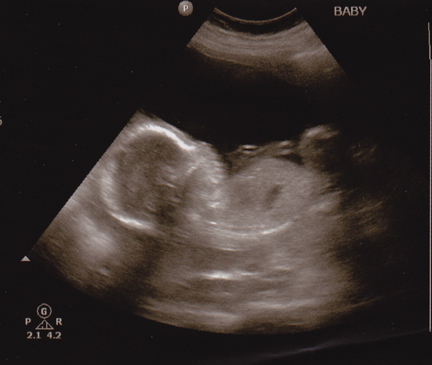 ---
Don't get me wrong, we are super excited to be having a boy. It was just so unexpected! After already having two girls, you just kind of expect the third to be a girl. I had also tried out the IntelliGender baby gender prediction kit on a whim when I was about 15 weeks pregnant and I could have sworn it said girl. However, I have a feeling I was expecting it to read girl so I naturally saw "girl" in the coloring. You be the judge: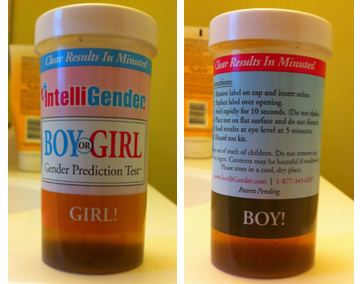 (I'll be posting a review and giveaway for IntelliGender yet this week!)
Now, let's talk about that little 'boy or girl' guessing game that many of you participated in! Apparently I should consult my readers a little more because the majority of you guessed boy! You little smarty-pantses! Either that or you guys were just feeling bad for Tim as he's stuck in a house of girls. You really shouldn't feel bad for him!!!
The winner out of those who guessed boy is….Becky! The funny thing is that it couldn't be more appropriate that Random.org picked her comment because she was the very first person we told when we found out we were pregnant and I do believe she said it was going to be a boy the entire time! Congrats Becky! I'll send you an email about claiming your prize!
Thanks again to everyone for playing along in the guessing game and for all of the fabulous messages of congratulations on Facebook and Twitter. We loved sharing our news with all of you!