We compromised! Finally, after much debate and a pretty irritated mommy, Abbi and I came up with a costume she could wear to her Imagination Day Celebration (aka. Halloween Party) at school!
Originally she was going to be Tinker Bell and then, somewhere in the last week or two, she decided she no longer wanted to be Tink.  She wanted to be a princess.  Thankfully the Tinker Bell costume was one that was given to us but I still had no desire to go out and spend $30 on a princess costume from the store.  I told her that if she wanted to be a princess then she had to use the dress up stuff we already had at home.  "But MOM! the stuff we have at home hurts my head and doesn't stay on and isn't a Disney princess!" Oh well!  Then wear the cute little Tinker Bell costume!!!
Then, last night, as we were coming down to crunch time on what costume she'd be wear to school today, I came up with another idea…a doctor!  Better yet, a Veterinarian (she loves her stuffed animals)!  We already had a cute little dress-up doctor's outfit that my parents got for her for Christmas last year and wouldn't need to buy anything!  She was thrilled!!!  A Veterinarian!!!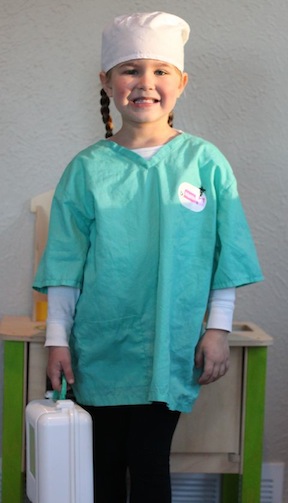 I even let her take the little doctor's box with her as a prop and she got to take the little stuffed puppy her cousins gave her last weekend.  The doctor's coat has a little name tag area that says "Dr. ______", so I put one of her Mabel's Labels on it so it would say "Dr. Abigail".  The best part was that she corrected anyone who would call her a doctor.  She was a Veterinarian!
I also loved that, out of the 9 girls in her class, she was just one of two who did not wear a princess costume!  The other girl was a puppy dog.  We just do so much princess dress-up at home that it was kind of refreshing to have her choose to be something different!
Now we just need to figure out what she's going to be for trick-or-treating on Saturday — a Veterinarian, princess, or Tink.  And, I still need to convince Zoe that she really wants to be Tinker Bell!!
What are your kids going to be this year for Halloween? Do you use different costumes for the different events your kids have around Halloween?  And are you dressing up???