Congratulations to Kelly D. for winning the Method "Fight the Flu" kit! You can all win even more prizes tonight at the #ecowed Twitter party (10p-11p EST). Don't forget to follow @MethodTweet and @TheSmartMama!
Sounds like an oxymoron, doesn't it? Cleaning while pregnant? Who does that?  Sadly, unless you're one of the lucky ones who have opted to hire a cleaning service or a hoarder, then you're cleaning regardless of being pregnant or not.
The catch with cleaning while pregnant, besides being uncomfortable and not wanting to do anything, are all those chemicals used in cleaning products.  Not only do you have to be extra careful about what fumes you are breathing in but you also have to be careful what chemicals are being absorbed by your skin!  It's a never ending battle — using products that will actually get your house clean vs. using products that are safe for you, your unborn baby, and the other little ones and pets in your house.
Ok, I'll be honest, I haven't seen any research that says you shouldn't use cleaning products while pregnant (sorry ladies) but everyone does suggest using certain precautions — keep the area well ventilated while cleaning and after and use rubber gloves to avoid skin contact.  But, I'm still a stickler for wanting to use something more natural and something that is safe around my other kids, who apparently still need to put everything in their mouths (not the cleaning products, the cleaned objects).
Recently I had the opportunity to try out Method's Antibac line of cleaning products and, so far, I'm impressed! Here's why:
Cleaning Power:
The bathroom spray does a great job at eliminating soap scum and hard water stains (which we are horribly plagued with at my house).  I've actually had a hard time finding products that will really take care of those hard water stains in the past and am pleased with how well the antibacterial bathroom cleaner did.  The kitchen cleaner does an equally good job, this time cutting through the grease and kitchen grime.  And the all purpose cleaning and disinfecting wipes are a great solution for those every day spills and clean-ups!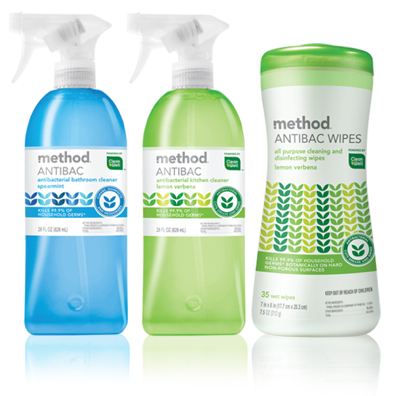 Each product claims to kill 99.99% of household bacteria including E.coli, salmonella enterica, influenza A and H1N1 virus on hard, non-porous surfaces.  Now, while I can't really tell you if they are actually killing 99.99% of those little nasties, I can say that I'll put my faith in those numbers as cold and flu season hit.
Ingredients:
Method products do not rely on bleach to kill germs and are triclosan free.  Instead, Method uses a patented botanical formula that is planet-friendly.  The Antibac products specifically use a formula of thyme adn essential oils.
Price & Availability:
Safe and more natural cleaning products aren't much use to me, personally, if they are going to cost me a fortune or if I have to think weeks ahead to order them from a special website.  I need products that fit into my budget and that I can easily pick-up at my local stores (because I'm typically running out to get cleaning products the day I'm hoping to do the cleaning).
The great thing about the Method line of products is that they fit into both of those categories — affordable and accessible!  The Method Antibac products run right around $3.99 and, while you can purchase them through the Method website, many of these products (and other Method products) are available at retailers like Target, Lowe's, Bed Bath & Beyond, and Whole Foods!
Smell:
I'm a smell-person.  I think that's where my youngest gets it (she wants to smell everything!).  And, being pregnant, smells are even more crucial to me.  I tend to find that natural or organic or botanical based products don't always have the most pleasant smells.  Of course they don't; they want to eliminate those extra chemicals that are often used to give products a pleasant smell.  While I'm not a huge fan of the lemon verbena smell in the kitchen cleaner and kitchen wipes, it also isn't a horrible smell.  I do like the spearmint smell of the bathroom cleaner!
Besides the Antibac products, Method offers a complete line of cleaning, laundry, and hand & body line of products!  I'm excited to try their kids and babies products this winter when Baby Boy joins our family!  You can learn more about Method by visiting their website or chatting with them on Twitter and Facebook.
Also, join the #ecowed Twitter party (facilitated by @thesmartmama) on November 17th from 10pm-11pm EST to have your cleaning questions answered by Method.  Oh, and Method will be giving away some great prizes during the Twitter party!!!
Ok, now that I've told you all about the Method Antibac products and how well they perform, I suppose I should go get my cleaning done for this week.  Unless you want to take pity on this pregnant mamma and come do my cleaning for me.  Anybody?  No?  Hmm…
Win it…
With flu season knocking on our doors, I'm happy that Method is giving away a Fight the Flu Kit that includes the Method Antibac bathroom spray, Method hand sanitizer, and stickers.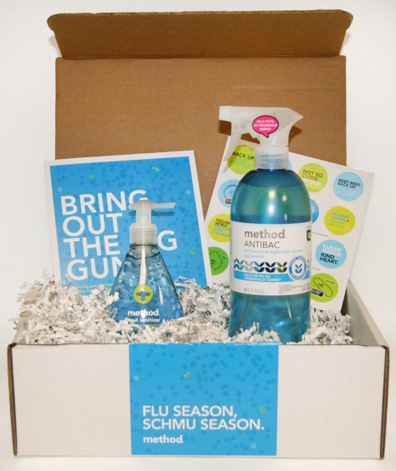 Enter…
To enter, simply leave me a comment on this post telling me if you've every tried Method products before.
You can earn one extra entry by doing any or all of the following:
Subscribe to Stacey says…
Follow me on Twitter
Tweet and/or Post on Facebook about this contest.  Be sure to leave me a link to your updates or tweets in a comment below.  (You can do this once daily, each) — "I'm fighting the flu with @MethodTweet and @Stacey_Says: http://bit.ly/cUJMWQ"
Tweet and/or Post on Facebook about the #ecowed Twitter party.  Be sure to leave me a link to your updates or tweets in a comment below.  (You can do this once daily, each) — "Join the #ecowed Twitter party on Nov. 17th at 10pm (EST) for a chance to win prizes from @Methodtweet"
Follow Method on Twitter (@methodtweet)
"Like" Method on Facebook
Leave me a new comment each time you do one of the "extra entries"!
Giveaway Details…
The winner will be randomly selected from the comments posted by Friday, November 12.  All entries will be verified and must include an email address where I can contact you if you should win.  This giveaway is open to US residents only. You can read more about Giveaway Policies here.
*Disclaimer: I did receive complimentary Method Antibac products as a part of the Mom Go Green Blog Tours so I could give you an accurate and personal review.  However, receiving complimentary product in no way affects my opinions stated here.