Oh maternity clothes, you are my nemesis! Here is the problem….Maternity clothes shopping has got to be one of the most frustrating things for me. First, I find it so interesting that, when I'm not pregnant, I see the cutest maternity clothes! However, the minute I pee on that little stick, the shops pack those cute maternity clothes away and bring out something else.
This leads us on to the next problem…The cute clothes that I actually do manage to find never seem to fit. Honestly, I'm not some obscure size. I'm average. I think. Ok, I'm pretty short but since when are all pregnant women 6 feet tall? Ninety percent of the maternity pants I've tried on are 4 or 5 inches too long for me. And, since I'm not donning heels while pregnant, this tends to be a problem. So, I'm left with a small fraction of the pants out there to actually shop through.
Thus, problem #3…We have no maternity stores near me! My actual "go into a store and shop" experience is limited to Motherhood Maternity, the six racks at Old Navy, and the four racks at Target. Motherhood Maternity and Old Navy are both 30 minutes away so, for those immediate clothes needs, I'm left with my four racks at Target.
This is my last lament, I promise….Maternity clothes are crazy expensive! I find something I like, look at the price tag, and then do the math. That $40 shirt is only going to fit me for a few months, at most. I have to be very strategic about which pieces I buy — how long will this actually fit my growing body? can I wear it for a little while postpartum? how many outfits can I make out of these few items? It's all about stretching each piece as far as possible to get the most bang for my buck!
Now, I have been lucky to find a few amazing maternity shops online! This week I want to share with you the amazing Bumpstyle!!!

I'll tell you right now that Bumpstyle could quite possibly be my favorite go-to for maternity clothes! Right now I am wearing the Bumpstyle Long Sleeve Wrap Top and if I could live in this wrap, I would! The wrap is made of such a soft fabric, making it so comfortable. It is also the perfect thickness to allow you to wear a tank top or long sleeve tee underneath, depending on your comfort and weather.
Oh, and the Bumpstyle Wrap only gets better! You can wear this one piece of clothing five different ways! Let it hang open, do a loose wrap around or a tighter tied wrap around, or do a fun little tie on the top (front or back). My only warning here is that if you tie it in the back that little knot or tie can become uncomfortable if you're sitting for a long time.
The Bumpstyle Wrap is also a great versatile top that you can wear for nearly any occasion — lying around the house, casual evening out, or a nicer dinner party! And, because it doesn't "look" like a maternity top, you can continue to wear it long after baby arrives!!! It is seriously the top that just never stops!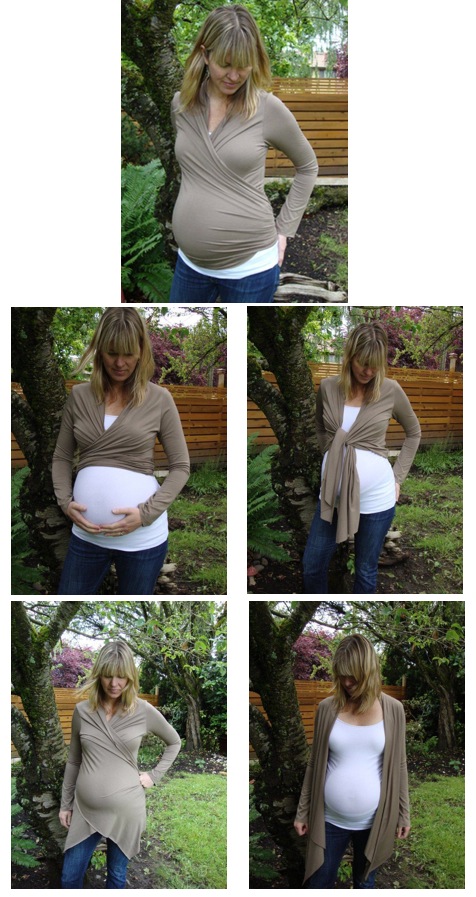 Bumpstyle offers an amazing line of maternity tops that look equally amazing. I'm looking forward to possibly picking up another top for the holidays!
The Bumpstyle wrap is available in black or brown and is priced at $54. This top is worth every penny as it will be worn in my post-baby days, too!!!
You should know…I received a complimentary wrap from Bumpstyle as a campaign through Mom Spark Media. Complimentary products are for review purposes so I can bring you a personal and accurate review. All opinions and thoughts stated here are my own.