The time has come for the girls to share a bedroom.  Yikes!  We were holding off as long as possible but we also wanted to make sure we gave them some time to get used to it all before the baby comes.
Why were we (and by we I  mean me) hesitant? It's just been so nice having them in separate rooms!  I don't have to worry about one of them keeping the other one up at night when they can't fall asleep or waking the other one up early.  It also gave them each their own personal space for when they needed some alone time or just to get away from each other.  And, what in the world would I do during nap time????  Right now Zoe still takes an afternoon nap and Abbi, while she doesn't actually sleep during nap time, does have some quiet time where she can play or read books in her room.  How is that going to happen when they are in the same room?  MOMMY NEEDS NAP TIME!!!!
Well, a few weeks ago we decided to take the plunge and move Zoe into Abbi's room!  But, before the move could actually happen, we needed to tackle two key areas — the closet and the beds!
Closet
Abbi's closet was in desperate need of a makeover.  It could hardly fit the clothes she had, let alone her sister's clothes too, because it just wasn't set-up to maximize the space.  Thankfully we have this amazing friend, Tim, who does custom cabinets and furniture.  (He created this amazing cabinet for me last winter.)  And, because he loves my girls and they adore him, he offered to help us out with a closet organizer!
It is amazing how much more stuff you can put in a closet when the space is maximized with a good organizer!  Now we can fit all of the girls' clothes into the closet and still have more space up above for storage!  Also, we did away with the mirrored doors that were too big for the closet and opted for some sheer curtains instead!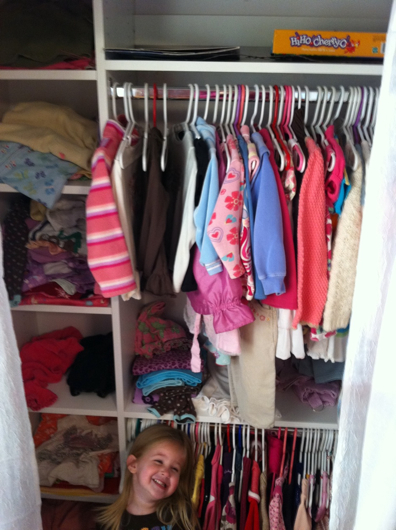 >
Bunk Beds
We actually have a set of old bunk beds and Abbi has been using one half of that set as her bed for the past two years, but I wanted something a little different!  Surprise, surprise!  The bunk beds we have are old, as I said, and are starting to fall apart.  Not the safest thing for my two little monkeys to be climbing around on.  Also, we would also need to come up with a ladder and rails for this set.  I really wanted something that would be studier and have a safer option so either of the girls could climb up and down from the top bunk.
So, I started researching.  Holy Hannah! Bunk beds can be expensive.  Especially for what I was looking for!  Of course my wheels started spinning and I turned to my step-dad, who happens to be a master craftsmen!  I started pulling together ideas and pictures of things we wanted in a bunk bed and then passed those ideas on to my step-dad.  He happily obliged and went to work!  A few weeks later they surprised us while Tim was at work and I was in Detroit for the #140Conf and put up the girls' bunk beds!  They are amazing!!!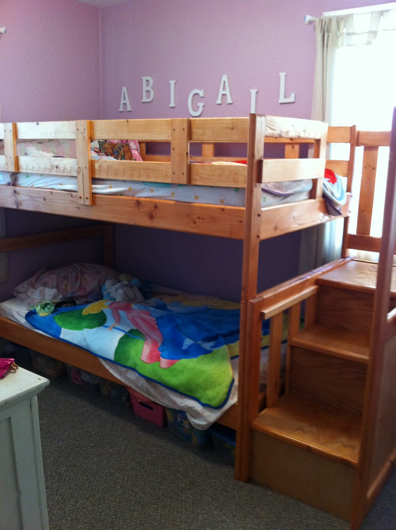 Solid wood.  A nice high railing around the top so no one is falling out while they sleep.  Space underneath for more storage.  And a staircase!  Yes, a STAIRCASE instead of a a ladder!  The staircase can actually detach for when they get older or if we want to separate the beds for two individual twin beds.  The staircase also gives them shelves on the other side: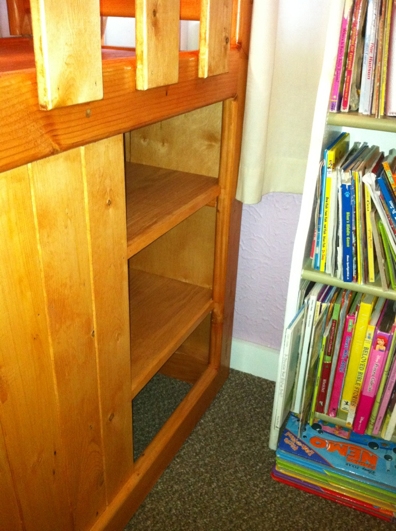 The girls like to call these their "secret shelves".  It gives them some space to put their own things, which is so fun when you're 4 and 2!
The stair case is my favorite part because everyone can get up to the top bunk safely and I don't have to worry about Abbi trying to climb down a ladder in the middle of the night to use the bathroom!  And when I say that everyone can get up in the top bunk, I truly mean EVERYONE!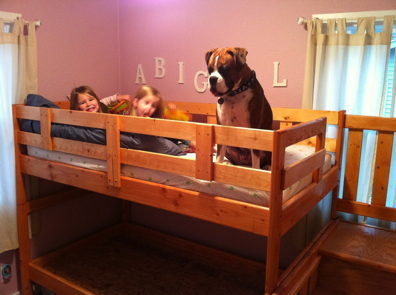 A few weeks into sharing the room and things have actually gone very smoothly.  Abbi had to get used to calling it "our room" instead of "my room" and, after the first night of giggles and whispers, bedtime actually has been going very well.  For privacy or to give the girls each of their own space, Zoe is not allowed up on Abbi's bed without Abbi's permission and vice versa.  And nap time?  Well, for now, Zoe is still sleeping in her toddler bed in the baby's room during nap time.  We tried one day of napping together in the same room and it resulted in mom yelling way too much.  Nap time in separate rooms works best for now and we'll tackle the issue again when baby comes in a few months.
The best part about all of this is that everyone is happy!  Tim and I love the construction of the beds and closet, the girls think it's so awesome to finally have their "bunken beds", and everything fits into that small bedroom without a problem.  That is one HUGE item crossed off our to-do list.  Now on to the rest before the baby comes!!!