This seemed like the longest Halloween weekend ever! I think it was mostly due to the fact that our area just couldn't decide on just one day to do trick-or-treating! Weird, I know. It was a no-brainer for most communities around the country…you trick-or-treat on Halloween night (i.e. Sunday night). But communities in our area were torn on whether to do trick-or-treating on Saturday night or Sunday night. Our community chose Saturday night.
Honestly, I was kind of thankful that we were trick-or-treating on Saturday night. It just feels so weird to trick-or-treat on a school-night. And, after an already busy weekend with too many late nights for the girls, it was really nice to get them to bed on time on Sunday night. There is no way I would have been able to get them settled down and in bed on time after the excitement of trick-or-treating!
So, our busy weekend actually started out on Thursday night when we celebrated Tim's birthday. I made him the birthday dinner of his choice and we finished it off with a homemade pumpkin pie (his choice) and watched It's The Great Pumpkin, Charlie Brown as a family. My first attempt at a pumpkin pie and it actually turned out pretty good…minus the burn on my hand! Ouch!
Friday night we let the girls have a campout in the living room. Abbi had asked about it a week or so ago and we decided that Friday night would be a great time to do it. We set up their little tent in the living room, got out one of their little air mattresses, and even built a fire in the fireplace. The girls thought it was so awesome! They also got to watch It's The Great Pumpkin, Charlie Brown, again. However, when it actually came time to go to sleep, Abbi thought that daddy should sleep in the living room too. Of course daddy happily obliged and slept on the couch (what little sleep any of them got).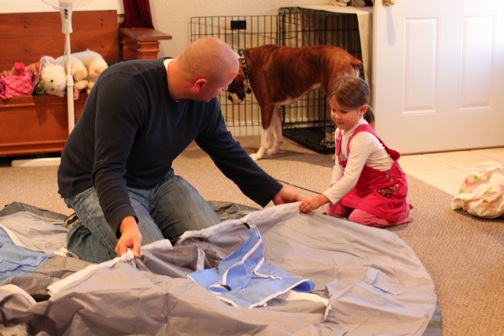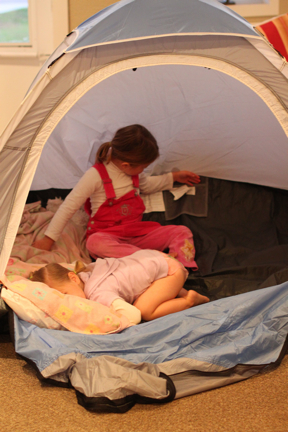 Saturday night we went over to the Follett's for dinner and then took the kids trick-or-treating around their neighborhood. Jake went as a monkey (the cutest monkey ever) and Abbi and Zoe went as Tinker Bells (poor Caleb stayed home with an ear infection). Abbi wore the Tinker Bell costume that was handed down to us a year ago by a friend and Zoe wore the Tinker Bell costume I got from Costume Supercenter.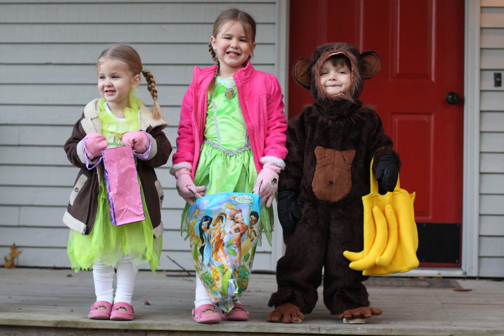 You can see more pictures on my Flickr Page
All three of the kids made out like little candy bandits! Lots and lots of chocolate bars!!! To my amazement the girls eagerly turned-in all of their candy to me to earn more "x's" on their chore charts, in hopes of having enough "x's" to buy new dolls. Really, it didn't matter to me how many "x's" they had at that point because I was so proud of them turning in their candy for something that would last longer (the doll) that I was going to buy the dolls for them regardless! The best part….they haven't asked about the candy even once!!!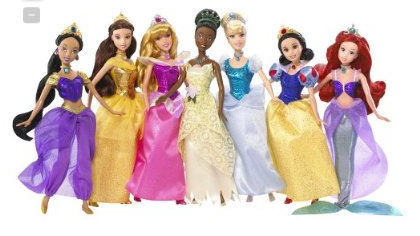 They each got to choose one doll from the Disney Princess collection. Abbi chose Ariel and Zoe chose Belle.
It was a great Halloween and great weekend! But I'm glad to be setting back into a more relaxed week!