The girls and I had so much fun making Jack-o-Latern, Ghost, and Frankenstein votives for Halloween so I thought we would try our hand at making Turkeys for Thanksgiving!
With the Halloween votives we used tall baby food jars, which worked great!  This time I decided to use pint size jars to make some bigger turkeys.  I was glad we did the bigger jars for the turkeys since we were only going to do one per kid.  If I were feeling ambitious I probably would have done two big turkeys each or a few small ones with smaller jars.  Also, had I been super ambitious or done this a few weeks ago like I had planned to do, we would have done some Pilgrims or Indians!
Ok, let's get to the craft!
Supplies:
Jars – you can use whatever size you like!
Brown tissue paper
Foam paper or Construction paper – Orange and Red
Black Sharpie marker
Googly eyes
Feathers
Elmer's Glue
Sponge brushes or sponges
Hot glue gun & sticks (optional)
Votive candles or LED votives (optional)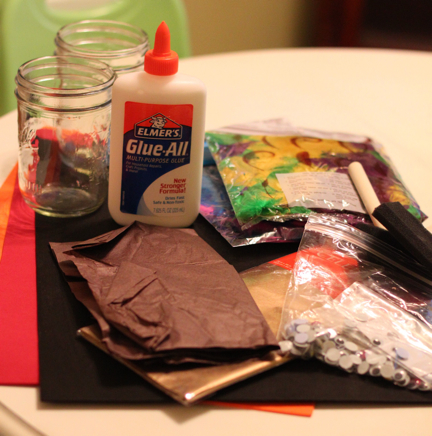 What we did:
Use the sponge brushes or sponges to apply a layer of Elmer's glue onto the outside of the jars.
Wrap the glue covered jar with brown tissue paper.  We used this shiny copper colored tissue paper because the girls thought it was "pretty".  Unfortunately that tissue paper was hard to wrap in two layers but was also thin enough that it tore easily.  I would recommend using a plain brown tissue paper that you can double wrap.  Otherwise, just be very careful when you apply the tissue.
Cut out a beak and feet from your orange foam paper or construction paper.  The beak is simply a tear-drop shape and the feet can be done two different ways — (1) just cut out the bottom of the feet that you can glue directly on to the jar or (2) include legs when cutting out the feet so your turkey will be sitting on the legs with the feet sticking out (this is the one we did).
Cut out the turkey's beard from the red foam paper or construction paper.
Using Elmer's glue, glue on the beak, beard, googly eyes, and feet. Using the black Sharpie, add little nostril marks on the beak.
Now it's time for the feathers.  Oh sweet heavens, the feathers!  Someone should have told me how messy feathers are!!!!  If you'd rather not deal with the mess or don't have feathers in your art supplies, you can use more of your foam paper or construction paper.  Just cut out feather shapes or use your kids' handprints.  Or use pipe cleaners and simply bend them in half so they have a feather-like shape. Lots of different options.
Regardless of what you use for the feathers, you're going to use Elmer's glue or hot glue to stick the feathers on the back of the jar.  Hot glue seemed to work best for the feathers.  I put a bead of hot glue in an arch on the back of the jar and then arranged the feathers so they fanned out around the turkey.
You can place a small votive candle or LED votive inside the jar to illuminate your turkey or just enjoy how cute he is without the light inside!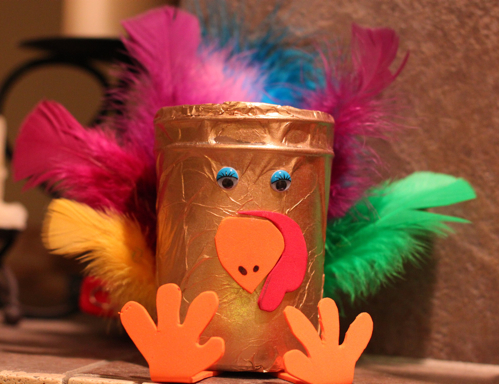 That's it!  Ha!  I say "that's it" but those little turkey's took us two days to complete because we had to wait for the glue to dry on the face before we could add the feathers on the back.  And the feathers were messier than I had anticipated.  Nonetheless, they were fun and the girls love looking at their turkeys now sitting on our fireplace mantle.
They are definitely a cute and fun Thanksgiving craft if you are looking for something to do with your little ones this week!  And, as I said before, you can easily make these as Pilgrims or Indians!  But we're going to save those for next year!!!