Another year come and gone.  Crazy, isn't it?  We've had a pretty fun, busy, and exciting year and I wanted to share a glimpse of that with you.  Have fun taking a look back with me!
January: I kicked off 2010 celebrating New Year's Eve and Day by painting Abbi's bedroom very pink (her choice) while Tim was working (running sound for a show).  Not the most ideal start to the year but it could only go up from there!  Abbi's room wasn't the only thing changing around our house in January…Tim decided to make a little "change" of his own and, in my efforts to get more organized, I finally got my cabinet that I had been dreaming of:
February: I had the amazing opportunity to attend the Mom 2.0 Summit in Houston, Texas.  Not only was it a great conference that left me inspired and energized, but I was able to meet the fabulous Maggie Mason and I was able to spend some time with my brother and his family.  Oh, and, of course, Tim got to come along!
March: While February seemed to be all about me and Tim, March was all about the girls!  And shows!  We were lucky enough to take the girls to see a  Playhouse Disney Live show and Disney On Ice: Finding Nemo.  The girls loved them both.  We are definitely a family that loves live shows.  And speaking of live shows…Abbi put on her own "live show" as she performed in her final ballet show this month!
April: My baby turned into a toddler, despite my better efforts to keep her a baby, and I joined some old friends as we walked in the March of Dimes walk in honor of baby Olin!
May: Oh, what a month! Some time back in January my friend, Jodi, and I had this bright idea to organize and host a blogging conference here in West Michigan.  Maybe it was the cabin fever of winter or one too many cups of coffee, but somewhere in there Gleek Retreat was born.  The conference took place toward the end of May so pretty much everything in the weeks leading up to it are a blur.  But the conference was a great success and I'm so very glad we did it!
June: With Gleek Retreat behind me, we welcomed summer with open arms and sprinklers!  This month we also played with visiting family, went to the zoo, stretched ourselves in gymnastics, and celebrated an amazing union between two amazing people!
July: We continued to enjoy our summer with Abbi learning to be a "little farmer" at The Critter Barn and with both girls enjoying a lot of time outside in the sprinklers, wadding pool, riding bikes, blowing bubbles, and playing on their new swing set (thanks to Grammy & Papa).  We also made a very exciting announcement!
August: We finished up our summer spending lots of time outside, playing in the fountains, and relaxing at a friend's cottage! The perfect end to the summer!!!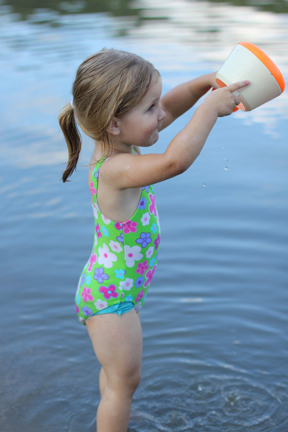 September: Finally feeling better (I had a rough and queasy start to this pregnancy), we took September by storm!  We ventured to the Upper Peninsula for some Labor Day "camping", visited the county fair, experienced art, and picked a lot of apples.  Both of the girls took huge steps as Abbi started her second of pre-school and Zoe moved to her "big girl" bed!
October: This month started off giving us quite the surprise.  We found out we are having a boy. Our first boy.  Quite the shock since Tim and I were both pretty convinced this one was going to be another girl!  Before I could get too uncomfortable in this pregnancy, we/I did a little more traveling this month.  I was able to attend the #140 Conference in Detroit and we decided to pack up the family and drive to St. Louis to visit my sister and her family!  The girls also received a little surprise of their own as they got new, custom made, bunk beds from Grammy & Papa!  And, of course, we ended the month with a little trick-or-treating.
November: Funny enough, this month started off with a surprise as well!  Nothing to do with the baby, but with work instead.  I was invited to attend a sneak-preview event of The Chronicles of Narnia: The Voyage of the Dawn Treader as a representative of 5 Minutes for Mom.  The event included an all expense paid trip to LA where I indulged in the luxury of a posh hotel, delicious food, and even met actors Georgie Henley and Will Poulter!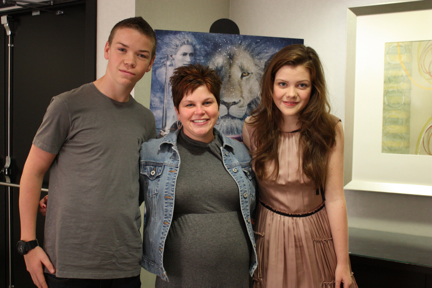 December: And here we are at the end of 2010.  A month of celebration as we celebrated Abbi turning 5 and a month packed full of Christmas festivities, traditions, and celebrations.
That was our 2010, for the most part.  And now we are looking forward to a fabulous and very exciting 2011!
What were your highlights from 2010? If you're a blogger and posted about your 2010 memories/highlights, leave me a link in the comments below so I can come check them out!