With so much talk of holiday wish lists and gift guides floating around online, the topic of "the worst gift you ever received" is usually not far behind.  It can be fun to compare our worst gifts with those around us in hopes of getting a good chuckle out of it all.  I remember receiving tube socks from my grandma pretty much every year at Christmas and, if we saw them at Christmas now, I'm sure she'd still be gifting me socks!
We also like to reminisce about those great gifts we've received.  One of my favorite gifts was my KitchenAide mixer from my hubby!  It's something that I use all year round and it's given me some great opportunities to create fun memories with my girls in the kitchen.  There's nothing like watching a 4 year old turn on the mixer and have flour poof out all of her face because she turned it on a high speed!
Those are the easy questions.  The tough one, the one that I was just asked the other day, is "What's the best gift you've ever given?"  Ahh….Ummm…Hmmm.  That one stumped me.  I'm sure I've given some nice gifts but was there one that really stood out?  One that made someone particularly happy?  I guess I could say that the birth of my first daughter (a few weeks before Christmas 2005) was a pretty good gift to my husband and family but that one seems like a bit of a cop-out.  I mean, I didn't really have much say as to when she was going to be born.  Ok, so that one doesn't count.
I guess, if I really had to nail down a gift, it would be the ornaments I made for my mother-in-law a few years ago.  I took little glass ornaments, etched each one with one of her grandkids names (8 in total), and then completed them with a nice ribbon.  It took me a few weeks to complete and I think they turned out really nice.  I guess it's probably the gift that I am most proud of.
The reason that it's hard for me to come up with "the best give I've ever given" is because I'm a gift card giver.  I like gift cards.  I know, I know, I know…"gift cards are so impersonal".  But I think gift cards are great because (1) it allows the recipient to really get what they want (even if that is another pair of tube socks) and (2) they are so much easier for me to shop for!  The second reason is really a minor consideration but it is a consideration when shopping!  And, with this new mobile app that I just learned about, my gift card giving has gotten even easier!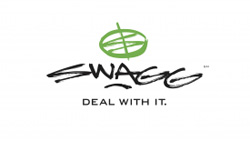 SWAGG is a free mobile app that not only allows you to purchase gift cards right through your iPhone or DROID, but it also allows you to store and organize all of those old school plastic gift cards and rewards cards that have been cluttering up your wallet!  Honestly, having all those rewards and gift cards in one place and not floating around in various places in my wallet or purse…heavenly!  You simply download the FREE app, sign-up for your account, and start entering your gift/reward cards or purchase gift cards for others.  Easy peasy!
And, for every download of the app between now and Dec. 31, 2010, SWAGG will donate $1 to Stand Up To Cancer (SU2C), up to $125,000.
Now, if that hasn't convinced you to download SWAGG maybe this will push you over the edge:  Clever Girls Collective and SWAGG are sending a pair of movie fans to the Sundance Film Festival!!! Download the SWAGG app and then visit the Ultimate SWAGG Getaway Sweepstakes site to enter to win a trip for two to the Sundance Film Festival. This trip is AMAZING because it includes accommodations at the Yarrow Hotel in Park City, Utah, dinner, 2 tickets to a movie premiere and some other very special SWAGG surprises (a $4000 value). Entry deadline is January 3, 2011, 11:59pm, PST.
Yeah, I'm pretty sure you've stopped reading this and started downloading your SWAGG app.  That's ok.  I'll get over it when you send me a gift card from your SWAGG app!  If you are still here reading, I'd love to hear about the best gift you ever gave.  Something homemade?  Something that brought tears to someone's eyes?  Tell me because I still have shopping to do!  Ok, now you can go download SWAGG!
*You should know…I was selected for this sponsorship by Clever Girls Collective, which endorses Blog With Integrity.  All opinions stated here are my own.  And, yes, I do have SWAGG on my iPhone and am using it!