Let's be honest, how many of you cringe at the thought of having to spend time with family over the holidays?  The stress.  The drama.  It can tend to put a little grinchy-ness into the Christmas spirit.  Thankfully, I absolutely love our family Christmas get togethers!
First and foremost, they are usually pretty low-key events!  A smorgasbord of food.  Grazing at your will (which also means consuming more calories than you ever should).  Talking.  It makes going through the parties a little easier with kids!  It also helps that we don't have to travel all that far (2.5 hours being the furthest).
As relaxed as our Christmas parties are, I know there will always be certain traditions that will take place with each family party.  And this I love!  With Tim's family we will gather in the living room and listen as his dad reads the Christmas story.  The girls love this because they get to chime in on parts of the story!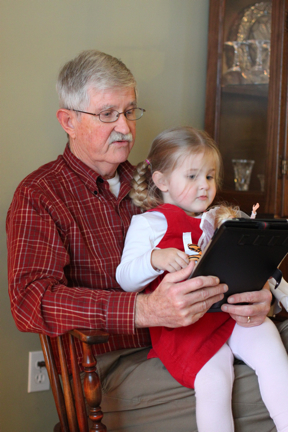 After the story has been read, the Christmas presents get passed out.  We do one gift at a time, letting each person open their gift and allowing everyone else to see what they got.  This year Abbi got to help pass out the gifts because she could read the names on the boxes.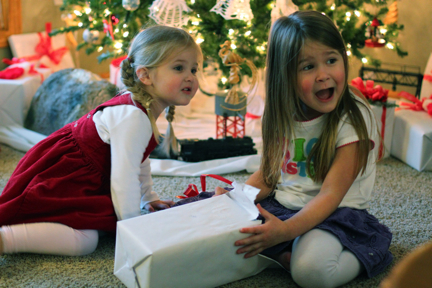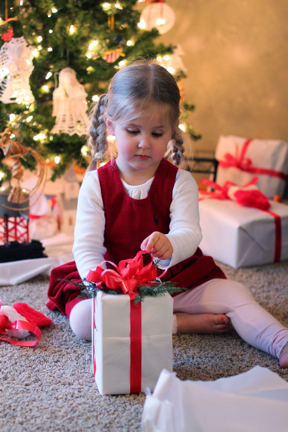 At some point, actually a few times throughout the day, Tim's dad will run the train that circles around their Christmas tree for the girls.  I think this is the girls' favorite part of the day, even more so than the presents.  This train has been in their family forever but it still makes it debut at Christmas!  And I think grandpa likes this part just as much as the kids!!!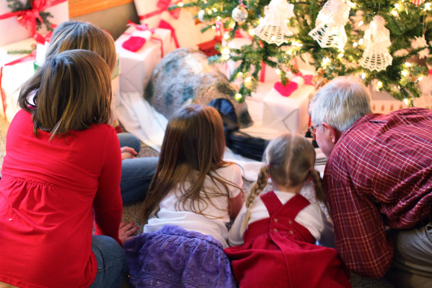 The rest of the day is spent eating (we hardly made a dent in the food this year) and playing a game or two.  It really is just a fun time with family!
My family Christmas is a little more, ummm, busy.  This year we are actually getting together with my family on Christmas so I'll just have to give you the typical run down without pictures.  First we'll open presents with just my immediate family (parents, siblings, kids) at my moms.  With all three of my siblings being in town this year, we'll be packing a whole lot of people into the living room.  My mom is also making us dinner and I am so looking forward to those mashed potatoes!
On Sunday we will head over to my uncle's house for the extended family Christmas.  This is the best part about my family — we are still so close and still get all the aunts, uncles, and cousins (or as many as can make it that year) together for a party!  We've been doing this since before I was born and this gathering, this time together, are the happiest memories I have from childhood.
The extended family party will consist, once again, of more food and calories than one person should consume (but it all so delicious) and then a big gift exchange.  When I was little we would all draw names over Thanksgiving to determine who we would be buying a gift for that year, but now that we have more adults than kids we do a gift game.  Everyone brings a general gift and then we play this crazy game of gift stealing and scheming.  Ok, it might not sound too much like the Christmas-spirit, but it is so much fun and produces a good hour or two of laughter!
Of course we'll have our own little family Christmas too, just the four of us.  This year we will stay home Christmas Eve to open gifts, go to church together, and then try to get two excited little girls to bed while they anticipate the arrival of Santa.
So, that is how my family is spending our Christmas this year.  It's one of my favorite parts of Christmas, all those traditions wrapped up with family.  I love how different our Christmases are with each of our families, Tim's and mine.  They each have their own special place and are what makes Christmas so great for us!
What special traditions do you and your family have? How does your family spend time together over Christmas?