Wow! The week of Christmas! Are you thankful it's finally here or, like me, are you kind of freaking out that it's here already?
Yeah, it's no secret that I still have a ton of things to do before Christmas Day — shopping, wrapping, baking, packing. But, despite my every growing list of things to do this week, I wanted to take a few minutes to share with you some of our traditions we do during the Christmas season.
Crafts
While my girls LOVE to do crafts and the holidays are a great time to break out those crafting items, we tend to not do the same crafts year after year. Granted, Abbi is only 5 and Zoe is only 2.5, so we haven't done a ton of Christmas crafts yet.  But, what we have done are some little picture frames and ornaments.  This year Abbi has been so infatuated with Nativities and the Christmas Story and has been drawing tons of pictures of the Nativity scene.  So, I was very excited when I found this Nativity craft!
The best part about this craft is that you can start out with just doing Mary, Joseph, and Baby Jesus and add different pieces (the Wise Men, the Shepherds, animals, the Angel) each year or you can be super ambitious and do the whole Nativity right away.  I think it will depend on how many kids you have (divvy up the different people/pieces) or how old your kids are.
Supplies & Modifications:
hot glue and glue gun
fabric
* Any scraps of fabric will work.  We used felt.
mini clay pots or wood craft pots (I like the wood craft pots better because they are less likely to break)mini clay saucer
little wood box or saucer for the manger instead o
paint
paint brushes or sponges
three wood beads (depending on the size of the pots you use, you want to make sure they are proportionate)
*  Hint: buy the beads that have a flat spot on them.  This makes them easier to glue onto the pot.
Sharpie markers — we used black and red
straw, spanish moss, fabric or tissue paper
pipe cleaner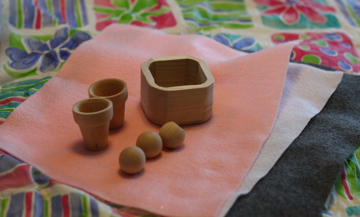 Step 1 ~ Paint the pot. Doing this before attaching the bead means less paint getting on the "face". Let dry.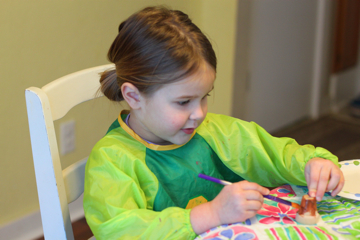 Step 2 ~ Hot glue the wooden bead to the bottom of your wood or clay pot. Using your Sharpies, add a face to your bead/face.
Step 3 ~ Use your felt to create a headpiece for each. Hot glue it to your Mary & Joseph. If you have extra fabric in the back or your fabric is not laying down nicely, just use some hot glue to make it behave. Then we added a small piece of pipe cleaner to Joseph's head piece.
Step 4 ~ Use a piece of felt to "swaddle" baby Jesus. This part is tricky. You're just using a bead as Jesus' head and then wrapping the fabric to look like a swaddled baby. Hot glue that fabric like a crazy person and it will end up looking like a little swaddled baby.
Step 5 ~ Add some straw, spanish moss, fabric or tissue to your little box or saucer to create the manger. Yup, hot glue it all down.
Step 6 ~ Add baby Jesus to the manger. You can choose to hot glue him in there or just lay him in there.
Done!
Abbi was very excited to put her own Nativity on the dresser in her room and was even more excited when I told her that next year we could make another piece to add to her collection!  My head is swirling with ideas on how to make them all a little different — glue on little presents (typically found at craft stores) for the Wise Men, make a little staff out of pipe cleaner for the Shepherd, of course little wings and a halo (pipe cleaner) for the angel. But she has me stumped on the animals.  I'll have to really get my creative juices flowing for that one.
Oh, so here is our finished product for this year: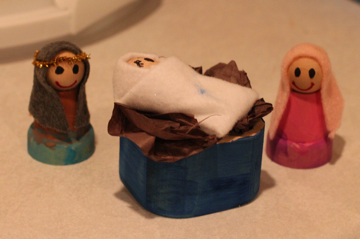 I avoided getting a close up shot of baby Jesus because we had a minor unfortunate accident with him.  The dog got ahold of the bead we were using for baby Jesus so his little face has some chew marks.  Oops!
I'd love to hear about what crafts you do with your kids at Christmas time.  Do you make crafts for around your house or for gifts? And, if you happen to try this craft, I'd love to hear how it turned out and how you made it your own!