This is a tradition that I've noticed that a lot of families practice — Ornaments. We really didn't have any traditions centered around ornaments growing up.  I know we had some ornaments on our tree that we made in preschool or elementary school, but nothing that really stands out to me.
When we started our family, one of the traditions I really wanted to start was to have the kids each get a special ornament each year.  Something we could look back at and remember that specific year.  I know some parents pick out an ornament for their kids each year but we actually let the girls pick out their own. It makes for some interesting ornaments but always a fun time for the girls!
Here is what dons our tree right now:
2005:  Abbi's "baby's first Christmas" ornament
2006: a ornament with 3 moose, representing our little family of 3 and our trip to Alaska
2007:  apparently I didn't label this year's ornament and can't remember what it was
2008:  Abbi's "Handy Manny & tools" ornament and Zoe's "baby's first Christmas" ornament
2009: Abbi's "Handy Manny & wreath" ornament and Zoe's high heel Barbie shoe ornament (Abbi is a bit obsessed with Handy Manny and Zoe is more than obsessed with shoes!)
The rest of our ornaments are ones that the girls have made, ones that Tim and I collected in the early years of our marriage, and ornaments that were given as gifts.  It's a very eclectic group of ornaments but each tells a story.  Each has a memory.
This year the girls painstakingly hemmed and hawed over what ornaments they wanted.  First, let me just say that we need to find a different place to shop for ornaments because Hallmark is not cheap!  But, alas, the girls finally found ornaments they wanted and we forked over the money.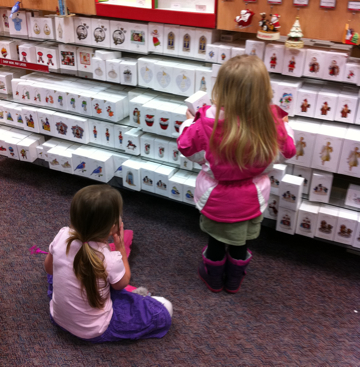 The next morning we hung their new ornaments on the tree.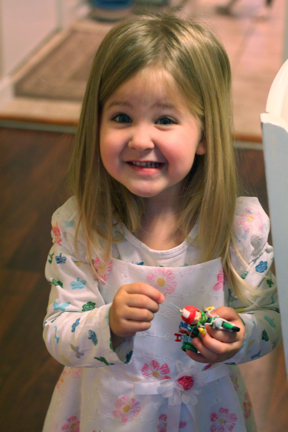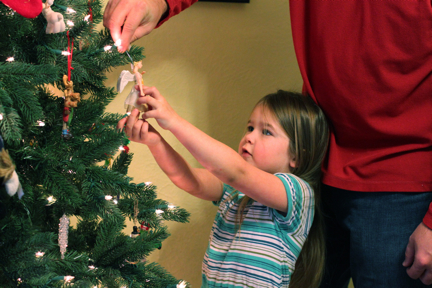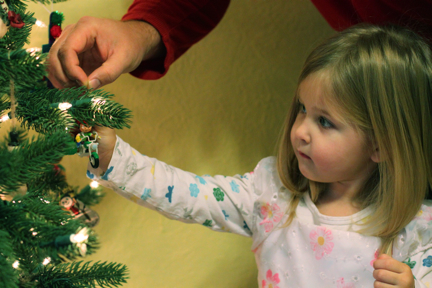 Pardon the messy hair and interesting outfits.  They like to get themselves dressed first thing in the morning so the outfit choices are always….interesting.
Here are the ornaments up close.  Abbi chose an angel with a star, because it reminded her of the angel from the Christmas story and the star that showed where baby Jesus was born.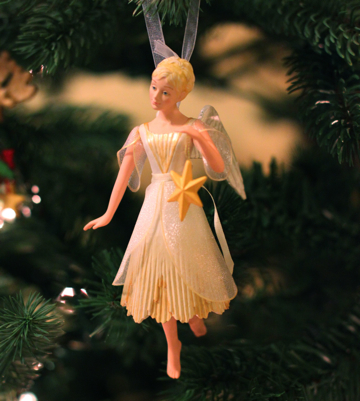 And Zoe chose "Handy Manny" because, well, her sister didn't choose it first and my girls are a little obsessed with "Handy Manny".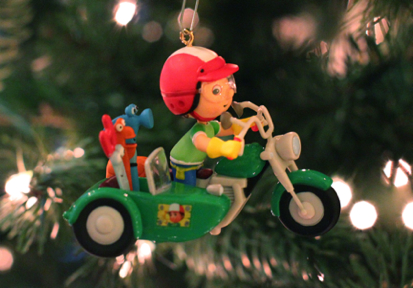 I remember when our tree was all color-coded with matching glass ornaments and now all of those ornaments are still in the box, to be replaced with cartoon characters and handmade somethings or other. But I wouldn't have it any other way!
The fun thing about this tradition is that some day, when they have a home and a tree of their own, I will give them their ornaments that we've collected throughout the years and laugh with them as we remember how obsessed they were with "Handy Manny"!
Does your family have a tradition involving ornaments?  Do you make a special ornament each year or buy one?