Santa is kind of one of those hit or miss events. I'm pretty sure my mom has pictures of me screaming as they tried to get me to sit on Santa's lap with my siblings. Thankfully we have not had to deal with the screaming child freaking out at the thought of sitting on Santa's lap…yet!
We've gone to see Santa with the girls for the past five years.  We skipped the Santa outing on Abbi's first Christmas since she was only a week or two old, but since then we've visited Santa in 2006, 2007, 2008, 2009, and this year.  We've done both the mall Santa and the "small shop" Santa.  By far our favorite has been the "small shop" Santa.  We get to bring our own camera and take as many pictures as we like.  Have you ever seen the price they charge for those photo packages at the mall?  Second mortgage anyone?
This year was our best visit with Santa yet!  We had seen the Santa set-up at the mall a few weeks ago and I was less than impressed, especially after visiting the Ice Palace at the Beverly Center in LA in November.  I honestly contemplated driving over to the east side of the state so we could visit a Taubman Shopping Center and Santa at the Ice Palace.  But, alas, time was not on our side.  So, instead, we headed downtown Holland to Home & Company!
We saw Santa at Home & Company last year and the same Santa at Treehouse Books in 2006.  All good experiences.  But there was just something even better about this year.  I'm guessing it's the age of my girls and the fact that they are not shy whatsoever.  If you're willing to listen, they are willing to talk!  They waited patiently for their turn to see Santa (and were very entertained by a large mirror) and, when it was their turn, they were all about Santa!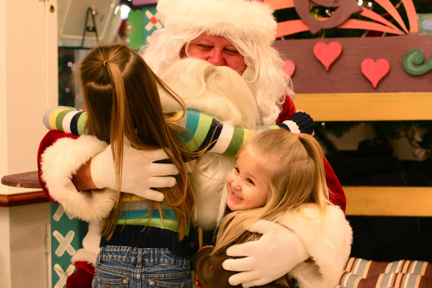 And Santa was all about my girls!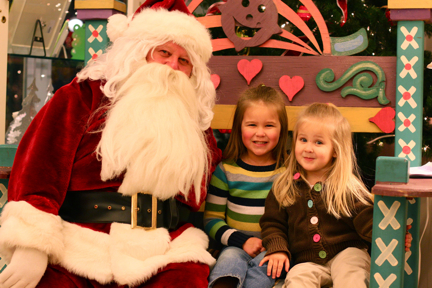 He listened intently as they each told him what they wanted for Christmas.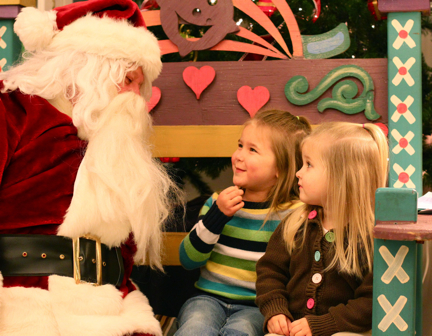 And even as Zoe went into every detail about the "bunken beds" that she got from Grammy and Papa!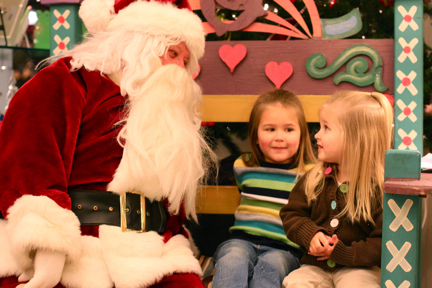 They talked about the chair they were sitting in and how the elves made it.  They talked about the reindeer and baby brother.  They even sang Jingle Bells together.  I was feeling a little bad about how much time Santa was spending with the girls (and how there were other kids waiting) but then I realized…Santa is loving this!  My girls are loving this!  They are making this amazing memory and I was not about to rush it.
Finally we decided it was time to say goodbye to Santa, so the girls gave him another hug and told him how much they loved him.  Honestly, I wanted to give Santa a hug too because he made this night so special for us.  And, as long as that Santa finds his way back to Home & Company, so will we!