Let me preface this by saying that I am not Dutch, at all, and like many of you I had never even heard of Sinterklaas before. Well, that was before moving to a town full of Dutch heritage and marrying myself a guy who is 100% Dutch. In my 13 years of living in this Dutch-founded community I have learned that they have many, ummm, unique traditions. And Christmas is no exception.
At the start of the Holiday Season, our downtown welcomes the arrival of Sinterklaas, a man that kind of resembles a traditional Santa Claus but, instead of riding on a sleigh pulled by reindeer, he arrives on a white horse.  Well, here, this might explain it a little better…The Legend of Sinterklaas
Mid-November marks the start of the Sinterklaas or St. Nicholas season in the Netherlands. It begins with preparations for the parade on the last Sunday in November. Sinterklaas, with his white horse Schimmel and helper, Zwarte Piet arrive by boat and lead a merry parade throughout the town.
The feast day of Sinterklaas is December 6th. This is a time for exchanging gifts and making good-natured fun of each other. Throughout the Netherlands, the eve of his feast day, December 5th is celebrated nationwide by young and old. Most places of business close a bit earlier than normal. The Dutch head home to a table laden with traditional sweets and baked goods.
Large chocolate letters – the first initial of each person present is a part of each place setting. These treats share the table with large gingerbread (Tai Tai) men and women.
Early in the evening sweets are eaten while those gathered take turns unwrapping their gifts. Traditionally this is the evening that Sinterklaas and Zwarte Piet ride across the rooftops of Holland looking for and rewarding good children with small gifts and candies.
In anticipation of the visit, children place carrots and oats for Sinterklaas' white horse Schimmel, in their wooden shoes by the door.The following morning, gifts from Sinterklaas, many with hilarious poems attached, are opened and the poems read aloud.
A day of feasting follows. This tradition of a St. Nicholas celebration is credited with being the basis of our Santa Claus tradition here in the United States.
In previous years we've always had something else scheduled on the night of the Sinterklaas Eve Parade and have not been able to go.  This year, though, our night was open so we decided to bundle up the kiddos and dog and head downtown to check out Sinterklaas.  Plus, I was hoping this would make up for us missing out on the Parade of Lights earlier in the week (we've gone to that parade for the past few years but this year it was cold and raining).
So, with kids bundled up snug in snowsuits and blankets and hot cocoa in hand, we took our place on the sidewalks of downtown.  As we waited for the parade to begin I mixed us up some yummy hot chocolate so that it could cool a bit while we watched the parade.  I decided to try the new hot cocoa from Cold Stone Creamery!  Yes, not only do they make ice cream but they also make hot cocoa!!!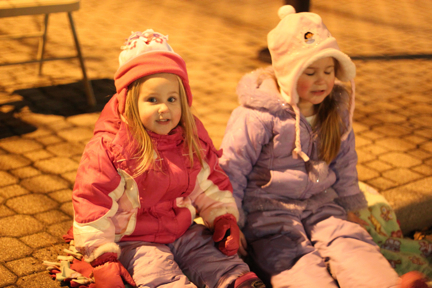 With the Town Crier ringing his bell, the parade began. He was followed children carrying paper lanterns, who were then followed by Sinterklaas on his white horse.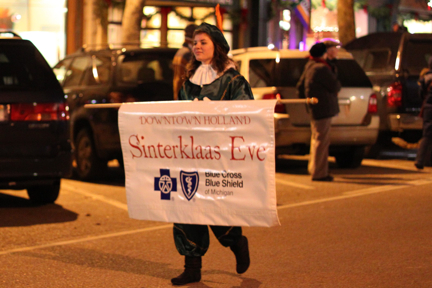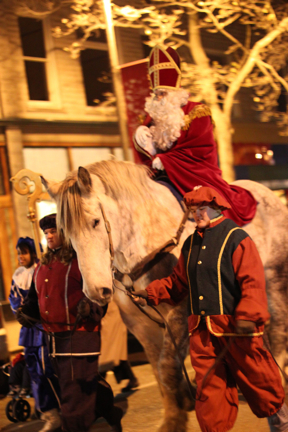 Yup, seven minutes later…and the parade was over.  Seriously?  It took us longer to get the girls bundled up in their snowsuits, hats, and mittens then it did for the entire parade to march by us.  Seriously?  I'm all for traditions but that was ridiculous!!!
Thankfully my girls are still young enough that all they cared about was that they caught a glimpse of "Santa Claus" (I was so not going to try to explain to them why he was called "Sinterklaas" and just let them call him "Santa").  And, thankfully, we still had our hot chocolate to enjoy together!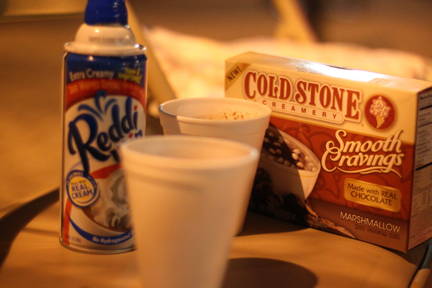 While the parade was a complete let-down, at least our hot cocoa wasn't!  The Cold Stone Creamery hot cocoa is absolutely delicious! Typically I make my hot cocoa with warm milk because I love how creamy the warm milk makes the hot cocoa taste.  But, since we were heading out with our hot cocoa, I just took some hot water with us.  The Cold Stone Creamery hot cocoa doesn't need the warm milk at all!  As my husband said, "This is the creamy-est hot cocoa I think I've ever had."  We topped it off with a little Redi-whip and mmm, mmm, mmm!  It was the perfect treat for our chilly parade night!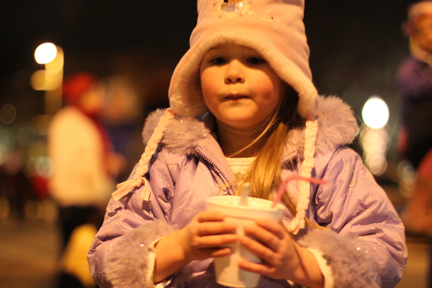 Cold Stone Creamery hot cocoa is typically available at your local Walmart.  If they don't carry it, tell them they should because is very delicious!  We had the marshmallow hot cocoa but I know they also offer dark chocolate, rich milk chocolate (without marshmallows), and 70 calorie reduced sugar hot cocoa.  You can also find Cold Stone Creamery hot cocoa on Facebook!
Will we be attending the Sinterklaas Eve Parade next year?  Probably not.  Ok, definitely not.  But I will be packing some Cold Stone Creamery hot cocoa next year when we return to the Parade of Lights!!!
You should know…I purchased my Cold Stone Creamery hot cocoa at our local Walmart as part of the #ColdStoneCocoa campaign with Collective Bias.  I was compensated for my purchase and my time.  All opinions stated here are my own.