One of my favorite gifts to give are DVDs! Honestly, it's because they are so darn easy!!! There are so many great dvds being released each and every day and you can usually find a dvd for just about anybody on your shopping list!
First, you can give just a straight up dvd or dvd box set as a gift. Simple. Easy. They also make perfect stocking stuffers (I think the dvd makers are in cahoots with stocking makers because dvds seem to be a perfect fit into those stockings!). And, of course, you can do a creative gift basket with the dvd (or a few dvds) and some popcorn, candy, Jones Soda, pizza coupons, hot cocoa and mugs, or whatever you can think of. I love the gift basket idea with dvds because your creativity can be endless!
So, here are a few dvd ideas for you as you finish (or start…ahem, me) your Christmas shopping…
Kids:
Veggie Tales It's a Meaningful Life — based off the classic It's a Wonderful Life.  My girls pretty much love any Veggie Tales movies though!  You can view more of their titles at BigIdea.com.
Disney's Beauty and the Beast — currently available in the Diamond Blu-ray/DVD combo (3 discs), Limited Edition Blu-ray/DVD combo (2 discs), DVD, and Movie Download
Toy Story 3 — currently available in the Blu-ray/DVD combo or DVD
Despicable Me — available on Blu-ray, DVD, and Digital Download on December 14
How To Train Your Dragon — currently available on DVD and Blu-ray
Teens:
Adults:
I'll refrain from making a distinction between "men" and "women" dvds because I know there are some women out there who don't watch "chic flicks" and some men who love them.  This one is also tough because there are so many different genres out there!  So here are a few that are being released soon!
Eat, Pray, Love — based on Elizabeth Gilbert's book, starring Julia Roberts.  Currently available.
The A-Team — starring Bradley Cooper, Liam Neeson, and Jessica Biel.  Available December 14.
The Other Guys — starring Will Ferrell and Mark Wahlberg.  Available December 14.
Salt — starring Angelina Jolie.  Available December 21.
The American — starring George Clooney.  Available December 28 (might make for a good late Christmas gift).
TV on DVD:
some of your favorite TV shows captured forever on DVD!
Glee: Season 1 — currently available, $59.98 DVD/$69.99 Blu-ray
Modern Family: Season 1 —currently available, $49.98 DVD/$59.99 Blu-ray
Lost — You can get The Complete Sixth and Final Season or The Complete Series.  Both are currently available and prices vary.  I did see The Complete Series in widescreen at Walmart for under $150.
Christmas Treats — currently available on DVD, Christmas Treats brings you holiday-themed episodes from eight of your favorite TV comedies including Cheers, Happy Days, The Lucy Show, and The Beverly Hillbillies.
The Andy Griffith Show 50th Anniversary Best of Mayberry Collection — one of the most beloved comedies in history will be available on DVD on December 21 ($24.99)
Classics & Holidays:
Disney's A Christmas Carol — the animated tale starring Jim Carrey is currently available on Blu-ray, DVD, and Movie Download
It's a Wonderful Life — My favorite holiday classic!
A Christmas Story — Ralphie is now available on a two-disc special edition
The Polar Express — available on Blu-ray, DVD, Digital Download, and 3D (Blu-ray or DVD, includes 4 sets of 3-D glasses and the 2-D version so families can watch without the glasses)
The Sound of Music 45th Anniversary Edition — currently available, this new release of the Rodgers & Hammerstein classic brings your favorite musical family back in amazing high definition.  The Blu-ray/DVD combo 3-disc set is packed full of special features, including the Music Machine Sing-Along, behind the scenes looks, audio commentaries with Julie Andrews and Christopher Plummer, rare interviews, an interactive "Backlot Tour", and more!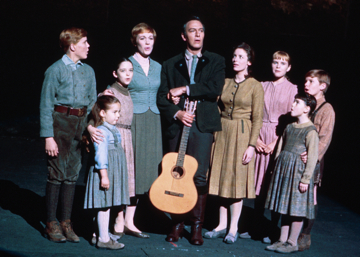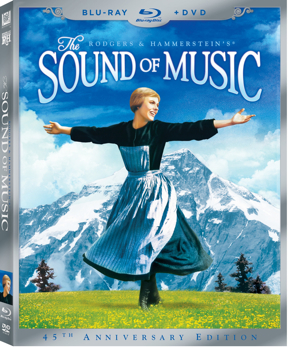 I know there are a ton of other great dvds out there that would make fabulous Christmas presents this year, but those are my five picks for each of those categories.  Again, be creative! If you have a Sound of Music fan on your shopping list, get them the 45th Anniversary Edition dvd and maybe the The Sound of Music: 45th Anniversary Edition soundtrack!  The soundtrack includes a new recording of the film's signature tune, "My Favorite Things," sung by Lea Michele from GLEE!
Happy shopping!!!
*Much thanks to Bender Impact and Twentieth Century Fox for the complimentary copy of "The Sound of Music: 45th Anniversary Edition" dvd. Although I would have included the film on this list anyways, they graciously sent me a copy of the dvd as a thank-you.