Congratulations to jodimichelle for winning the prize pack from HeadChefs! Thanks to all who entered!!!
It's no secret, I actually dislike cooking.  If we could afford it (both financially and on our waist lines), I would do take-out every night.  There's just something about spending all that time with prep and clean-up on a meal that you only spend a fraction of the time eating.  That being said…I have no problem spending all day in the kitchen baking!
I love baking!  It probably has something to do with having instant gratification when baking — licking batter off spoons, eating cookies fresh out of the oven.  Yum!  My daughters also love baking.  Be it muffins, bread, cupcakes, cookies, whatever! They love standing on chairs next to me; adding ingredients; mixing; watching as the muffins rise in the oven; taste-testing the batter; waiting not-so-patiently for the finished product to cool enough to eat!  They are my little helpers every step of the way!!!
With the holidays in full swing, we are spending more and more time in the kitchen these days.  We have lots of cookies and candies to make!  And now, with Head Chefs® "cool tools", we are going to have even more fun in the kitchen!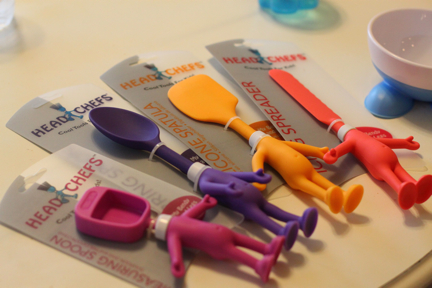 Head Chefs is a complete line of kitchen utensils designed to make time in the kitchen fun and entertaining for all ages! Traditional utensils are put on these cute little silicone bodies with movable arms and legs and little feet that suction cup right on to the table or countertop.  They are seriously the most lovable little spoons and spatulas I've ever seen!!!
My daughters were so excited when they got to use their new Head Chefs utensils to help me make Abbi's birthday treats.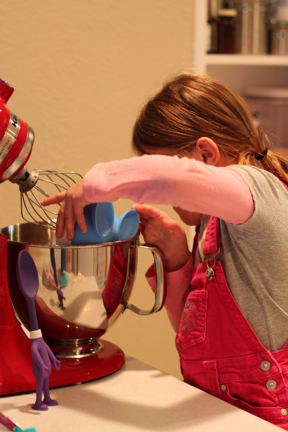 I love having the little suction cup feet on the utensils because it keeps all of the spoons and whisks and spatulas in one spot.  No worries about them falling off the counter!  And, while the kiddos are waiting for the cookies or muffins to bake, they can keep themselves entertained…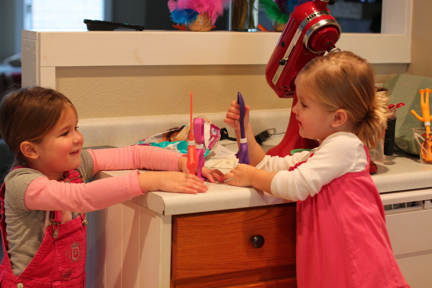 Head Chefs utensils and bowls are dishwasher safe and BPA free and are available to purchase at HeadChefs.com. You can purchase Head Chef sets, which make amazing Christmas gifts for those little aspiring bakers in your life, or you can purchase individual utensils (hello, stocking stuffers!!!).  Individual utensils range from $6.99 to $9.99.

Oh, I almost forgot to tell you the absolute best part about Head Chefs!  I know, how could they get any better than the fact that they are safe, affordable, functional, and entertaining? Well, here it is: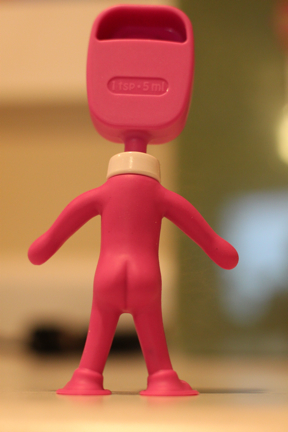 Look at those little butt-cheeks!  Oh my goodness!  I about died when I saw that!!!  This is the measuring spoon, by the way, but each of the utensils come complete with butt-cheeks!!!
With our Head Chefs in hand, the girls and I are armed and ready for more holiday baking.  And, yes, I will probably be using our Head Chefs utensils even when the girls are not helping me!  They are just too cute to keep locked up in a drawer!!!
Win it…
I am excited to offer you a chance to win a variety pack of Head Chefs kitchen utensils!
Enter…
To enter, simply visit HeadChefs.com and leave me a comment on this post telling me which of their utensils is your favorite!
You can earn one extra entry by doing any or all of the following:
Subscribe to Stacey says…
Follow me on Twitter
Tweet and/or Post on Facebook about this contest.  Be sure to leave me a link to your updates or tweets in a comment below.  (You can do this once daily, each)
"I want to win these amazing kids kitchen utensils from @HeadChefs and @Stacey_Says!  http://bit.ly/HeadChefs"
"Like" Head Chefs on Facebook
Follow Head Chefs on Twitter (@HeadChefs)
Leave me a new comment each time you do one of the "extra entries"!
Giveaway Details…
The winner will be randomly selected from the comments posted by Friday, December 10.  All entries will be verified and must include an email address where I can contact you if you should win.  This giveaway is open to US and Canadian shipping addresses. You can read more about Giveaway Policies here.
*You should know…I received complimentary products from Head Chefs so that I could give you an accurate and personal review of their products.  Head Chefs is also providing the prizing for this giveaway. All opinions stated here are my own.