At the beginning of November I was invited to head out to LA for a special screening of The Chronicles of Narnia: The Voyage of the Dawn Treader as a representative of 5 Minutes for Mom.  5 Minutes for Mom is a fabulous website that I've had the privilege of writing for these past two years.  So, when they asked if I wanted to represent them at this special event, of course I was happy to oblige!
I flew out to LA on a Thursday morning and was met at the airport by Jose, my driver, who then whisked me off to the fabulous Sofitel Hotel of LA.  If ever I have to move to LA and live in a hotel, I would take up residency at the Sofitel!  It is beautiful and fabulous. I even had a view of the Hollywood sign from my hotel window!!!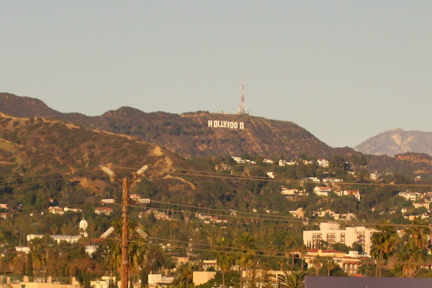 Thursday night I met up with five other bloggers and Dina from Big Honcho Media (who organized this trip for us) and headed out to the Twentieth Century Fox lot for our screening of The Chronicles of Narnia: The Voyage of the Dawn Treader.  Since they still had a few scenes that needed some editing, we watched chunks of the film with director Michael Apted filing us in on the missing scenes.  Even though I didn't see the 100% completed film, I can definitely say that this film is going to be amazing!  I am excited to see it when it hits theaters this weekend (December 10).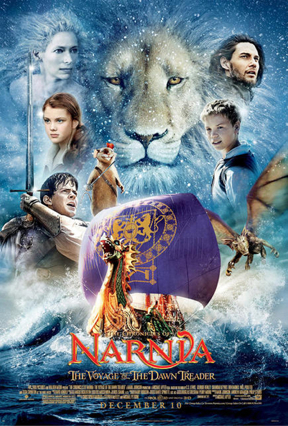 But that's not where my trip ended.  After our screening we went back to the Sofitel and enjoyed an amazing dinner with one of the PR reps from Twentieth Century Fox.  It was a great time of food and chatting and, for desert, we went a little old school and ordered this desert platter of childhood favorites!  Yes, the restaurant has their very own cotton candy machine!!!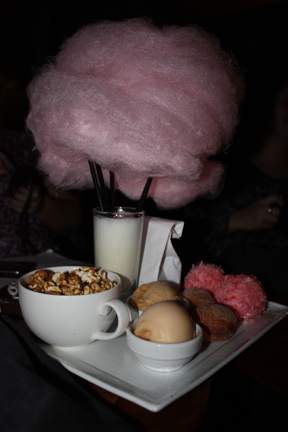 Friday morning I met up with our blogger group again for breakfast and then a round table interview with Narnia stars Georgie Henley and Will Poulter.  Georgie plays the youngest Pevensie sister, Lucy, and Will, the new comer to the Narnia films, plays Eustace, Lucy's bratty cousin.  Our interview time with Georgie and Will was more like a casual conversation.  They were so much fun and so down to earth.  You can read more about the interview over at 5 Minutes for Mom. On a personal note though, they were so cute because they were super excited to see that I was pregnant. I know, I'm entertaining like that.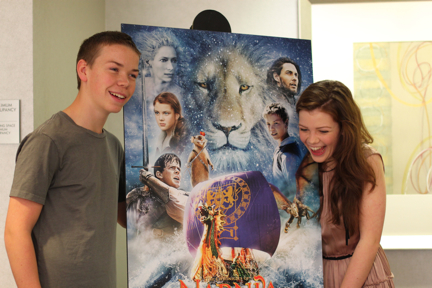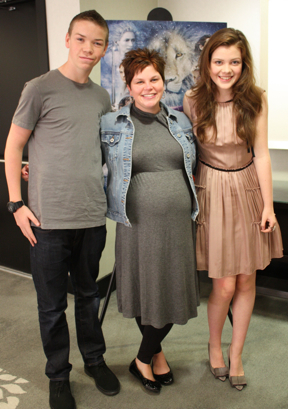 Later that afternoon we made our way across the street to the Beverly Center for the debut of the Narnia Ice Palaces.  These amazing Ice Palaces are being featured at the 16 Taubman Shopping Centers around the country.  I wish we had one a little closer (although I'm seriously contemplating driving over to the east side of the state where there are three locations) so that I could take my girls there.  Not only do you get to see Santa at the Ice Palace and these cute Narnia snow globes, but you also get to walk inside the Ice Palace where it snows you, like being in your own snow globe!
While at the Ice Palace debut (which was streamed live to the 15 other Taubman locations), I had yet another chance to chat with actors Georgie Henley and Will Poulter.  This time we talked about Christmas plans and Christmas memories.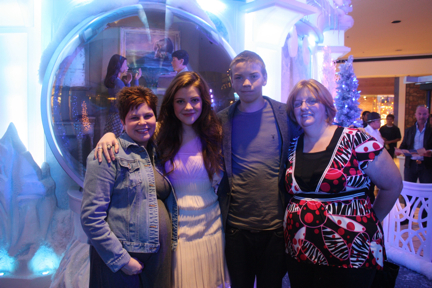 You can read more about the Ice Palaces in my post at 5 Minutes for Mom, as well as a complete list of Taubman Shopping Centers where you can visit an Ice Palace.
Friday night I relaxed back at the Sofitel and enjoyed some very delicious room service.  Of course I had to order desert!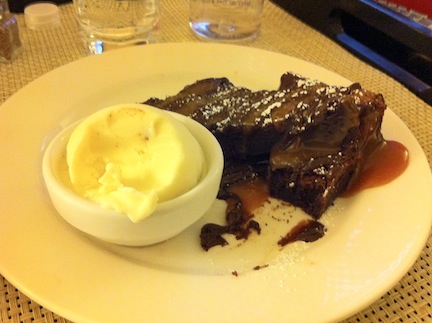 And then Saturday morning, at 4am, I was on my way back to the airport and back home.  It was a fabulous trip, where I felt very pampered and spoiled.  Of course I missed Tim and the girls while I was gone but I'm so grateful for the opportunity to attend this event!  A huge thanks to 5 Minutes for Mom for sending me; to Twentieth Century Fox and Big Honcho Media for arranging the trip and making it so memorable; to Tim's cousin for watching the girls on Thursday while Tim and I crossed travel paths; and to Tim who took Friday off to play Mr. Mom!
Oh, and don't forget to check out The Chronicles of Narnia: The Voyage of the Dawn Treader when it hits theaters on Friday, December 10.  It will be show in Real D and Digital 3D.  I'd love to hear what you think of the film!  And, if you're in the West Michigan area, Celebration Cinemas is giving away 5 pairs of tickets to the film in 3D on their Facebook page!