Congratulations to the winners of the $25 The UPS Store gift cards: Mary Ann Linder, Jessie Mayer, Elaine, Paula Caudil, Julie L, Carol W, Claudia, Kelly DelRosso, Janet F, and Veronica L. You should have each received an email from me this morning. Please respond to that email to claim your gift card within 48 hours.
When planing out our Christmas Attack Plan, I thought it was time to get Abbi involved in a little of the "other side of Christmas".  For a five year old, Christmas can quickly become encompassed with toys and wish lists and what is Santa going to bring me for Christmas?. While we really try to focus on the true meaning of Christmas (I'm really amazed at how much she understands and has embraced the story of Christ's birth), I also wanted her to appreciate the joy of giving without receiving.
This year I decided to have her help me with our Operation Christmas Child box!  Operation Christmas Child is a program through Samaritan's Purse that provides shoe boxes full of Christmas goodies to more than 8 million children in over 130 countries. It's a simple yet amazing way to bring a little Christmas joy to kids who otherwise wouldn't receive something on Christmas.  And, with the help of The UPS Store, this was the perfect Christmas project!
Here's how it works:
Grab a shoe box or a box about the same size as a shoe box.
Decide whether you would like to pack a box for a girl or a boy and what age range (2-4, 5-9, or 10-14).
Head to the store and start filling your box with goodies: small toys, school supplies, hygiene items, candy, t-shirts, socks, etc.
Print the appropriate label for your box.
Close up the box with some rubber bands.
Drop off your box at a drop-off location or mail the box off to Samaritan's Purse.
** Here are all the details you could possibly need, including the shipping address.

So easy!  And so rewarding!  Abbi decided she wanted to pack a shoe box for a girl age 2-4.  I listed the different types of items we needed to buy for her and let Abbi pick out each and every item.  Along the way, with each item we put in our cart, we talked about how this little girl might not have her own little doll and how appreciative she would be to get a new toothbrush!  Not once during our entire shopping trip did Abbi mention keeping one of the items for herself.  She understood how important and special it would be for this little girl to receive these items!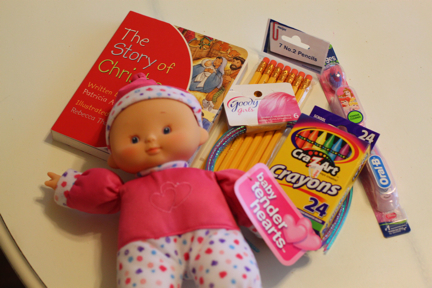 After we packed our shoe box, Abbi filled out a little sheet all about who she was (so the little girl could get to know her) and drew her a Christmas picture.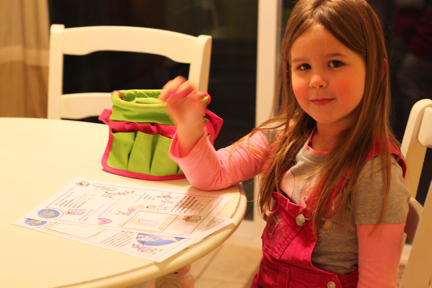 The next day, despite the snow, we headed to our local The UPS Store to send our shoebox on it's way.  Yet another amazing part of this whole experience!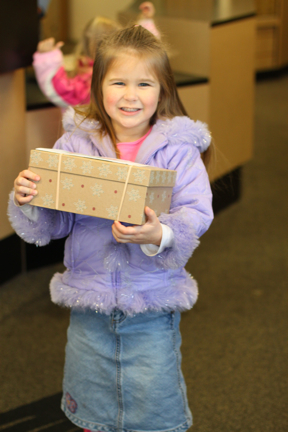 Here's the funny thing…I go to our post office nearly every day because we have a PO Box there but the thought of actually having to ship something through the post office is not my idea of a good time.  Long lines, lots of people, slow as molasses, and often times cranky workers.  Put that all on top of toting a 2.5 year old, a 5 year old, and being 7 months pregnant…No thank you!!!
Our The UPS Store is actually amazing!  We did not have to worry about waiting in long lines of people who wanted to buy stamps or who were upset because their mail hadn't been delivered on time.  I didn't have to worry about packing up the box at home — The UPS Store did all the packaging for me which meant it was packaged up correctly with the right box, the right packing materials, and the right labels! But the best part…the absolute BEST part was the lovely lady working at The UPS Store! She was so sweet to my girls.  She explained everything she was doing to them (they like to ask questions) and she even took the time to listen as Abbi told her all about the shoe box and how she was sending it to a little girl who might not get Christmas.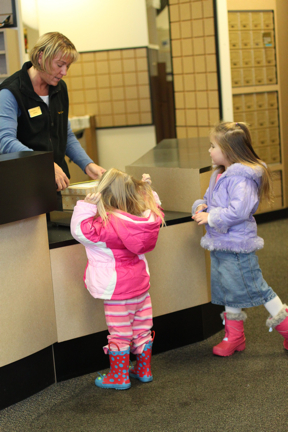 A perfect ending to a perfect experience!  I usually dread having to ship things because it always feels like such a hassle, but The UPS Store made every step of shipping so easy.  And it was surprisingly affordable!
Abbi and I are so excited to do this project again next year!  And we will definitely be using The UPS Store for that and our other shipping needs!
Win it…
The UPS Store wants to help make your shipping experience amazing so they have given me TEN gift cards to The UPS Store, each worth $25, to give away here!
Enter…
To enter, simply tell me if you typically ship packages through The UPS Store.
You can earn one extra entry by doing any or all of the following:
Subscribe to Stacey says…
Follow @Stacey_Says on Twitter
Tweet and/or Post on Facebook about this contest.  Be sure to leave me a link to your updates or tweets in a comment below.  (You can do this once daily, each)
"I want to win a $25 gift card from The UPS Store and @Stacey_Says! #lovinlogistics http://bit.ly/UPSOCC"
"Like" The UPS Store on Facebook
Follow The UPS Store on Twitter (@theupsstore_pr)
Leave me a new comment each time you do one of the "extra entries"!
Giveaway Details…
The 10 winners will be randomly selected from the comments posted by Friday, December 24.  All entries will be verified and must include an email address where I can contact you if you should win.  This giveaway is open to US and Canadian shipping addresses. You can read more about Giveaway Policies here.
Due to the timing of this giveaway, winners will not receive their gift cards in time to do holiday shipping.
*You should know…I am writing this post in part as a The UPS Store Brand Ambassador and in conjunction with the #lovinglogistics campaign at Collective Bias.  All opinions stated here are my own and are not affected by compensation.