With just a few very short weeks (or days) left until this baby arrives, it's time to get serious about attacking that "Things to do before baby arrives" list!  The list really isn't that bad but they are things that need to get done — buy some last minute baby necessities (baby bottles, pacifiers), pack my hospital bag, pack overnight bags for the girls & dog.  Not too bad.
This week I decided to work on the shopping part of the list.  After all, shopping is always more fun!  Since we had to be out of the house for an afternoon this week, the girls and I made our way to Grand Rapids to Babies 'R' Us.   Seriously, that place is like Disney World to the expectant mom!  So much baby stuff. So cute.  It's no wonder you see parents leave that store with cart loads of goodies!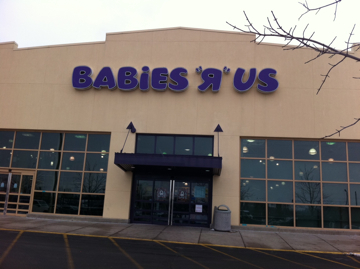 Thankfully I was armed with my specific list of items I needed and with the knowledge that our house is already overflowing with baby and kid stuff.  Going overboard was not an option!
Happily my return went smoothly and quickly and we were off and shopping in no time.  The last remaining things on my baby shopping list are a few baby bottles and some pacifiers.  I've been hearing quite a bit about Playtex bottles lately so I decided to take a look at what Babies 'R' Us offered.  First, let me just say that shopping for baby bottles has got to be one of the most overwhelming parts of baby shopping, regardless if you are a first time mom or a fifth time mom!  Anit-colic, tilted, vented, BPA free, glass, plastic, liners, 9oz, 4oz, size 1 nipple, size 3 nipple…YIKES!
This is where I was really pleased with Playtex!  Their website, PlaytexBaby.com, has a feature where you can select what product you're shopping for and then what age you're shopping for, giving you the selection of products that fit your criteria!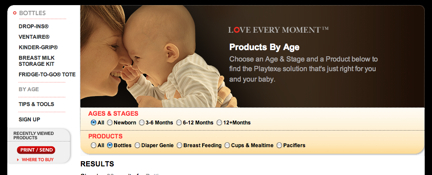 Babies 'R' Us had a similar informational display accessible in the Playtex bottles selection, as well!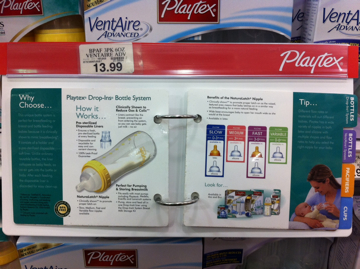 Definitely makes figuring out which bottle and nipples to shop for a little less overwhelming!  Sadly, shopping for pacifiers can be just as overwhelming!  Aiyiyi!  Why can't they make this easy on us moms?  I know every baby is different and there is no one perfect pacifier.  It's a bit of a guessing game really.  Neither Abbi nor Zoe took pacifiers but that doesn't mean that this baby won't want/need one.  So, after looking at all the different pacifiers staring back at me from the shelves, I decided to try the Ortho-Pro® Pacifier.  They even had ones that came with a sterilizing cover!
Ok, I know I said I was only going to shop for the items on my list….but look at this nifty little tote!  Also from Playtex, the Fridge-To-Go Tote holds 2 bottles or cups and keeps liquids or food cold for up to 12 hours.  Great for on the go times!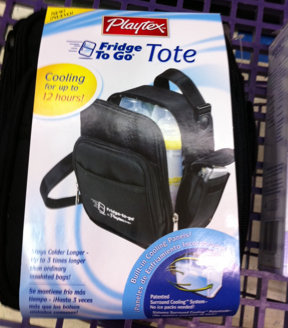 And, of course, Abbi thought that it was so cool that she found a cup just like mom's travel coffee cup!  This is the Playtex Coolster® Tumbler Cup: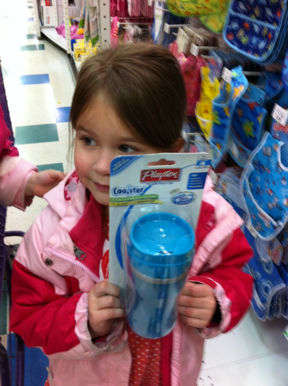 I'm feeling good having one more thing checked off my "Baby To-Do" List!  Whether this baby comes tomorrow or in three weeks, he should have everything he needs now!  At least for the first week…  You can check out my Babies 'R' Us shopping trip in more detail on Whrrl!
Now thinking about packing my hospital bag.  It seems kind of silly to be packing that bag when I still have a few weeks before my actual due date but I'm just feeling like it's something I should actually do this time.  I just kind of threw things in a bag when I was in labor with Abbi and Zoe.  Who knows, maybe that will happen again this time but at least I'm thinking ahead this time!
I'd love to know…what were some of the things you packed in your labor/delivery/hospital bag or what were some things you wished you had packed?
You should know…this post is written in part as a campaign with Collective Bias and Playtex.  All opinions stated here are my own and are not influenced by compensation.