One of the 2011 Goals that I've set out for our family is to keep giving back.  Easy, right?  One would think, but it's amazing how quickly we set aside those "giving back" opportunities once the holidays are behind us.
Abbi and I had such a great time working on our Operation Christmas Child box in December and I was so happy to see the impression it left on her.  Why let this end with the holidays?  Why not keep this going through the entire year? So, each month we are going to try to come up with a project that allows us to "give back"!
This month we are making treats for my friend Tara to take to her after school Bible Study.  Tara works at Youth for Christ mentoring middle school students.  One of the many events she does is to lead a group of middle school girls in a weekly Bible Study.  We wanted to do something a little extra special for both Tara and these girls!
After a quick trip to Walmart to shop for our baking supplies, we were ready to start making our Scotch-a-roo Rice Krispie Treats!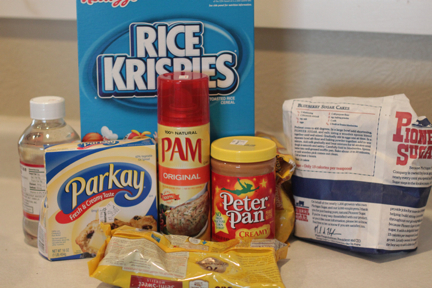 Here's what you do:
Over medium heat, cook 1 cup light corn syrup and 1 cup sugar in a 3-quart saucepan.  Stir frequently until the sugar dissolves and the mixture begins to boil.
Remove from heat and stir in 1 cup Peter Pan Creamy peanut butter until mixed well.
Add 6 cups of rice cereal and stir together until the cereal is well coated.
Press the mixture into a pan well coated with Pam cooking spray.  I used Parkay butter to lightly coat my hands, keeping my hands from sticking to the cereal mixture as I pressed it into the pan.  Set this aside.
Melt 1 package of semi-sweet chocolate chips and 1 cup butterscotch chips over low heat, stirring constantly.
Spread melted mix evenly over the cereal mixture.  Let stand until firm, cut and EAT!
Zoe was super excited to use her Head Chefs utensils and help.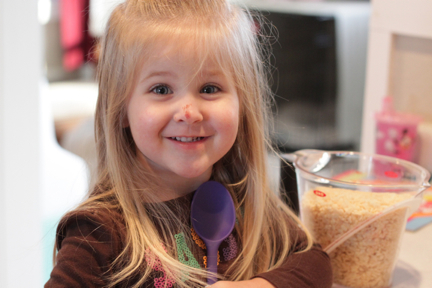 She was responsible for the rice cereal!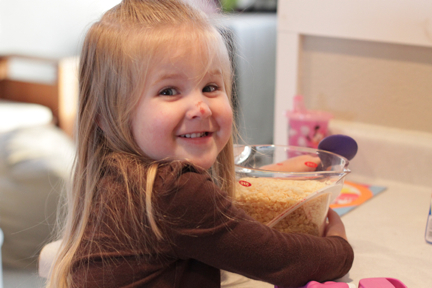 Despite the lack of pictures, Abbi actually did help too but was just being a stinker when it came to photos! But at least our treats look good!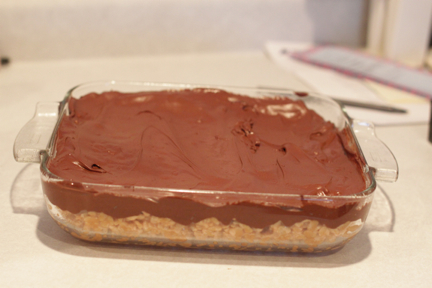 After our yummy treats were made and the girls enjoyed a little Swiss Miss Marshmallow Madness and Reddi Wip treat, we talked more about what it was that Tara was doing and how she was sharing Jesus with these girls who might not learn about him otherwise.  Abbi had so many questions, which were awesome!
The next morning we took our treats to Tara!  Oh, a quick note…we also took Tara some of the Layered Brownies (from What Megan's Making), another great use of our Parkay butter! You can get the entire list of ingredients and the instructions at WhatMegansMaking.com.  They are amazingly delicious and, once again, they needed to get out of my house before I ate the entire pan!
Anyhow, we took our treats over to Tara, who was so very grateful for them!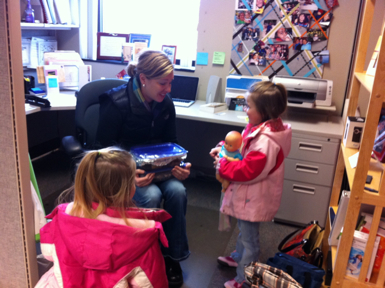 And Tara even took a few minutes to share with Abbi about the Bible Study and what lesson the girls would be learning about as they ate the yummy treats!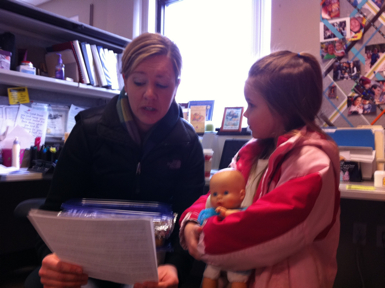 I'm so glad that we took this opportunity where the girls and I could spend a little time in the kitchen together (which we love to do) but to also find a way that we could combine that with giving back!  It makes me excited to see what we can come up with for February!!!
Oh, and you can check out more of our experience, including our shopping trip at Walmart, on Whrrl!
You should know…this "giving back" opportunity was made possible in part by Collective Bias and their #FamilyMeals "Cook With Your Kids" campaign.  Although I did receive compensation for my time, all opinions stated here are my own.  And, compensation or no compensation, we still would have done this project.