A few months ago I shared with you all my disdain for shopping for maternity clothes.  Thankfully I was able to find a few online maternity shops and have survived the maternity days. But the whole experience did leave me wondering about the whole shopping for nursing wear experience.
Let me be clear, while I tried to nurse both girls when they were born, it just didn't work.  So, I never really had to do the nursing shirts or bras or whatever.  This is all new to me!  While I'm not exactly sure what types of wear I should be investing in, I am pretty excited about this great shop I found online — Glamourmom!
Glamourmom, like many of the companies I'm featuring in this Virtual Baby Shower, was created when the founder, Line, was getting ready to nurse her daughter but was getting frustrated because she couldn't find a nursing top that provided full support, easy access to the breast, and discretion for the post-partum belly.  Now she not only offers amazing nursing tops and tanks, but also an amazing line of nursing wear!
Glamourmom offers everything from nursing bras and nursing tops to nursing swimsuits and dresses!  I am especially loving the Glamourmom® Nursing Bra Long Top! I actually don't have a long torso but I love having longer shirts.  One of my pet-peeves is to have a shirt that shows my stomach (post-partum or not) or shirts that creep up.  The Glamourmom Nursing Bra Long Top is a perfect length!!!  And, while I don't have much experience with having to unhook the nursing bra hook closure, the unhooking on these tops seem pretty easy, which I'm sure I'll appreciate!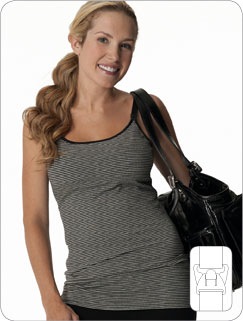 I like the Long Top so much that I'll definitely be picking up a few more of those tops and am considering the Nursing Bra Top with Lace (for a little dressier look) and the Long Sleeve with Detachable Nursing Bra.  The quality and price are just, well, fabulous!!!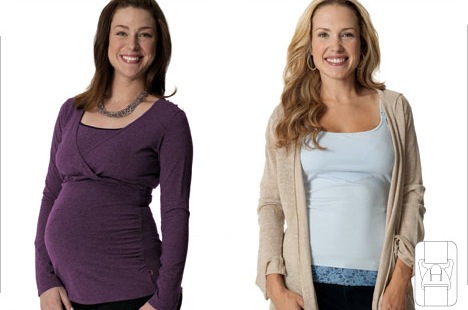 Obviously I'm loving the Glamourmom products but I also wanted to tell you how much I appreciate their dedication to their customers!  Not only do they want to deliver an amazing product to you, but they also offer amazing sales and monthly giveaways!  Each month you can enter their $300 gift certificate sweepstakes and you can sign-up to learn about their Private Sales where you can get Glamourmom products for 30-70% off!!!
Oh, and I'd love to hear from all you breastfeeding pros about what types of nursing clothes and gear I should be shopping for!
Win it…
One winner will receive a Glamourmom Nursing Bra Long Top of their choice!
Enter…
To enter, simply visit Glamourmom.com and take a look around at nursing & maternity wear.  Then, come back here and leave me a comment telling me something that caught your eye!
You can earn one extra entry by doing any or all of the following:
Share with me a nursing item (clothes, gear, whatever) that you're so glad you had and I should pick-up!
Subscribe to Stacey says… or "join this site" with Google Friend Connect (on the sidebar)
Follow @Stacey_Says on Twitter
"Like" StaceySays.com on Facebook
Tweet and/or Post on Facebook about this contest.  Be sure to leave me a link to your updates or tweets in a comment below.  (You can do this once daily, each)
"I want to win a Glamourmom nursing bra top from @Stacey_Says' "Ready for Baby" Virtual Baby Shower: http://bit.ly/glamourmom"
"Like" Glamourmom on Facebook
Follow Glamourmom on Twitter (@LineRothman)
Leave me a new comment each time you do one of the "extra entries"!
Giveaway Details…
The winner will be randomly selected from the comments posted by Wednesday, February 9.  All entries will be verified and must include an email address where I can contact you if you should win.  This giveaway is open to US shipping addresses. You can read more about Giveaway Policies here.
Don't forget to enter the other great giveaways in the "Ready for Baby" Virtual Baby Shower!!! A complete list of giveaway links can be found (and will constantly be added) on the right sidebar and on the Virtual Baby Shower main page!
*You should know…I received a complimentary product from Glamourmom to help provide you with an accurate and personal review of their products. All opinions stated here are my own and are not affected by compensation or complimentary products.
Photos courtesy of Glamourmom.