When I started looking around for baby items for this little guy my first stop was Etsy!  There is just something about handmade baby stuff that I find irresistible!  And Kim's Korner has quickly become one of my favorite baby shops!!!

Kim's Korner specializes in the cutest little Sleep Sacks! Which are a must-have with newborns!!!  What I specifically like about Kim's Sleep Sacks is that she offers them in a cotton knit and in fleece and the Sleep Sacks are designed in such a way that the "bib-style" allows you to dress your baby in just short-sleeve onesie or a long sleeve onesie underneath!  This is so nice because the Sleep Sacks are perfect for any season!
If your little one is going to be, well, little during the colder months, then maybe consider a fleece Sleep Sack.  If you're expecting in the warmer seasons, then the cotton knit Sleep Sacks might be of interest.  The Sleep Sacks are offered in 0-6 month and 6-12 month sizes and Kim is always adding new prints and designs to her shop!  I absolutely LOVE our Blue Gingham Cotton Knit Sleep Sack and cannot wait to put it on this little guy in the coming months!!!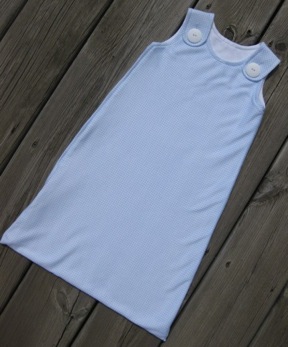 The other item that really intrigued me from Kim's Korner are her Crib Teething Guards.  The Crib Teething Guards are handmade padded guards that tie on to the top rail of your crib, protecting it from your teething baby or toddler.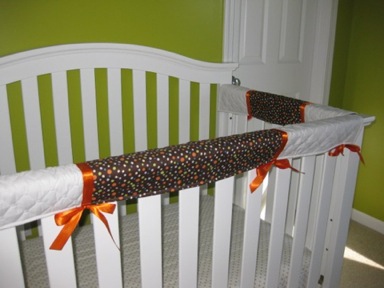 The Crib Teething Guards are easily washable and come in a custom size that will fit most cribs.  However, if your crib is a little bigger, Kim is very willing to work with you on custom orders.  These teething guards are an amazing and welcomed alternative to the ones that stick on to the rails of your crib.  I used the adhesive crib guards with our first two babies/toddlers and, sadly, they started to un-stick and peel-up in on the ends.  When I removed those adhesive guards they took some of the finish off my crib! I really wish I had known about Kim's Crib Teething Guards before and will definitely be purchasing some for this baby!!!
Whether you're shopping for yourself or for a baby shower gift, Kim's Korner is a great shop that offers beautiful, quality, handmade baby items!
I am so excited that Kim's Korner is offering Stacey Says readers a fabulous discount for a limited time! From now until January 31st, you can get 10% off the items in her Etsy shop!  All you need to do is enter the coupon code "VirtualBabyShower"!!!
Win it…
One winner will receive a Sleep Sack (size 0-6 months) of their choice from Kim's Korner.
Enter…
To enter, simply visit Kim's Korner on Etsy and take a look around.  Then, come back here and leave me a comment telling me a product of hers that you like!
You can earn one extra entry by doing any or all of the following:
Subscribe to Stacey says…
Follow @Stacey_Says on Twitter
"Like" StaceySays.com on Facebook
Tweet and/or Post on Facebook about this contest.  Be sure to leave me a link to your updates or tweets in a comment below.  (You can do this once daily, each)
"I want to win a Sleep Sack from Kim's Korner in the "Ready for Baby" Virtual Baby Shower with @Stacey_Says: http://bit.ly/KKornerEtsy"
Leave me a new comment each time you do one of the "extra entries"!
Giveaway Details…
The winner will be randomly selected from the comments posted by Wednesday, February 9.  All entries will be verified and must include an email address where I can contact you if you should win.  This giveaway is open to US shipping addresses. You can read more about Giveaway Policies here.
Don't forget to enter the other great giveaways in the "Ready for Baby" Virtual Baby Shower!!! A complete list of giveaway links can be found (and will constantly be added) on the right sidebar and on the Virtual Baby Shower main page!
*You should know…I did receive a complimentary product from Kim's Korner in order to help bring you a personal and in-depth review.  All opinions stated here are my own and are not affected by compensation.
Photos courtesy of Kim's Korner.