If you've ever spent any time looking at baby bottles in the past year or so, you're sure to be amazed at how "high-tech" they've gotten!  I've said it before…it becomes overwhelming when shopping for those bottles.  Investing in baby bottles isn't always the cheapest thing and yet you really want to make sure you choose the one that's going to be best for your baby.
This past summer (ironically right after I found out I was pregnant) I was sent a box of different promo products from MOM magazine.  Included in that box was a bottle from MAM.  I had never really heard of MAM bottles so I pulled it out and decided to take a look.  And I was pleasantly surprised!Not only are the MAM bottles so cute (available in cute little baby colors and designs) but they are very well constructed!  The Anti-Colic bottles from MAM have a nice wide opening at the top for easy filling and cleaning, but are still sleek enough for easy holding for parent or baby.  The bottom features a vented base which makes milk flow easier and reduces the chances of baby sucking in air.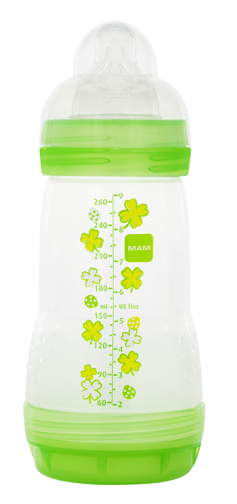 I was also very impressed with the nipples on the bottles.  MAM has developed a patented Silk Teat® nipple that is silky soft.  The thought behind this ultra soft silicone™ nipple is that the nipple feels more like mom's breast, thus making transitioning from breast to bottle easier. Also, and this is pretty stinkin' cool, the Anti-Colic bottles have self-sterilization feature! Eliminating the need for a bottle sterilizer or other sterilizing gear!!

Here, this video gives you a great overview of the MAM Anti-Colic bottles and their self-sterilizing:
While doing a little more research and browsing of the MAM bottles, I also found out that they have come up with some amazing "renovations" to some of your typical baby products.  The MAM pacifiers are also created with their patented ultra soft silicone™ nipple, like the bottle nipples, which is very cool but the product that I'm so excited to try are the teethers!
I remember going through teething with both of my daughters and how miserable they were (and how miserable mom and dad were).  The teethers you find on most store shelves are ok, but they seem to often be too big for those first teethers.  Enter the MAM teethers!!!  MAM has created different teethers for different ages and stages of teething.  For example, the Mini Cooler is designed for 2+ months and really focuses on those front teeth. AND it has a handy little clip that helps keep the teether clipped on (much like one for a pacifier).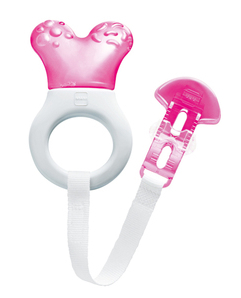 Then there is the Cooler, designed for 4+ months, with a unique shape that easily reaches those incoming molars!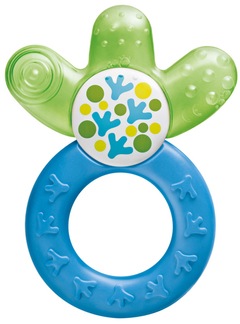 I'm very excited to try all of these different products out in the coming months, especially if they are as well designed as their Anti-Colic bottles!
You can shop for all of these fabulous MAM baby products at such stores as Walmart and Target.  If you have any questions about which product you need for your little one at each stage, check out the MAM baby website!  They have the different ages and stages broken down for you and even suggest which products your little one might be needing or interested in!
Win it…
FIVE winners will each receive 5 Anti-Colic bottles from MAM!
Enter…
To enter, simply visit MAMbaby.com and take a look around their site.  Then, come back here and leave me a comment telling me if you've used MAM products before or which MAM product you'd like to try!
You can earn one extra entry by doing any or all of the following:
Subscribe to Stacey says… or "join this site" with Google Friend Connect (on the sidebar)
Follow @Stacey_Says on Twitter
"Like" StaceySays.com on Facebook
Tweet and/or Post on Facebook about this contest.  Be sure to leave me a link to your updates or tweets in a comment below.  (You can do this once daily, each)
"I want to win some Anti-Colic bottles from @MAMbaby & @Stacey_Says "Ready for Baby" Virtual Baby Shower: http://bit.ly/MAMbaby"
"Like" MAM USA on Facebook (FYI – they hold Fan Friday contests & giveaways on their Facebook page!!!)
Follow @MAMbaby on Twitter
Leave me a new comment each time you do one of the "extra entries"!
Giveaway Details…
The winners will be randomly selected from the comments posted by Wednesday, February 9.  All entries will be verified and must include an email address where I can contact you if you should win.  This giveaway is open to US shipping addresses. You can read more about Giveaway Policies here.
Don't forget to enter the other great giveaways in the "Ready for Baby" Virtual Baby Shower!!! A complete list of giveaway links can be found (and will constantly be added) on the right sidebar and on the Virtual Baby Shower main page!
*You should know…I received a complimentary product from MAM baby to help provide you with an accurate and personal review of their products. All opinions stated here are my own and are not affected by compensation or complimentary products.
Photos courtesy of MAM.