I'm not sure exactly what it is about a pregnant belly or a newborn baby that people feel they have the right to touch.  Yes, it's happened.  It happens more times than you can imagine.  In the grocery store.  At the park.  Family.  Strangers.  COMPLETE STRANGERS!
I'm not comfortable with people touching my pregnant belly (aside from my husband and OB).  I'm even more uncomfortable with random people (and sometimes even friends and family) pawing all over my newborn, especially when I just saw you cough on your hand!  Seriously, random lady behind me at the check out line, please stop "coochy-coochy-cooing" my newborn's cheeks!
Now, as much as I hate when this happens, I hate confronting the behavior even more.  I'm just not very confrontational. Thankfully Mama Bears is doing the confronting for me now!
Mama Bears is this great company dedicated to making unique products that help moms and dads in this journey of parenting. Their first product to hit the market are these amazing little signs called Kind Signs.  These cute and convenient little Kind Signs let those around you know that you'd really rather they not put their hands (and germs) all over your baby. Absolutely genius! Now I can still be my over-protective self without looking like a complete control-freak in the grocery store!!!  Plus, their signs say it so much nicer than I every could have…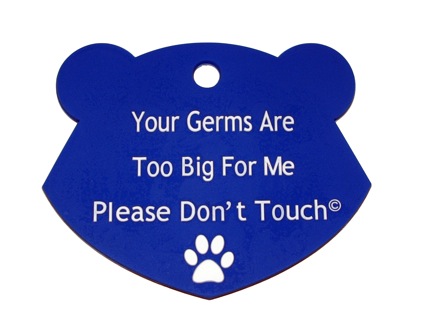 The signs come in three colors — blue, orange, and pink — and easily clip right on to your stroller, car seat, shopping cart, or wherever else your baby might be hanging out!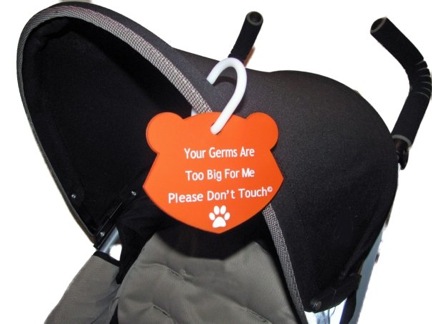 With each Kind Sign retailing at only $7.95, you can easily pick up multiple signs and keep them right on your stroller and carseat (and one in your purse).  They also make amazing and unique shower gifts!  Just ask Tiffany Amber Thiessen!
Now I just need to figure out a way to clip that Kind Sign onto my pregnant belly!
Win it…
Three (3) winners will each receive a sign of their choice from Mama Bears.
Enter…
To enter, simply visit MamaBears.com and take a look around.  Then, come back here and leave me a comment telling me which color sign you'd like to have!
You can earn one extra entry by doing any or all of the following:
Subscribe to Stacey says…
Follow @Stacey_Says on Twitter
Tweet and/or Post on Facebook about this contest.  Be sure to leave me a link to your updates or tweets in a comment below.  (You can do this once daily, each)
"Check out the Mama Bears kind signs giveaway in the "Ready for Baby" Virtual Baby Shower with @Stacey_Says: http://bit.ly/MamaBears"
"Like" Mama Bears on Facebook
Leave me a new comment each time you do one of the "extra entries"!
Giveaway Details…
The three (3) winners will be randomly selected from the comments posted by Wednesday, February 9.  All entries will be verified and must include an email address where I can contact you if you should win.  This giveaway is open to US shipping addresses. You can read more about Giveaway Policies here.
Don't forget to enter the other great giveaways in the "Ready for Baby" Virtual Baby Shower!!! A complete list of giveaway links can be found (and will constantly be added) on the right sidebar and on the Virtual Baby Shower main page!
*You should know…I did receive a complimentary Kind Sign from Mama Bears in order to help bring you a personal and in-depth review.  All opinions stated here are my own and are not affected by compensation.
Photos courtesy of Mama Bears.