Today is the first day of my "Ready for Baby" Virtual Baby Shower (a 20 day event featuring amazing products & giveaways) and I couldn't be more excited to be sharing Mommy Necklaces with you!
Honestly, I had never head of a "mommy necklace" or a "nursing necklace" until this, my third, pregnancy.  Maybe it was because they just weren't as big of a hit five years ago or maybe it's because I just wasn't really successful in my nursing endeavors with either of my daughters.  Either way, I'm so glad I finally got clued in and have discovered these!
"Mommy" or "nursing" necklaces serve a few different purposes: (1) to help keep your nursing baby entertained, instead of pulling at your clothes or hair and (2) allow mom to still wear fun jewelry without the fear of baby or toddler breaking it!  To learn more about these necklaces I went straight to the source — Mommy Necklaces!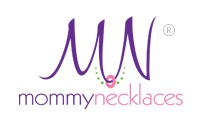 Mommy Necklaces is a West Michigan based company (I love our local super stars) that not only has an amazing online shop, but also distributes to retailers around the US and Canada!  Wanting to tackle to problem of being a mom with a baby or toddler and still looking and feeling fashionable, Mommy Necklaces went to work designing a necklace that was unbreakable and safe if baby were to get ahold of it.  But Mommy Necklaces takes it one step further, as they have created an extensive line of some of the most fabulous necklaces!
Mommy Necklaces are offered in wide variety of  colors and designs, making it so easy to find a necklace that compliments any outfit or style.  You can get your "mommy necklaces" as a simple strand or choose one that  feature a larger pendant as a dangling donut, locked donut, teardrop, or flat rock.  Again, offering something for virtually every style! I currently have a Locked Donut necklace and love it, but am thinking of picking up a few other styles…possibly one of the Flat Rocks!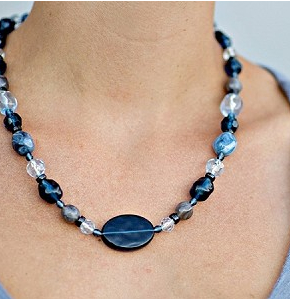 Why do I love Mommy Necklaces so much?  Well, besides the fact that I can confidently wear my necklace or bracelet (yes, they also offer bracelets and earrings) without the fear of it getting broken, the jewelry itself looks fabulous!  You can wear your "mommy necklace" even when you're not wearing your baby!
Ranging from $20 – $28 (depending on the style), Mommy Necklaces make a very unique and affordable gift for yourself or as a baby shower gift!  Again, Mommy Necklaces are available online or in various retailers.  However, be warned, you're going to fall in love with these necklaces! And I won't judge you if you buy one even if your "babies" are all grown up!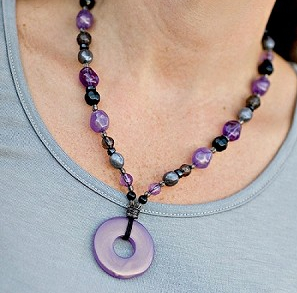 Win it…
One winner will receive a necklace of their choice from Mommy Necklaces.
Enter…
To enter, simply visit MommyNecklaces.com and look around at what they offer.  Then, come back here and leave me a comment telling me which necklace you'd like to win!
You can earn one extra entry by doing any or all of the following:
Subscribe to Stacey says…
Follow @Stacey_Says on Twitter
Tweet and/or Post on Facebook about this contest.  Be sure to leave me a link to your updates or tweets in a comment below.  (You can do this once daily, each)
"I want to win a Mommy Necklace from the "Ready for Baby" Virtual Baby Shower with @Stacey_Says: http://bit.ly/mnecklaces"
"Like" Mommy Necklaces on Facebook
Leave me a new comment each time you do one of the "extra entries"!
Giveaway Details…
One winner will be randomly selected from the comments posted by Wednesday, February 9.  All entries will be verified and must include an email address where I can contact you if you should win.  This giveaway is open to US shipping addresses. You can read more about Giveaway Policies here.
Don't forget to enter the other great giveaways in the "Ready for Baby" Virtual Baby Shower!!! A complete list of giveaway links can be found (and will constantly be added) on the right sidebar and on the Virtual Baby Shower main page!
*You should know…I did receive a complimentary necklace from Mommy Necklaces in order to help bring you a personal and in-depth review.  All opinions stated here are my own and are not affected by compensation.
Photos courtesy of Mommy Necklaces